Look up any recently–published list of baseball's worst contracts and you won't have to read for long before encountering Alfonso Soriano's name. The eight-year, $136MM deal Soriano signed following the 2006 season remains a regrettable one for the Cubs, but that shouldn't obscure the fact that Soriano remains a modest offensive threat. In a trade market that doesn't yet feature impact hitters, Soriano figures to draw interest this summer.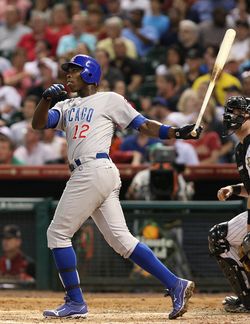 Presumably, the Cubs will be paying most of his salary in any trade. Soriano will earn $18MM per season through 2014, which means $47MM or so remains on his contract. The Cubs, who already seem willing to sell, are reportedly willing to pick up most of Soriano's salary to facilitate a trade. It'd be a surprise if they absorb less than $35MM of Soriano's contract.
Soriano has a .266/.315/.480 batting line so far this year. All 12 of his home runs have come since May 15th, so he's still capable of impressive bursts of power. He has a career .276/.345/.519 line against left-handed pitching, which will make him appealing to teams that struggle against southpaws, or teams in search of power.
Yet Soriano's an exceptionally aggressive hitter (only 12 qualified hitters swing at a higher percentage of pitches) who doesn't walk or get on base much relative to the rest of the league. His value on offense is closely tied to his power and, now that he's 36, it's unclear how much longer he'll continue producing at this level.
A number of contending teams could have interest in Soriano. The Indians rank 29th in MLB with a .630 OPS against left-handed pitching, and they have a potential opening in left field. The Pirates rank 22nd with a .678 OPS against lefties and could create at bats for Soriano. The Tigers haven't enjoyed much production from their DH spot or from right field, and they'd like to add a right-handed bat. The Nationals lead the NL East, yet their left fielders are last in the game in OPS. 
Soriano has a full no-trade clause, but he has said he's willing to accept a deal if the Cubs propose to move him to a contender. Non-contenders probably wouldn't have interest in Soriano given his age and salary, so the no-trade clause may not be a major obstacle.
Back in 2004, Soriano was traded for 28-year-old Alex Rodriguez. Eight years later, his trade value is nowhere near that high. It's hard to imagine any general manager agreeing to part with an elite prospect for Soriano, regardless of how much salary the Cubs take on. Even so, Cubs GM Jed Hoyer could be motivated to move Soriano if the Cubs can obtain an intriguing young player for him and shed some salary in the process.
Photo courtesy of US Presswire.