The Astros and Blue Jays have completed a ten-player trade, the teams announced. The Astros obtain seven players from Toronto: right-hander Francisco Cordero, outfielder Ben Francisco, minor leaguers Joe Musgrove, Asher Wojciechowski, David Rollins and Carlos Perez, and a player to be named. The Astros send left-hander J.A. Happ (pictured) and right-handed relievers Brandon Lyon and David Carpenter to Toronto in the trade.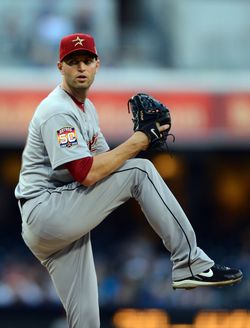 "Once again we are adding depth to our minor league system with quality young players," GM Jeff Luhnow said in a team press release. "We really feel this will help us moving forward and are extremely excited about the players we've added to our organization."
Cordero and Francisco don't have assurances of staying with the Astros beyond 2012. Cordero, 37, has a 5.77 ERA with 6.8 K/9 and 3.7 BB/9 in 34 1/3 innings this year. He signed a one-year deal with a base salary of $4.5MM before the season. Francisco, 30, earns $1.54MM this year and will be arbitration eligible again this coming offseason. He posted a .240/.296/.380 batting line in Toronto and battled a hamstring injury, so he could be considered a non-tender candidate.
The Blue Jays selected Wojciechowski in the supplementary first round of the 2010 draft. The 23-year-old has a 4.05 ERA with 7.0 K/9 and 2.2 BB/9 in parts of three minor league seasons. He ranked tenth on Baseball America's offseason list of Toronto's best prospects. Musgrove, 19, was a supplementary first round selection of Toronto's in the 2011 draft. The 6'5" right-hander has a 3.31 ERA with 7.4 K/9 and 1.4 BB/9 in 32 2/3 innings over the course of two pro seasons.
Rollins, 22, has a 2.46 ERA with 8.3 K/9 and 3.1 BB/9 in parts of two pro seasons. The Blue Jays selected the left-hander in the 24th round of the 2011 draft. Perez, 21, has a .275/.358/.447 batting line at Class A Lansing this year. The Venezuelan catcher has a career .777 OPS in parts of five minor league seasons.
Lyon, 32, is also on track to hit free agency this coming offseason. The former Blue Jays reliever has a 3.25 ERA with 8.8 K/9 and 2.8 BB/9 in 36 innings with Houston this year. Lyon, who pitched in Toronto from 2001-02, earns $5.5MM this year in the final season of a three-year, $15MM contract.
This marks the second time in three years that Happ has been involved in a midseason trade. The Astros acquired the left-hander from Philadelphia along with current Blue Jays outfielder Anthony Gose for Roy Oswalt in 2010. Happ, 29, has a 4.83 ERA with 8.5 K/9 and 3.4 BB/9 in 104 1/3 innings so far in 2012. He's earning a salary of $2.35MM this year and will remain under team control through 2014.
Carpenter, 27, has a 6.07 ERA with 8.2 K/9 and 4.2 BB/9 in 29 2/3 innings out of the bullpen this year. The right-hander has a strong minor league record: a 2.97 ERA with 9.6 K/9 and 3.5 BB/9 in five seasons.
The Blue Jays announced that they called up Travis Snider. The 24-year-old had a .335/.423/.598 batting line at Triple-A Las Vegas.
Photo courtesy of US Presswire.