The Braves currently sit atop the NL Wild Card race thanks in large part to the impact and versatility of Martin Prado. The 28-year-old is hitting .295/.357/.416 with 30 doubles and 14 steals (in 16 attempts) while playing left field (88 games), third base (18 games), second base (four games), first base (three games), and shortstop (two games). Quite a bargain for $4.75MM.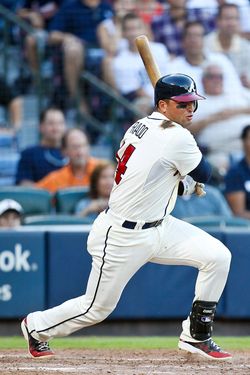 Last month we heard that the Braves want to sign Prado to a multiyear contract extension because they believe he is their long-term replacement for Chipper Jones at third base. The two sides have yet to start serious negotiations, however. Prado will be arbitration-eligible for the third and final time this offseason and is due to become a free agent following the 2013 campaign.
Given his unique career, it's very tough to pin down Prado's value relative to his peers. The best comparison may be Alex Gordon, who has also spent significant time at third base and in left field. He's a career .268/.348/.437 hitter with 77 homers in over 2,800 plate appearances, and signed a four-year, $37.5MM extension (with a $12.5MM player option for a fifth year) back in Spring Training. He was due to become a free agent after 2013 as well.
Prado is a .294/.344/.431 career hitter with 47 homers in just over 2,600 career plate appearances, so he matches up well with Gordon in the OBP and SLG departments. Gordon had his big breakout season a year ago while Prado has been a bit more consistent, posting a 108 OPS+ four times in the last five seasons. Gordon has done it three times in his five-year career, but he's also been demoted to the minors on a few occasions.
Because he's closer to free agency and has an All-Star Game nomination to his credit, Prado and his representatives at Peter E. Greenberg & Associates should have no problem asking for something north of Gordon's deal. Perhaps four years and $40-45MM makes sense for both parties, especially the team since it's easy to see him eclipsing that guarantee on the open market 15-16 months from now.
The Braves have shown a willingness to sign players to extensions in the middle of the season, most notably with Chipper years ago and David Ross back in 2010. Prado's upcoming arbitration case figures to bump his salary up into the $7-8MM range next year, if not even higher. Given the impending free agency of Michael Bourn, Atlanta may want to act quickly to avoid potentially losing two core offensive pieces in back-to-back winters.
Photo courtesy of US Presswire.