Russell Martin has improved his value with a strong offensive second half, but the prospective free agent might have already turned down the largest contract offer he'll see this year. Martin, who homered again last night, is hitting well with weeks to go before his second career appearance on the free agent market.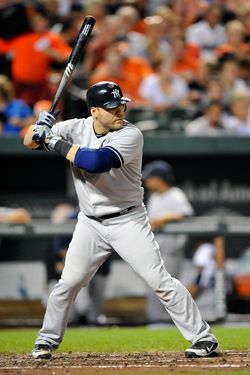 The Yankees made Martin a three-year extension offer in the $20MM range this spring, around the time Miguel Montero (five years, $60MM) and Yadier Molina (five years, $75MM) signed multiyear deals. Martin declined, deciding to let the market for catchers establish itself. His numbers have since dropped off compared to his first season in pinstripes. Going into this afternoon's game in Minnesota, the 29-year-old has 19 home runs with a .206/.309/.389 batting line in 458 plate appearances. 
Martin's batting average declined for the fifth consecutive season in 2012, and it's be unreasonable to count on major improvements from a player whose batting average on balls in play has been below .300 every month of his two-year tenure with the Yankees. Yet he continues to draw walks and hit for some power. Plus, his second half numbers — a .236/.318/.435 slash line with 11 home runs — provide some reason for optimism.
The right-handed hitter has a career line of .272/.386/.448 against left-handed pitching and while he's not a part-time player at this stage in his career, Martin could be paired with a left-handed hitting backup to great effect. John Jaso or Jason Castro also figure to get regular playing time in 2013, but this kind of player — someone who hits right-handers much better than left-handers — would complement Martin's offensive skills. 
Still, offensive numbers only reveal so much about a catcher's value. Martin been durable, catching 120-plus games for the second consecutive season. He has prevented 24% of stolen base attempts so far in 2012, which is approximately league average. According to a pre-season scouting report in The Fielding Bible: Volume III, Martin has re-established himself as an above average defensive catcher. All told, advanced metrics suggest Martin continues adding value (1.3 wins above replacement, according to Baseball-Reference and 2.0 wins above replacement, according to FanGraphs), though no longer at the All-Star level he played at in the early part of his career.
In the view of some prominent baseball executives Martin made a mistake when he turned down the Yankees' extension offer. Three general managers recently suggested to Jon Heyman of CBSSports.com that Martin will have to settle for a one-year contract this coming offseason. A deal in the $7.5MM range seems appropriate, though a multiyear agreement remains possible, the GMs said.
The last time Martin hit free agency he signed a one-year, $4MM contract with the Yankees. He had just missed a considerable portion of the 2010 season with a hip injury and been non-tendered by the Dodgers. Coming off of a healthy season, the Matt Colleran client figures to obtain a larger guarantee this time, even if he decides to accept a one-year, 'pillow' contract. He could also get multiyear offers given his youth and second half numbers. However, it seems unlikely Martin will see another $20MM offer following a below average offensive season.
Photo courtesy of US Presswire.