This coming offseason's class of free agent shortstops doesn't have the same star power as the one that featured Jose Reyes and Jimmy Rollins a year ago. Marco Scutaro and Stephen Drew lead a group that includes a number of backups and Alex Gonzalez, who missed the final five months of the 2012 season with a knee injury. In theory, Jhonny Peralta could also hit free agency. But it seems more likely that the Tigers will exercise their $6MM club option and keep Peralta in Detroit for another year.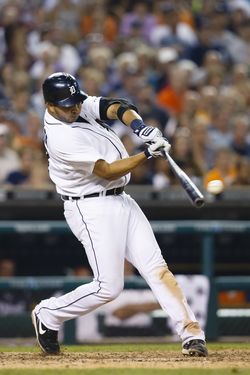 The Tigers don't have a Jurickson Profar or Manny Machado-type shortstop prospect in the organization, so they'll need to acquire someone to play the position in 2013. President and GM Dave Dombrowski could explore trades for players such as Elvis Andrus, J.J. Hardy and Yunel Escobar, but the asking prices figure to be high for each player. A weak free agent class and a potentially competitive trade market could improve Peralta's chances of returning to Detroit.
Peralta hasn't produced on offense the way he did in 2011, the first season of his two-year, $11.25MM contract with Detroit. He has a .251/.311/.404 batting line that's slightly better than average for his position (MLB shortstops are hitting .255/.307/.377). Though Peralta's home run total has dropped from 21 in 2011 to 11 in 2012, he has added 31 doubles and three triples in 502 plate appearances.
While Peralta's not thought of as an above-average defender, his defense is considered acceptable. He's a decent defensive shortstop even if he's not much fun to watch, according to a pre-season scouting report in The Fielding Bible Volume III. UZR suggests the 30-year-old has played above-average defense since signing his two-year deal with the Tigers. 
Advanced metrics say Peralta's adding value for the Tigers. FanGraphs' version of wins above replacement values Peralta at 2.7 WAR in 2012. Baseball-Reference, on the other hand, suggests Peralta has been worth 1.4 WAR. The metrics agree on this much: he's a contributor at a premium position. 
Sometime this month Peralta will appear in his 140th game of the season, reaching the threshold for the eighth time in as many seasons since 2005. Injuries can strike at any time, but Peralta's history of staying healthy compares favorably to that of Drew or Gonzalez. 
If the Tigers were to decline Peralta's option, it wouldn't be surprising to see the ACES client sign a two-year contract like the one he signed following the 2010 season. Comparable middle infielders such as Aaron Hill, Mark Ellis and Clint Barmes signed similar contracts a year ago. At this point, however, it doesn't seem likely that Peralta will reach free agency. In a market light on alternatives at shortstop, his $6MM option figures to appeal to the Tigers.
Photo courtesy of US Presswire.