The Cubs enter the 2012-13 offseason with multiple needs, but their pitching staff requires the most attention at this point.
Guaranteed Contracts 
Arbitration Eligible Players (estimated salaries)
Contract Options
Free Agents
Sometimes the second offseason under a new front office can be the first 'normal' winter for a team's baseball operations department. A year ago, in the first offseason under Theo Epstein and Jed Hoyer, the Cubs had to conduct a managerial search, fill out their front office and create a plan for player development. Now, as the Cubs begin their second winter led by Epstein and Hoyer, team executives can focus on their primary task: turning a 101-loss team into a contender and, eventually, bringing that elusive World Series title to the North Side of Chicago.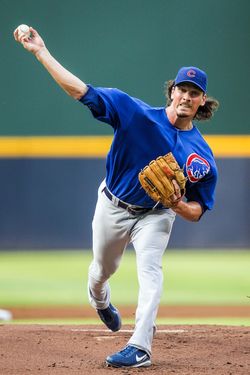 The Cubs spent in excess of $100MM on payroll in each of the past five seasons, so we know the resources are there. Yet to this point, they've committed just $42MM to next year's team, not accounting for arbitration eligible players. That should provide lots of flexibility for Cubs executives, but if last offseason provides any indication, they won't spend for the sake of spending. Instead, the Cubs figure to complete short-term free agent contracts and trades.
The Cubs could start by dealing one of their most experienced players. Alfonso Soriano had a good year in 2012, posting .262/.322/.499 batting line and hitting 32 home runs (reaching the 100 RBI-threshold won't hurt his value, either). Though Soriano has made it clear he'd consider waiving his no-trade rights, president of baseball operations Theo Epstein has said he won't deal the 36-year-old unless the Cubs get something of value in return. It's hard to envision Soriano's trade value rising much from here, so if the Cubs intend to create room for younger players and free up some salary, it's now time to make a move.
The Cubs will also need a contingency plan for center field. Just about half of Brett Jackson's at bats (59 of 120) ended in strikeouts this year, an indication that he won't make enough contact to maintain a respectable on-base average. He has some power, plays a premium position and can draw walks, but his contact skills create legitimate questions about the likelihood that he'll realize the potential that placed him on many top prospect lists earlier in his career.
Between a possible trade for Soriano and the need for a legitimate option behind Jackson, the Cubs could be in the market for outfielders this offseason. They could wait on a deep class of free agent outfielders or contact teams like the Diamondbacks and Twins, who have enviable outfield depth.
If the Cubs retain Luis Valbuena they'll be set at all four infield positions, with Starlin Castro, Darwin Barney and Anthony Rizzo occupying the three other spots. The Cubs could look to improve their catching depth following a season in which Chicago catchers placed 28th of the 30 MLB teams in OPS (.616). The free agent market seems relatively strong at catcher this year, and the Cubs could call teams such as the Blue Jays about possible trades.
The Cubs have a mid-sized group of arbitration eligible players that includes a number of non-tender candidates. Chris Volstad figures to be cut loose following a poor season; Ian Stewart's wrist issues place him in uncertain territory; Manny Corpas' chances of returning seem slim. Valbuena, the team's fourth non-tender candidate, has earned praise from his manager, an indication he could start the 2013 season as the Cubs' third baseman. Still, management might prefer to have options other than Valbuena and 23-year-old prospect Josh Vitters.
Jeff Samardzija has emerged as an extension candidate following his breakout season — an unexpected ascent that represented one of the primary positives of the Cubs' 101-loss season. MLBTR's Tim Dierkes has suggested a deal in the four-year, $27MM range could work for both the Cubs and Samardzija, who's under team control through 2015.
Despite Samardzija's production and a solid half-season from Matt Garza, Cubs starters struggled to complete innings (922 2/3, 24th in MLB), limit walks (3.1 BB/9, 23rd in MLB) and prevent runs (4.52 ERA, 23rd in MLB) this past season. Hoyer will be in the market for starting pitching, and could consider trades or free agent signings. The Cubs will presumably look for certainty given the state of their current rotation, so starters like Joe Blanton, Gavin Floyd and Jeremy Guthrie could make sense. Shaun Marcum, Dan Haren and Brandon McCarthy have health and performance-related questions, but they could also be intriguing free agent options for Hoyer to pursue if the players' asking prices are reasonable.
While it's not yet time for the Cubs to spend aggressively on top MLB free agents, they shouldn't hold back on elite international players (though spending restrictions do apply internationally). Prospects such as 18-year-old right-hander Shohei Otani could be worthwhile targets if Cubs scouts are impressed. The Cubs have already begun leveraging their status as a large market team by spending on international players such as Jorge Soler and they must continue adding talent to the organization in this way to the extent that it's possible under the sport's new collective bargaining agreement. The Cuban market could offer impact players as well, though this year's class doesn't appear to be as deep as the one that produced Soler and Yoenis Cespedes.
Garza, a midseason trade candidate this past summer, figures to stay put after missing the end of the 2012 season with an elbow injury. He'd likely have more value if he can prove he's healthy, so the timing isn't ideal for an offseason trade. If Garza's healthy midway through the 2013 season, the Cubs should trade him for the best controllable players they can get.
Cubs relievers performed less effectively than the team's starters this year, walking more than one batter per two innings (4.8 BB/9, 30th in MLB), generating few strikeouts (7.4 K/9, 29th in MLB) and posting a 4.49 ERA (27th in MLB). While it wouldn't make sense for the Cubs to spend aggressively on top free agent relievers such as Rafael Soriano, they must devote resources and attention to their relief corps this offseason. Trade candidates, minor league free agents and non-tendered players should all be on the team's radar. Perhaps the Cubs can even find a taker for Carlos Marmol, who will earn $9.8MM in 2013 after walking nearly one batter per inning this past season.
The Cubs lost 100 games for the first time since 1966 this past season. Even for a franchise that's grown accustomed to losses that's a lot of defeats. But they can be closer to contention within a few months if the front office completes a successful offseason by seeking pitching depth and pursuing impact talent whenever possible.
Photo courtesy of US Presswire.