The Brewers' offense is as good as it gets, so they're expected to seek pitching this coming offseason.
Guaranteed Contracts 
Arbitration Eligible Players (estimated salaries)
Contract Options
Free Agents
The Brewers had a number of promising starting pitchers emerge over the course of the 2012 season, but that's not going to stop general manager Doug Melvin from pursuing rotation help this coming offseason. Pairing Milwaukee's high-powered offense with a deeper rotation could have the Brewers contending all season long in 2013.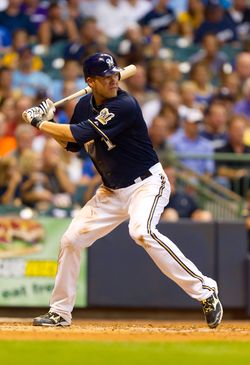 Brewers fans are no doubt hoping for an improved bullpen next year. Any team can look back at a string of blown games and say 'what if,' but the Brewers' stretch of losses in late July seemed especially debilitating. Though Brewers relievers were one of five groups to average more than one strikeout per inning, they ranked last in MLB with a 4.66 ERA, 29th in MLB in walk rate (4.1 BB/9) and 26th in home runs allowed (56). 
John Axford, and Francisco Rodriguez struggled at times, though they entered the season as Ron Roenicke's top relievers. Expect a new-look bullpen a few months from now, as Rodriguez's contract has expired and Manny Parra, Kameron Loe and Jose Veras could be traded or even non-tendered. Axford, viewed as an extension candidate seven months ago, has to prove himself again following an up-and-down season.
As a small market team with a medium-sized payroll, the Brewers aren't expected to spend big on relievers. Instead, they'll look for values in free agency and trades with the knowledge that they must find bullpen arms somewhere. Perhaps they'll pursue free agents like Jason Grilli or wait until January and February when bargains tend to emerge on the middle relief market. Their level of urgency will depend on their assessment of their own minor leaguers and their willingness to tender contracts to the likes of Parra, Loe and Veras.
The rotation, on the other hand, featured a number of breakout performances this past season. While Randy Wolf and Chris Narveson provided less value than anticipated, the 2012 season included encouraging performances from Marco Estrada (3.64 ERA, 9.3 K/9, 1.9 BB/9 in 138 1/3 innings), Mike Fiers (3.74 ERA, 9.5 K/9, 2.5 BB/9 in 127 2/3 innings), Mark Rogers (3.92 ERA, 9.5 K/9, 3.2 BB/9 in 39 innings) and Wily Peralta (2.48 ERA, 7.1 K/9, 3.4 BB/9 in 29 innings). With Yovani Gallardo in place atop the rotation and a number of emergent starters ready to contribute, the loss of Zack Greinke and Shaun Marcum becomes that much easier to withstand.
Marcum, a free agent for the first time in his career, isn't expected to receive a qualifying offer from the Brewers. Extending an offer would set the team up for draft pick compensation in case the right-hander signs elsewhere, but MLBTR's readers say it wouldn't be a good idea for the Brewers, and it sounds as though Marcum expects to move on.
Melvin has said the Brewers intend to add a veteran starting pitcher, so if the club doesn't retain Marcum, other available starters figure to draw interest from Milwaukee. Free agents Ryan Dempster, Edwin Jackson, Kyle Lohse, Dan Haren and Anibal Sanchez could become targets for the Brewers. Greinke, it seems, has priced himself out of Milwaukee after turning down a contract offer worth in excess of $100MM earlier this year.
The Brewers should strive to add multiple arms to the rotation, especially with so many relatively inexperienced pitchers competing for playing time. Injuries can strike at any time, and the Brewers can create depth now that could save them midway through the 2013 season. Now that rotation spots are seemingly available, minor league free agents might find Milwaukee more appealing than in years past. 
Nyjer Morgan might be the most prominent player in danger of being non-tendered by the Brewers, but he's definitely not the only one. As mentioned before, relievers Parra, Loe and Veras could be cut given their rising salaries ($1.2MM for Parra, $2.6MM for Loe, $2MM for Veras). Travis Ishikawa, a light-hitting backup first baseman, could also hit free agency early this winter since the Brewers have more affordable depth options at the position in Mat Gamel and Hunter Morris.
Corey Hart has said he'd like to continue playing for the Brewers beyond 2013, when his current contract will expire. Given the challenges of working out a deal midseason, the sides could explore an extension this winter. Recent contracts signed by Edwin Encarnacion and Carlos Quentin could be templates for Hart, who signed a similar deal midway through the 2010 season. Though other teams would have interest in acquiring Hart, a trade doesn't seem likely.
The offense that led the National League in runs scored (third in MLB) should return for the 2013 season. Led by established stars such as Ryan Braun and Aramis Ramirez and relative newcomers such as Jonathan Lucroy and Norichika Aoki, the Brewers are set at most positions. Josh Hamilton would be a welcome addition to any lineup and has connections on the Brewers' coaching staff, but he figures to be too expensive for Milwaukee. Melvin could look for a shortstop depending on his confidence in Jean Segura, the 22-year-old acquired from the Angels in the Greinke trade. If the Brewers do pursue depth at short, they'd presumably add someone on a one-year or minor league deal so as not to block Segura's path.
If the Brewers achieve some attainable goals — acquire starting pitching, improve the bullpen, consider adding a shortstop — they'll enter the 2013 season poised to contend again. Not bad for a franchise that lost Prince Fielder and Greinke in consecutive years.
Photo courtesy of US Presswire.