The Mets will discuss extensions with their top players this coming offseason, when significant changes are expected up and down the roster.
Guaranteed Contracts 
Arbitration Eligible Players (estimated salaries)
Contract Options
Free Agents
The Mets have an assortment of needs heading into the 2012-13 offseason and, according to most reports, they won't be shy about addressing them. While GM Sandy Alderson is expected to turn over a considerable portion of the team's roster this offseason with non-tenders and trades, it doesn't sound as though the Mets plan on spending on the winter's top free agents.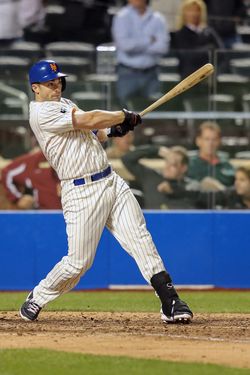 The team could spend big, but if it does David Wright and R.A. Dickey figure to be the beneficiaries. Wright, 29, has considerable leverage coming off of a season that will place him on many an NL MVP ballot. He has said he'd like his next contract to last until he retires, and the Mets haven't ruled the possibility out. Wright appears to be in line for a long-term deal worth $20MM-plus per season.
There are fewer precedents for Dickey's contract negotiations. Not only is he coming off a Cy Young caliber season, he's a knuckleballer who didn't establish himself as an MLB starter until he was 35. It's unclear how long the Mets expect Dickey to keep pitching at this level, but there's no way he'll be earning $5MM per season anymore if the Mets extend him. Dickey's annual salary could triple on a new contract, and some Mets executives seem wary of making a sizable commitment to the knuckleballer, who turns 38 this month.
It'll take considerable resources to lock Wright and Dickey up to long-term contracts, but it doesn't sound as though the Mets intend to spend aggressively beyond those potential contracts. Their payroll will probably sit in the $90MM range again, and with nearly half of that going to two players — Johan Santana and Jason Bay — the timing doesn't seem right for major free agent expenditures.
There's a good chance the Mets will create some payroll flexibility by non-tendering some prominent arbitration eligible players. Mike Pelfrey will surely be cut loose following a season in which he earned nearly $6MM on the disabled list. Andres Torres is also expected to hit the free agent market, and Manny Acosta, Fred Lewis and Rob Johnson could follow.
The team's class of arbitration eligible players also includes Ike Davis, whose name has surfaced as a possible trade candidate. According to a number of reports, the Mets will consider trading Davis or Lucas Duda under the right circumstances. Davis placed fifth in the NL with 32 home runs this year and is under long-term control, so the team's asking price would be high.
Still, the Mets have many areas to address this offseason, so it'd be imprudent not to consider trades. The team needs offense, after placing 25th in MLB in runs scored this past season. Clear needs exist behind the plate and in the outfield. 
The Mets are expected to pursue potential upgrades at catcher this offseason, when Kelly Shoppach will hit free agency. Though there's typically a shortage of available catchers, the upcoming class of free agents offers some decent options at the position.
The free agent class is also flush with outfielders, but the Mets aren't expected to bid aggressively on the top options available. Instead, they can pursue trades for players such as Denard Span, Justin Upton and Shin-Soo Choo or seek late-winter bargains in free agency. Opposing teams figure to ask Alderson about affordable, young starting pitchers such as Jonathon Niese in trade talks.
If the Mets are uncomfortable offering multiyear deals to free agent outfielders, Scott Hairston may have played his last game with the team. The 32-year-old hit 20 homers this year and continued hitting left-handers (.286/.317/.550 batting line vs. LHP) so he should generate multiyear interest elsewhere. The Mets wouldn't get compensation for Hairston or any of their other free agents, as they aren't valued as $13MM players and won't get the requisite qualifying offers.
The Mets spent a considerable portion of last offseason's budget on Frank Francisco and Jon Rauch, and are expected to seek veteran relief help again this offseason. This time, they're expected to let Rauch and Ramon Ramirez leave as free agents while pursuing outside options. Still, improving the bullpen is a must for a team that ranked 29th in MLB in reliever ERA (4.65), 25th in reliever strikeout rate (7.7 K/9) and 27th in reliever walk rate (4.0 BB/9). Upgrades will come from within if players such as Josh Edgin and Robert Carson continue to develop in 2013, and the presence of these young relievers could lessen the pressure on Alderson to find short-term solutions.
The team's rotation seems set, with a promising combination of certainty and upside in place. Though it's generally preferable to add a starter or two on a minor league deal, such pitchers may look at the Mets' projected rotation and pursue opportunities in places with less competition. 
The Mets have enough pieces in place that Alderson can focus on problem areas this offseason. But they have too many shortcomings to contend without making changes. Expect a busy offseason in Queens.
Photo courtesy of US Presswire.