The Rockies will seek pitching in their first offseason under the joint leadership of Bill Geivett and Dan O'Dowd.
Guaranteed Contracts
Arbitration Eligible Players (estimated salaries)
Free Agents
As Bill Geivett begins his first offseason leading the Rockies' baseball operations department, the organization faces an intimidating challenge: find a way to improve the worst pitching staff in MLB. If Geivett accomplishes this goal, the Rockies will be that much closer to contending in the increasingly competitive NL West. It's not an easy task.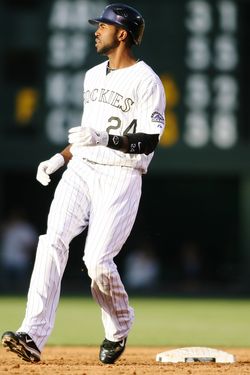 The Rockies have already completed one of their biggest offseason additions, hiring manager Walt Weiss. The longtime MLB shortstop had been managing his son's high school team in the Denver area, but the leap isn't as great as it first sounds. Weiss spent years working as a special assistant to GM Dan O'Dowd after his 14-year playing career ended in 2000.
Now that the Rockies have a field boss in place, they can focus on obtaining rotation help. No team allowed more runs than the Rockies in 2012 and while part of that can be attributed to Coors Field, this team could certainly use more pitching. Jorge De La Rosa and Jhoulys Chacin have had success pitching in Colorado and pitchers such as Juan Nicasio, Drew Pomeranz and Alex White offer some promise. Still, the Rockies must obtain another starter this winter. It probably won't be a top free agent pitcher — luring the game's best arms to the thin air of Coors Field has never been easy — but there are still lots of potential targets for the Rockies.
Ricky Nolasco and Gavin Floyd could be trade targets for Colorado. I believe the Rockies should also pursue Jon Niese and Rick Porcello in case there's a trade to be made for either starter. Free agent starters such as Kevin Correia, Ervin Santana, Roberto Hernandez and Francisco Liriano are some of the low-risk free agents who could appeal to Geivett. These pitchers would provide support in the short term, a worthwhile goal given the team's struggles in 2012. However, it also makes sense for the Rockies to pursue pitchers who project as long-term members of their staff.
The Rockies are deepest in the outfield, meaning players such as Dexter Fowler, Michael Cuddyer and Tyler Colvin could surface in trade talks this winter. At this point it doesn't sound as though the Rockies will move Carlos Gonzalez.
Interest in Fowler would likely be strong, even at a time that there are many center fielders available via trades and free agency. The Braves seem like a fit for the Atlanta native, since they have enough depth to send a young pitcher to the Rockies. Fowler remains under team control for three more seasons, and he'll earn considerably less than a free agent during that time. For that reason, the Rockies could look to extend him on a deal that covers his arbitration seasons and some years of free agency. I suggested in August that a five-year, $42MM extension could work for both sides.
Cuddyer and Colvin wouldn't have as much trade value as Fowler. Still, teams interested in adding offense could inquire about the outfielders. Both Cuddyer and Colvin can play first base, a bonus for teams seeking versatility. Plus, the Rockies could part with offense more easily than most teams. Even without much production from Troy Tulowitzki the Rockies ranked third in the National League in runs scored this past season.
Giambi, a fixture on the bench since 2009, hasn't decided what his next step will be. The Rockies clearly like Giambi lots — enough to sign him as a free agent three times and consider him for their managerial opening — but he's not a logical fit on the roster. They already have one aging, left-handed hitting first baseman in Todd Helton, so there could come a time when Giambi's skillset simply doesn't fit.
The Rockies will also need relief help, though none of their most relied upon relievers are departing as free agents. That said, it doesn't make sense for the mid-market Rockies to invest a significant portion of their budget in relief help. Relievers Kyle Farnsworth, Ramon Ramirez and Brandon Lyon might be among the free agent options available on short-term contracts.
Colorado's class of arbitration eligible players includes two non-tender candidates: Josh Outman and Jonathan Herrera. It's possible Herrera and other Rockies infielders will draw trade interest this offseason given the lack of free agent infielders available. Other than Fowler, the group doesn't include any obvious extension candidates.
The Rockies will pursue pitching this offseason in an attempt to restore some balance to their roster. They don't have to have an elite pitching staff, but they must make significant improvements before they can expect to win more games than they lose.
Photo courtesy of US Presswire.