The Rockies are expected to discuss a contract extension with Dexter Fowler this offseason in an attempt to keep him in Denver long-term. While an extension could make sense for both sides, it's no longer possible for the Rockies to lock him up inexpensively.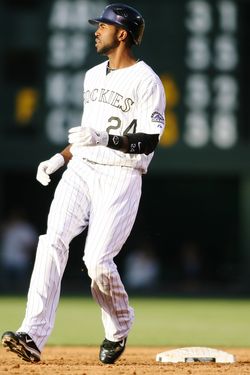 The arbitration eligible center fielder recently switched agencies from the Boras Corporation to Excel Sports Management, a development that the Rockies reportedly found encouraging. Fowler indicated to Troy Renck that he's open to signing an extension this winter if the Rockies wish to discuss one. It sounds as though there's already some positive momentum toward a deal. 
Fowler has leverage since he's enjoying his best offensive season and plays a premium defensive position. He has a .304/.389/.495 batting line with 12 home runs and a league-leading 11 triples so far in 2012. As well as he has played, his bargaining power could collapse following a poor season or injury, so an extension could be appealing.
If the Rockies pursue an extension, they would likely attempt to lock the 26-year-old up through one or more free agent years and obtain a club option. Such a deal would provide the Rockies with an above-average performer at a premium position for his prime seasons. Meanwhile, Fowler would obtain the security of guaranteed salaries for his three remaining seasons of arbitration eligibility and beyond.  
Fowler, who's now earning $2.35MM as a first-time arbitration eligible player, is under team control through 2015 as a super two. Any long-term deal would presumably cover his next three arbitration seasons and at least one free agent year. In general, teams are also able to obtain a club option when extending a player three years away from free agency.
Fowler has likely played his way to a 2013 salary in the $4.3MM range, but that's if he goes to arbitration. Players who sign extensions don't generally obtain maximum value for their arbitration years, so $3.5MM might be a more reasonable estimate for Fowler's 2013 salary. The sides might then approximate Fowler's last two arbitration salaries at $6MM in 2014 and $8.5MM in 2015. This would add up to a total of $18MM for his three remaining arbitration years. 
Fowler's free agent years would be valued below market value but above his arbitration seasons. Adam Jones recently obtained $15MM per free agent year on his extension with the Orioles, but he was less than two years from free agency when he signed. Cameron Maybin obtained $8MM per free agent year on his extension with the Padres, but his offensive numbers are inferior to Fowler's and he signed as a pre-arbitration eligible player. Fowler's free agent years can safely be valued in the $8-15MM range at this stage, likely around $11.5MM. Lastly we'll add a club option worth $11.5MM ($1MM buyout) for a third free agent year.
If the sides agreed to value Fowler's three remaining arbitration seasons at $18MM total and his two free agent years at $23MM total, they'll have reached $41MM in guaranteed money. Add the $1MM buyout for the 2018 club option and the total climbs to $42MM over five years.
This proposed deal wouldn't be unlike the extensions signed by Kevin Youkilis (four years, $41.25MM), Ryan Zimmerman (five years, $45MM) and Alex Gordon (four years, $50MM). Each deal covers a number of arbitration years and at least two free agent years. These contracts provide teams with discounted arbitration years and extended control over the player. They provide the players with security they wouldn't otherwise have: tens of millions in guaranteed money. In this context I believe a five-year, $42MM deal would represent fair value for both the Rockies and Fowler.
Photo courtesy of US Presswire.