The Royals announced that they signed right-hander Jeremy Guthrie to a three-year contract through 2015. Excel Sports Management represents Guthrie, who hit free agency this offseason after splitting the 2012 season between the Rockies and Royals. Guthrie will earn $25MM over the course of the three-year, Bob Dutton of the Kansas City Star reports (on Twitter). He'll earn $5MM in 2013, $11MM in 2014 and $9MM in 2015.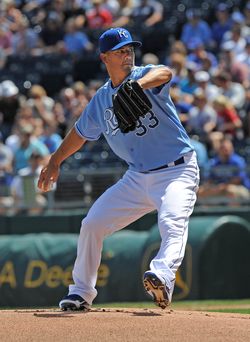 Guthrie pitched poorly in Colorado (6.35 ERA, 21 home runs allowed in 90 2/3 innings), but pitched closer to his career norms after leaving Coors Field. In 14 starts with the Royals, Guthrie posted a 3.16 ERA with 5.5 K/9 and 1.9 BB/9. He has been durable enough to complete 175 innings or more in each of his six full seasons at the MLB level. However, he has allowed more hits than innings pitched in his career and remains somewhat home run prone with 1.3 home runs allowed per nine innings.
Guthrie joins Ervin Santana, Bruce Chen, Luke Hochevar and Luis Mendoza in the Royals' projected 2013 rotation. Danny Duffy, Felipe Paulino, Chris Volstad and Nathan Adcock could also be considerations for the rotation.
Tim Dierkes ranked Guthrie 48th on MLBTR's list of the year's top 50 free agents, predicting a deal with the Pirates. I mis-read the market for Guthrie in September, anticipating a one-year deal in the $6MM range. Credit Excel for finding a three-year guarantee for a mid-rotation starter.
One reader has correctly predicted the destinations of every top 50 free agent who has signed to this point in the offseason. Be sure to see where you rank in MLBTR's free agent prediction contest.
Photo courtesy of US Presswire.