The Yankees have retained their most consistent starter from 2012 as the club has announced that it has re-signed Hiroki Kuroda to a one-year contract.  ESPN's Buster Olney reports that Kuroda's contract is worth $15MM (plus incentives worth less than $1MM) and was the first to break the news that Kuroda had agreed to terms with New York (Twitter links).  Kuroda is represented by the Octagon agency.
"I am very happy and excited to re-sign with the Yankees," said Kuroda.  "I am very grateful for all of the interest and all of the offers that I received from the various teams that courted me.  It was a tough decision for me to make, but at the end of the day, I wanted to try to win a championship with the teammates that I went to battle with last season."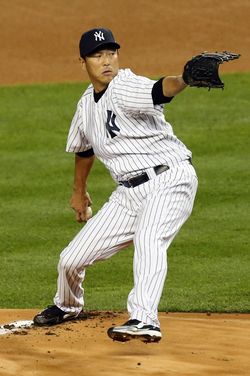 Kuroda was seen as fairly likely to re-sign with New York entering the offseason, and indeed, it was reported earlier today that the Yankees were "very confident" about their chances of retaining the Japanese veteran.  MLBTR's Tim Dierkes ranked Kuroda as the ninth-best free agent on the market this winter and correctly predicted that he would re-sign with the Yankees. 
The righty did turn down a one-year, $13.3MM qualifying offer from the Yanks a few weeks ago, assuming (correctly) that he could find a richer deal on the open market.  Kuroda's list of suitors included such MLB teams as the Red Sox, Angels and Dodgers, plus Japanese teams, as Kuroda has said that he would like to eventually finish his career by returning to pitch in his native country.
After four years with the Dodgers, Kuroda signed a one-year, $10MM free agent contract with the Yankees last January and made a strong transition to the AL East, posting a 3.32 ERA and 3.27 K/BB ratio in 33 starts.  Kuroda turns 38 years old in February but seems to be as durable as ever, pitching a career-best 219 2/3 innings in 2012.  His return will bring some stability to a Yankee rotation that has a lot of question marks given CC Sabathia's recent injury problems, Phil Hughes and Ivan Nova's up-and-down performances and Andy Pettitte again considering retirement. 
Photo courtesy of Anthony Gruppuso/US Presswire