The Mets and David Wright have officially finalized the largest contract in franchise history.  The Mets have extended Wright for seven years and $122MM in new money, which can be considered an eight-year, $138MM deal if the value of Wright's previously-exercised 2013 club option is included.  In that sense, Wright passes Johan Santana's $137.5MM deal from February 2008.  Wright is represented by ACES.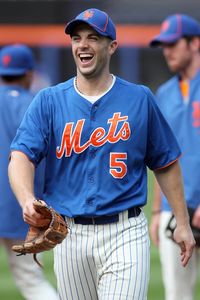 Wright, 30 in December, frequently stated his desire to remain with the Mets for his entire career.  The Mets drafted him 38th overall in 2001, as a supplemental pick for the loss of free agent Mike Hampton.  Wright has a .301/.381/.506 career line with 204 home runs in 5,453 plate appearances, totaling 47 wins above replacement.  With six All-Star Game appearances and six seasons worthy of at least one MVP vote, Wright is the face of the franchise.  He already holds franchise records in most offensive categories.  This is Wright's second extension with the Mets, as he signed a six-year, $55MM contract in August 2006. 
Longtime shortstop Jose Reyes left the Mets as a free agent after last season, increasing pressure from the fans for Mets ownership and GM Sandy Alderson to lock up Wright.  Remaining on the agenda: a new contract with 38-year-old knuckleballer R.A. Dickey, who won the 2012 NL Cy Young award and will not negotiate during his contract season.  Currently, Wright and starting pitcher Jonathon Niese are the only Mets under contract beyond 2013.
WFAN's Ed Coleman first reported the agreement, with Ken Rosenthal of FOX Sports confirming that it was official. Photo courtesy of U.S. Presswire.