Buster Posey said that he wanted to be a Giant for life, and he got his wish with a record-breaking deal that can keep him in San Francisco through his age 36 season.  The Giants signed the star catcher to an eight-year, $159MM extension that will get underway after the 2013 season.  In total, the new deal will pay the CAA client $167MM over nine years with a $22MM option for 2022, since it overwrites his previously agreed-upon 2013 salary.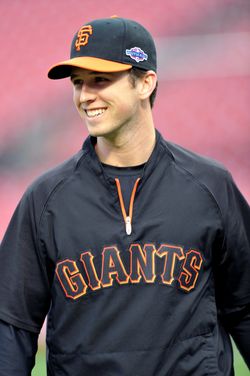 The 26-year-old gets a $7MM signing bonus as part of the deal and will receive a $3MM buyout if his option year is not triggered. The hefty contract extension also provides the catcher with a full no-trade clause.  The breakdown has Posey earning $3MM in 2013, $10.5MM in 2014, $16.5MM in '15, $20MM in '16, and $21.4MM per season from 2017-2021.
In his young MLB career, Posey has won the Rookie of the Year award, two World Series titles, and the 2012 National League MVP award.  Across four seasons, Posey owns a .314/.380/.503 batting line and is coming off of a season where he belted a career high 24 homers.  
Posey's contract covers his three remaining years of arbitration and five years of free agency, plus an option that could take care of a sixth free agency year.  Before this contract, no catcher had earned more than Mike Napoli's $20.8MM for his arbitration years, and Posey nearly triples that.  His $57MM arbitration total is third-highest all-time, behind Ryan Howard and Tim Lincecum.  Posey's contract is the largest deal ever given to a catcher and second in dollars to Joe Mauer's eight-year, $184MM deal with the Twins.  The contract also marks a record guarantee for a player with fewer than four years of service time.  The previous holder of that distinction was Todd Helton, who had an eleven-year deal worth $151.45MM.
The Giants' deal with Posey represents their second consecutive year with a major contract extension completed just prior to Opening Day.  Last year, right-hander Matt Cain - also represented by CAA's Jeff Berry – cashed in with a five-year, $112.5MM pact.  For Berry, this deal is just the latest on a resume full of lucrative extensions.  As MLBTR's Extension Tracker shows, he has recently ironed out deals for clients Mark Buehrle, Jake Peavy, and John Danks.
Terms of the deal were provided by Buster Olney of ESPN.com (on Twitter) while Andrew Baggarly of CSNBayArea.com tweeted the value of the option year.  John Shea of the San Francisco Chronicle (on Twitter), Jon Heyman of CBSSports.com (on Twitter), and the AP reported other details of the agreement.  Photo courtesy of USA Today Sports Images.