The Padres are banking on their younger players taking a leap forward in 2013 to help propel them into the playoff chase.
Major League Signings
Notable Minor League Signings
Trades and Claims
Notable Losses
Needs Addressed
The Padres' biggest need was pitching, but they didn't make any major shakeups in that department during the offseason.  In fact, they inked just one Major League free agent all winter and it was one of their own – Jason Marquis.  The veteran was signed to a one-year, $3MM deal in early December after turning in a 4.04 ERA with 7.6 K/9 and 2.7 BB/9 across 15 starts for San Diego.  While those are decent numbers, we can't totally forget about his dismal 8.47 ERA with 3.2 K/9 and 3.7 BB/9 in seven starts for the Twins that led to his May release.  General Manager Josh Byrnes hopes that he got to see the real version of Marquis in 2012 and that the right-hander's history of success in the National League continues in 2013.
The club's other addition to the starting five was Tyson Ross, who came over from the A's in a November trade.  The right-hander has shown promise but he'll have to put his control issues behind him to stick in a major league rotation.  Ross made 13 starts and five relief appearances for Oakland last season, posting a 6.50 ERA with 5.6 K/9 and 4.5 BB/9.  He didn't get to finish the season in the A's rotation, but after a strong spring he'll be slotted in as the No. 5 starter for the Padres.
Questions Remaining
There are a good deal of question marks surrounding the Padres after the club essentially opted to stand pat after a 76-86 campaign.  The Padres don't necessarily have to reassemble the 1998 Braves rotation to keep the runs down in the spacious confines of Petco Park, but the Padres didn't make significant upgrades to a staff that didn't perform in 2012.  Clayton Richard turned in a 3.99 ERA but his strikeout numbers are trending downward and he had a career low of 4.4 K/9 last season.  Richard did manage to keep the walks down (career best 1.7 BB/9) but the same can't be said for Edinson Volquez, who had 5.2 BB/9.  The No. 3 starter in the rotation is Eric Stults, who did well in 14 starts for the Friars last year, but the 33-year-old has never turned in more than 99 innings of big league work in a season.
The Padres' offense was actually solid when they got away from their pitcher-friendly home park, but they're behind the 8-ball to start the year with several players out of action.  Yasmani Grandal, who hit .297/.394/.469 in his 60 game debut season, will be out for 50 games after testing positive for performance enhancing drugs.   As much as they'll miss Grandal in the lineup, they'll miss Chase Headley even more as he recovers from a broken thumb over the next 4-6 weeks.  His understudy, Logan Forsythe, is still dealing with a foot injury, forcing rookie Jedd Gyorko over to third with Alexi Amarista filling in at second.  Plus, Carlos Quentin generally misses some time due to injury.  The Padres are definitely a banged up team, but the fences at Petco have been moved in and that should help power numbers across the board.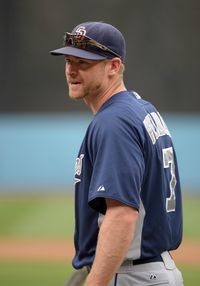 Headley is the Padres' premier bat, but will he finish the season in San Diego?  The third baseman has long been coveted by rival teams and if things aren't clicking as the deadline approaches, it stands to reason that Byrnes will give serious thought to the phone calls that he receives, despite his offseason assertions.  The 28-year-old will earn $8.575MM in 2013 and will remain under team control through next season, but it doesn't appear that the Padres have made serious headway with their star player on a contract extension.
Deal of Note
It's hard to say that the Padres had a deal of note this offseason with the Ross acquisition rating as their biggest move.  While San Diego flirted with doing something significant at times over the last few months, nothing wound up surfacing.  The Padres wanted to lock up Headley for the long-term, but that remains unfinished and doesn't appear to be imminent.  They explored adding another starter at a time when Kyle Lohse was still on the market, but they didn't follow through on that either.  Byrnes reportedly had interest in plucking Justin Upton from the Diamondbacks, but he was hardly alone there.  The Padres' inactivity either speaks to the confidence that they have in their young club or their financial constraints.  Or maybe it's a little from column A and a little from column B.
Overview
The Padres have been bitten hard by the injury bug to open the 2013 season and they could find themselves in a bit of a hole on the other side of April.  They'll have to vie with the Dodgers and Giants for traction in the NL West and it's tough to see them making the postseason unless everything goes right.  That means their offense getting/staying healthy, repeat pitching performances from the likes of Marquis and Stults, more power from Yonder Alonso at first, and a better all-around defensive effort.  None of those things are out of the question, but right now, it appears that the odds are against them.
Photo courtesy of USA Today Sports Images.