by MLBTR's Steve Adams
The Cardinals didn't make any significant changes, but spent big to retain their own players following a season in which they were one game from a return to the World Series.
Major League Signings
International Signings
Alex Reyes, P: $950K.
Henry Alvarado, P: $150K.
Notable Minor League Signings
Trades and Claims
Extensions
Notable Losses
Needs Addressed
The Cardinals finished the 2012 season with 88 wins, a wild card playoff berth and a trip to the National League Championship Series. That was a strong enough showing for rookie manager Mike Matheny to cause the team to pick up his option for the 2014 season in February.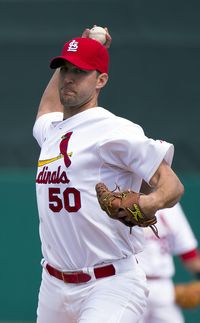 Rather than investing money and/or prospects in order to pursue middle infield upgrades, the team elected to spend money down the line with extensions for Adam Wainwright and Allen Craig. General manager John Mozeliak was able to secure Wainwright for under $100MM, which many pundits thought would be difficult to do.
Mozeliak correctly determined that Kyle Lohse would turn down a qualifying offer in search of a hefty free agent payday (more on that later). Following the news of Chris Carpenter's season-ending (and career-threatening) injury, Lance Lynn and top prospect Shelby Miller are slated to round out manager Mike Matheny's rotation.
The Cardinals added a second left-hander to his bullpen to complement Marc Rzepczynski by adding Randy Choate on a three-year deal. Three years and $7.5MM for Choate was surprising, but it's hard to deny his dominance over left-handed hitters; in the past four seasons he's held opposing lefties to a .163/.230/.237 batting line.
Ty Wigginton was signed to add some right-handed pop off the bench. The 35-year-old is capable of handling both infield and outfield duty. He appeared at third base, first base and left field for the Phillies in 2012 and has a career .270/.354/.456 line against southpaws. He'll give the team a solid, albeit unspectacular bat off the bench.
Two long-time Cardinals were sent packing this offseason, as Kyle McClellan was non-tendered (he would go on to sign with the Rangers) and Skip Schumaker was dealt to the Dodgers. The two moves saved roughly $3.9MM, as McClellan had projected to earn about $2.4MM as a third-time arbitration-eligible player.
Ronny Cedeno was brough in to compete for infield playing time, but even after the news that Rafael Furcal would miss the entire season with Tommy John surgery, the Cardinals elected to release him and go with Pete Kozma as the starting shortstop. Cedeno has since signed with the Astros to be the team's everyday shortstop.
Questions Remaining
The Cardinals made a significant investment in Craig despite the fact that he's played just 238 career games at age 28 and has never topped 112 games in a season thanks to injuries. He'll need to prove that he's able to stay on the field and maintain his impressive level of production from 2011-12 (.309/.357/.532) over the course of a full Major League season.
The Cardinals are set to enter the season with a middle infield consisting of Pete Kozma and Daniel Descalso, following the Furcal injury and Schumaker trade. Middle infield was already a potential weak spot for St. Louis entering the season, but this tandem now looks even more exposed in light of Furcal's injury. Top prospect Kolten Wong is nearly ready for the Majors, but if that trio falters Mozeliak could be in the market for a middle infielder this July.
Lynn and Miller have yet to prove themselves over a full season of starting at the Major League level, but the team has players like Trevor Rosenthal and Joe Kelly as insurance in the event of an injury or poor performance.
Deal of Note
Even after the news of Carpenter's injury, the Cardinals still decided to go with internal rotation options rather than approach Kyle Lohse about a reunion. In a show of tremendous faith in its young pitching, the team decided it valued a draft pick and the resulting boost to its draft bonus pool that would come when Lohse signed elsewhere.
St. Louis watched a division rival — the Brewers — sacrifice value in this year's draft in order to strengthen its team and make a run at the division title or a wild card spot. Should Lohse thrive while this year's Cardinals rotation underperforms, there will be no shortage of people who look back to the month of March and wonder if signing Lohse would have altered the course of events.
Overview
Despite question marks in the middle infield, St. Louis has a deep lineup and enough pitching depth to make a run at a third consecutive trip to the NLCS. They may need to search for a shortstop and/or second baseman come July, but an NL Central Division title isn't out of question for a team that figures to be among the most well-rounded clubs in baseball.