The Tigers have signed first-round pick Jonathon Crawford, Jim Callis of Baseball America reports (on Twitter).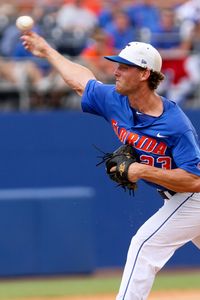 The Florida right-hander will receive a full slot value — a signing bonus of $2,001,700. The No. 20 overall pick is advised by B.B. Abbott of Jet Sports Management.
Crawford, 21, ranked as the draft's No. 17 prospect according to MLB.com's Jonathan Mayo. Baseball America ranked him 24th on their list of Top 500 draft prospects, and ESPN's Keith Law pegged the former Gator at No. 47 on his own Top 100. Mayo writes that Crawford's fastball touches 96 mph, and he features a power breaking ball as well. However, inconsistencies and an inability to change speeds prevented him from being one of the top few college arms selected in the draft.
The Tigers haven't had a true first-round pick since the 2009 season thanks to their free agent signings of Jose Valverde, Victor Martinez and Prince Fielder. They've shown a tendency to draft pitching early on in the draft, however, selecting names such as Ryan Perry, Jacob Turner, Rick Porcello, Andrew Miller and of course, Justin Verlander with their top picks in recent years. Crawford becomes the 13th first-round selection from this year's draft to sign with his new team.
Photo courtesy of USA Today Sports Images.