It's been a disappointing 2013 for the Cubs, but the rotation has had little to do with that fact. Cubs starters have pitched to a 3.62 ERA this season — the seventh-best mark in the Majors. Scott Feldman has been a huge part of that, posting a 2.84 ERA in 66 2/3 innings (11 starts).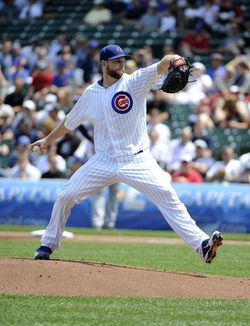 While Feldman isn't likely to sustain a sub-3.00 ERA, his season hasn't been entirely smoke and mirrors. His swinging-strike rate, while still below the league average, is among the best of his career, as is his first-pitch strike rate. He's inducing grounders at a 51.5 percent clip and demonstrating better command (2.7 BB/9) than he showed as a member of the Rangers' rotation from 2008-12.
Stats like FIP (3.86), xFIP (3.82) and SIERA (3.91) all figure Feldman to be a useful rotation piece even if his peripheral stats catch up to his ERA. Feldman's skill set and strong results thus far figure to make him an attractive trade chip over the next six to seven weeks, particularly for teams looking to bolster their starting rotation without breaking the bank.
Feldman, 30, signed a one-year, $6MM contract with the Cubs this offseason, and probably had a pretty good idea that he could see his name on the market if things didn't go well on Chicago's north side. That's clearly been the case, as the Cubs currently have a 25-35 record that puts them 14.5 games out of first place in the NL Central.
Plenty of contenders have rotation issues, and the Cubs' early standing as a seller could actually benefit them. With two wild card spots now attainable in each league, teams are more reluctant to part with talent early in the summer. The Cubs, however, likely have no delusions about their current status. Contending teams with rotation issues include the Orioles, Giants, Indians and Rockies, to name a few. Feldman's high ground-ball totals would seem to be particularly appealing to teams like Baltimore and Colorado, who play in very homer-friendly environments.
Feldman won't be the best name on the market, but Hoyer and Epstein could look for a high-risk, high-reward return as they did last season when they acquired Arodys Vizcaino (who was on the DL recovering from Tommy John surgery) for Paul Maholm and Reed Johnson. If they're looking to maximize their haul, it might be worth it to package Feldman with another trade candidate like David DeJesus (who I examined as a candidate a month ago) or even Matt Garza.
If they prefer to move Feldman on his own, they should still be able to get some useful pieces. For example, last July, the Twins shipped Francisco Liriano (and his 5.31 ERA and 5.0 BB/9) to the the White Sox for infielder Eduardo Escobar and left-hander Pedro Hernandez. Prior to 2012, Baseball America ranked Escobar as Chicago's No. 10 prospect and Hernandez as the Padres' No. 23 prospect (he was later traded to the Sox for Carlos Quentin). Feldman's numbers are vastly superior to Liriano's, so the Cubs could look to land a solid top 10 prospect from another team as well as a second in the 10-15 range.
Photo courtesy of USA Today Sports Images.