David DeJesus is no stranger to hearing his name come up on the rumor mill. He was one of the more attractive trade chips on the July trade market in 2010 before he injured his hand and ultimately required surgery. That was poor timing for the Royals, who saw one of their best chips lose all its value. DeJesus was ultimately shipped to the A's in the offseason for Vin Mazzaro and Justin Marks — hardly the type of package they could've gotten in July when he was hitting .318/.384/.443.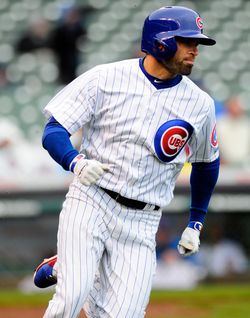 The Cubs will soon find themselves in an uncannily similar situation with DeJesus. The 33-year-old is making $4.25MM this season with a $6.5MM club option for the 2014 season. Those salary figures are almost identical to DeJesus' $4.7MM 2010 salary and the $6MM club option included on that contract.
DeJesus is off to a strong start; he's hitting .274/.342/.500 with four homers and a pair of stolen bases. The power numbers aren't likely to continue to be so impressive, but DeJesus posted a .350 OBP last year and has turned in a .347 OBP or better in all but one season since debuting with the Royals in 2003. He's probably miscast as a center fielder at this stage of his career, but defensive metrics have typically been a fan of his work at a corner spot — particularly left field.
He's not without his warts; DeJesus used to handle left-handed pitching fairly well, but he looks to be a strict platoon player as he enters his mid-30s. He has just one hit and a walk in 12 plate appearances against southpaws this season after hitting just .149/.289/.149 in 115 PAs against same-handed pitching for the Cubs in 2012.
Assuming history doesn't repeat itself with an untimely injury for DeJesus this summer, Cubs GM Jed Hoyer will likely have an attractive trade chip on his hands. DeJesus isn't the type of name you see in blockbuster summer deals, but he's an affordable, veteran on-base machine that could be a nice boost to a contender with a weak outfield alignment. The cheap club option makes him more than a rental, and teams like the Tigers, Rangers, Giants and White Sox could all have interest in DeJesus if their current left field options continue to falter. A reunion with the Royals would actually make loads of sense, as he could platoon with Jeff Francoeur, who is hitting .205/.241/.301 against right-handed pitching but .321/.367/.429 against lefties.
DeJesus isn't an elite bat, but given his history of strong OBP numbers and an affordable club option for 2014, I'd imagine he could net at least one of a trade partner's Top 10 prospects with another respectable piece in the deal as well.
Photo courtesy of USA Today Sports Images.