A three-year, $39MM guarantee with the Red Sox for slugger Mike Napoli was renegotiated all the way down to a one-year, $5MM contract in the course of about two months during the offseason, as a physical revealed he has avascular necrosis (AVN) in both hips.  The degenerative condition, which came as a surprise to Napoli, was caught early and has not affected his play to date.  Napoli avoided the DL this year, earning $8MM in incentives to bring his 2013 earnings to the same $13MM average annual value from his original three-year contract.  Now, he's eligible to return to the free agent market coming off a fine season.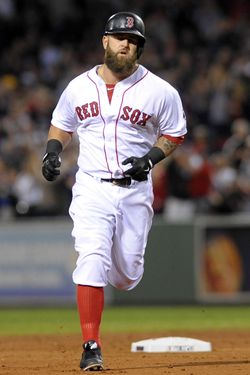 Strengths/Pros
Napoli is one of the top sluggers on the free agent market, as he leads all qualified free agents in isolated power.  He's tied for sixth among all free agents with 23 home runs and is fourth in slugging at .482, assuming Adam Lind's option is picked up.  Napoli is one of just ten players to hit at least 20 home runs in each of the 2008-13 seasons.  
A right-handed hitter, Napoli's on-base percentage is boosted by a strong career walk rate of 12%.  This year, his .360 OBP ranks third among qualified free agents.  If you're looking for offense from a right-handed hitter, Napoli is one of the best 15 bats in the game right now.
We don't take much stock in RBI here at MLBTR, but it may help Napoli's bargaining position that he ranks second among free agents with 92 knocked in.  The player ranked above him, Robinson Cano, will require a much larger commitment.
Formerly a catcher, Napoli proved this year he can play an acceptable first base, logging nearly 1,100 innings at the position with strong grades from UZR/150 (+13.3) and The Fielding Bible (+10).
Napoli comes with a reputation as a winner, as this year will mark his sixth postseason out of eight total seasons.  He was a big performer for the Rangers in 2011, driving in 15 runs in 17 games.
Weaknesses/Cons
While Napoli's AVN has not affected his play or caused him to miss time to date, the Red Sox were concerned enough about the condition to reduce their offer to one guaranteed year at less than 40% of the original salary.  Napoli was back on the open market during the seven-plus weeks his contract was being renegotiated, and while agent Brian Grieper praised his client for his loyalty, it's likely other interested teams shared Boston's concern and didn't offer significantly more.
Napoli has proven his health to the extent possible this year by setting a career best in plate appearances with 578 in the regular season.  It's difficult to project his playing time in the future, however, since he was previously a catcher and has now been diagnosed with AVN.  Napoli had more than his fair share of separate injuries, with 53 DL days in '07, 32 in '08, 22 in '11, and 35 in '12.  These injuries, involving his ankle, hamstring, shoulder, oblique, and quad, may have been related to time spent at catcher, but his history dates back to the minors.  Any team considering a multiyear offer has to take the entire injury history into account.
Napoli struck out in 32.4% of his plate appearances this year, worst among all qualified free agents.  Mark Reynolds and Marlon Byrd are the only other two to even top 20%.  Napoli's strikeouts, which have increased in the past two years, are a big reason why he's hitting .246 since 2012.  Given his walk rate, it still makes for a strong OBP, but if he bats .240 and walks dip to his 2009-10 level, his OBP will no longer be an asset.  Additionally, as you would expect from a former catcher, Napoli's baserunning is below average.
I mentioned earlier that Napoli leads all free agents in isolated power, but his .223 mark is actually his worst since 2009.  Given his previous production and career high in plate appearances, I would have expected Napoli to have over 30 home runs at this point rather than 23.
The Rangers chose not to tender Napoli a $13.3MM qualifying offer after the 2012 season, but with a healthier campign and their recent preference for short-term deals, the Red Sox are likely to make the $14MM qualifying offer five days after the World Series ends.  Napoli is the type of player the system hurts the most: one who is good but not great, and doesn't have the youth of a B.J. Upton.  With the cost of a first or even second round draft pick, a few teams could lose interest in Napoli.
Personal
Mike resides in Pembroke Pines, Florida.  He values time with his family, and even has his mother's name, Donna Rose, tattooed on his arm.  Mike is a big fan of the NFL and college football, particularly the University of Miami.
Market
It would be reasonable for the Red Sox to try to bring Napoli back, and a qualifying offer or the threat of one gives them some leverage.  We've seen them tangle with David Ortiz in this type of situation, with Ortiz accepting arbitration after the 2011 season and getting a two-year deal done last November with a qualifying offer in hand, before hitting the open market.  The Red Sox were willing to offer Napoli three years and $39MM to sign him off the open market last winter before the AVN revelation, but they honed in on him, Shane Victorino, Ryan Dempster, and Stephen Drew in part they would not cost a draft pick.  The Sox liked the two-year, $26MM price enough on Ortiz to forgo the chance at draft pick compensation for him, and I wonder if two years might be their limit on Napoli.  On the other hand, they don't have much in the way of alternatives.
Draft pick compensation will affect Napoli on the open market if he turns down a qualifying offer from the Red Sox.  Still, teams like the Twins, Rockies, and Mets, with protected first round draft picks and openings at first base, seem like good fits.  Napoli has the advantage of a very weak free agent market for first basemen.  Kendrys Morales is more of a DH, and could be dragging around a qualifying offer as well.  Otherwise the options are Corey Hart, James Loney, Justin Morneau, Mike Morse, Mark Reynolds, Kevin Youkilis, and Paul Konerko.  As one commenter notes below, the wild card in the first base market is Jose Dariel Abreu, the Cuban slugger in whom the Red Sox may have interest.
Expected Contract
I think a qualifying offer can knock a year off a player's contract, as it seemingly did with Nick Swisher and Michael Bourn, so two years and $28MM is the floor for Napoli.  Ultimately I predict Napoli will land a three-year, $42MM deal.
Photo courtesy of USA Today Sports Images.