The Padres have officially announced a two-year contract extension for outfielder Will Venable. The new contract is reportedly worth $8.5MM and will buy out Venable's final two years of arbitration eligibility and pay him $4.25MM each season. Venable is represented by Rex Gary of Turner Gary Sports.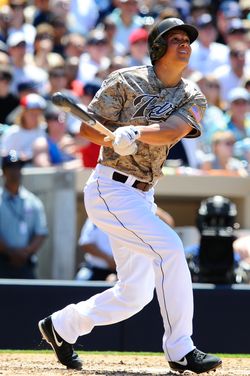 Venable, 30, is in the midst of the finest season of his career. The Princeton product and lifetime Padre is batting .273/.315/.503 with a career-high 20 homers and 15 stolen bases (in 20 attempts). Always one to succeed away from Petco Park, Venable is getting the job done in San Diego this season for the first time. It may be due to a small sample or it may be due to Petco Park's new dimensions, but he's slashing .277/.330/.559 with 14 of his 20 long balls at home.
Venable is earning $2.675MM this year after avoiding arbitration for a second time as a Super Two player this past winter. Had he remained this productive in 2014, he likely could have exceeded a guaranteed $8.5MM from 2014-15, but in accepting this deal, Venable has more than doubled his career earnings, which likely made it a worthwhile compromise.
This is the second consecutive September in which Padres GM Josh Byrnes has hammered out an affordable multiyear deal for one of his outfielders. As I pointed out earlier today in examining recent September extensions, the Padres and Chris Denorfia agreed to a two-year, $4.25MM contract last September that looks to be a steal for the Friars now, given Denorfia's strong season at the plate and in the field.
As can be seen in MLBTR's Extension Tracker, the Padres have made a habit of extending their players since Byrnes took over as GM following the 2011 season. In that time, Venable, Denorfia, Carlos Quentin, Huston Street, Cory Luebke, Cameron Maybin and Nick Hundley have all signed low-cost multiyear deals, though some have worked out better than others. Byrnes will have his biggest task this offseason as he looks to lock up third baseman Chase Headley just one year prior to his first taste of free agency.
MLB.com's Corey Brock first broke the news of the extension and provided the contract breakdown.
Photo courtesy of USA Today Sports Images.