Over the next few months, I will be discussing some of the higher profile upcoming arbitration cases. I will rely partly on my arbitration model developed exclusively for MLB Trade Rumors, but will also break out some interesting comparables and determine where the model might be wrong.
Despite a slow start due to an awful May, Jim Johnson put together another big year as the Orioles' closer. He led the league in saves for the second consecutive season, again hitting the 50-save mark. Entering his fourth year of arbitration, Johnson looks poised to get a big raise on his $6.5MM salary, and my arbitration salary model projects him at $10.8MM for a solid $4.3MM raise.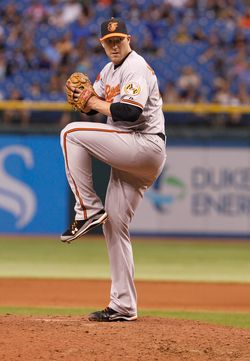 Last year, Johnson set the record for a closer with his service time during his third year through the arbitration process, earning a $3.875MM raise on top of his $2.625MM salary.
It is difficult to find comparable pitchers for Johnson, because It is very rare for closers to go year-to-year for as long as he has. In fact, in the last seven years (for which I have collected arbitration data), there have only been 20 relievers to reach arbitration eligibility with at least 5 years and 120 days of service time. Johnson has 5 years and 165 days of service time entering this offseason.
The largest raise that any reliever has gotten in this service class for the last seven years was in 2012 when Brandon League got a $2.75MM raise. He only had 37 platform-year saves, far fewer than Johnson's 50. League also had a 2.79 ERA, which is roughly in line with Johnson's 2.94 this past season. Since their other numbers are similar, it would seem that League is the absolute floor for what Johnson's raise could be.
In general, raises through arbitration do not seem to vary much with performance before the platform year for players who are re-entering arbitration. First-time eligibles do get paid for career performances too, but second-time, third-time, and fourth-time eligibles generally get paid based on platform seasons. However, this is not entirely the rule for closers. Pre-platform saves seems to be correlated with arbitration outcomes even after accounting for other factors. I suspect that this may have more to do with reputational effects rather than directly considering the save numbers of past seasons, but either way, this gives Johnson a substantial advantage over League, who only had eight pre-platform saves going into his 2012 arbitration discussion. Johnson had 72 already, thanks to his 51-save 2012. This suggests that Johnson is likely to crush the previous record.
Few other pitchers in Johnson's service class are even all that close. The next biggest raise went to Santiago Casilla in 2013, who only had 25 saves in his platform season and 12 saves beforehand, and no one else even topped a $2MM raise or 20 saves. League would appear to be the only reliever in his fourth year of eligibility who could even be in the discussion.
Dipping into a slightly larger group and looking at anyone who was entering arbitration eligibility for their third or fourth time, there still aren't many comparable pitchers. Ironically, the most similar player in the last service class was Johnson himself, who broke the third-time eligible reliever record with his $3.875MM raise last year. His 51 saves and 2.49 ERA in 2012 are actually pretty comparable to his 50 saves and 2.94 ERA in 2013. I doubt that Johnson in a previous service class would make logical sense as a comparable for Johnson this time around, but it does show that raises in the $4MM region are pretty reasonable to expect.
Heath Bell got a $3.5MM raise in his third year of arbitration eligibility (with 5 years and 99 days of service time) back in 2011, when he was coming off 47 saves and a 1.93 ERA. Johnson could argue that is comparable but inferior, and with three years of inflation, something north of $4MM is reasonable.
Jose Valverde could come up as well—with 5 years of service time and 44 platform-year saves, he got a $3.3MM raise back in 2009. Francisco Rodriguez had 40 saves when he entered arbitration with 5 years of 15 days of service time the year before that, and he got a $2.95MM raise.
Johnson's case is unique because of the lack of comparables, but it seems like a very reasonable argument for "significantly north of $3MM" could be made. While I am not sure he will necessarily hit the $4.3MM mark, I suspect he will get close and the Orioles should definitely budget for somewhere around $10-11MM of salary for their closer in 2014.
Photo courtesy of USA Today Sports Images.