Prior to the season, there was speculation the Dodgers could release Juan Uribe, eating the $7MM remaining on his contract just to open up the roster spot after he played at replacement level from 2011-12.  However, Uribe made over 100 starts for the Dodgers in 2013 and was incredibly valuable, posting the fourth-best WAR among all free agents.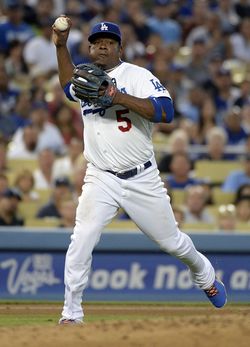 Strengths/Pros
Uribe was worth 5.1 wins above replacement according to FanGraphs, a number topped in 2013 by only three other free agents: Robinson Cano, Jacoby Ellsbury, and Shin-Soo Choo.  No other position player even came close to Uribe, with Marlon Byrd checking in at 4.1.
How did he do it?  In large part through defense.  Playing mostly third base, Uribe posted a UZR/150 of 35.3 in 900 1/3 innings.  Only four other players exceeded 30 this year, and their defensive excellence is uncontested: Shane Victorino, Juan Lagares, Gerardo Parra, and Manny Machado.  Uribe's hot corner defense is no fluke, as he's posted strong UZR numbers there in each season since '09.  Another stat, defensive runs saved from The Fielding Bible, had Uribe at 15.  That figure was tied for the 15th best in baseball.  The National League Gold Glove at third base went to Nolan Arenado, and rightfully so, but Uribe was one of three finalists along with David Wright.  The Fielding Bible's panel of ten experts ranked Uribe's defense sixth in baseball at third base this year, behind only Arenado in the NL.
Uribe has the versatility to play all around the infield, though it's been a while since he's played anything other than third base regularly.
One reason Uribe was able to pick up 102 starts (and 132 total games) for the Dodgers this year is that he had a solid year with the bat as well.  Uribe hit .278/.331/.438 in 426 plate appearances.  He's always had pop, with a career isolated power mark of .167 and eight seasons of double digit home runs.  He hit a career-best 24 bombs in 2010 with the Giants, leading to his contract with the Dodgers.  This year, Uribe was able to hit for average while also drawing enough walks to create a solid OBP.  Weighted Runs Created Plus (wRC+), which is park and league-adjusted, measures a player's total offensive value against the league average.  Uribe's 116 figure this year means he was 16% better than the league average hitter, and it ranked eighth among third basemen with at least 400 PAs.  By this measure, Uribe had a better year with the bat than Pablo Sandoval, Chase Headley, Kyle Seager, Pedro Alvarez, Martin Prado, and other starting third basemen.
Uribe made significant contributions to the 2005 White Sox and 2010 Giants, so his pair of World Series rings are well-deserved.  He did not receive a qualifying offer from the Dodgers this offseason, so signing him will not involve forfeiting a draft pick.
Weaknesses/Cons
Uribe was a terrible hitter from 2011-12, hitting .199/.262/.289 with six home runs in 474 plate appearances.  His contract looked like a big mistake after the first two years, and he took criticism for being out of shape.  Uribe endured a left hip flexor injury in May 2011, and hit the DL again in July with a similar injury.  In September 2011 he had surgery for a sports hernia, giving hope for a rebound in '12 when he showed up to camp in better shape and healthy again.  However, he hit the DL in May for a wrist injury and was marginalized as the season wore on.  Hanley Ramirez's thumb injury in March 2013 created an opportunity for Uribe to play regularly at third base.  Even after a stellar 2013, no one has any idea how many useful seasons the 34-year-old Uribe has left.
Uribe posted a ridiculous 25.6% walk rate in April this year, settling in at a more Uribe-like 5.0% for the rest of the season.  He also had a .322 batting average on balls in play this year, compared to a career BABIP of .282.  It's reasonable to expect Uribe to draw fewer walks and have fewer hits drop in next year, pulling his OBP down toward his career .299 mark.  Projections suggest Uribe may not even be a league average hitter in 2014.  If he reverts to being a .200 hitter with no power, Uribe may be nothing more than a defensive replacement.
Personal
Juan and his wife Ana reside in the Dominican Republic in the offseason with their four children.  Juan was a second cousin of Jose Uribe, a shortstop who played in the Majors from 1984-1993 and died in a car crash in 2006.  Juan was signed by Rockies scout Jorge Posada, Sr., father of the Yankees catcher, in 1997.  MLB.com's Jesse Sanchez described the signing in this 2010 article.
Uribe is a big hit in the clubhouse.  In 2010, Ann Killion of Sports Illustrated wrote, "Uribe is beloved, always happy, consistently upbeat."  Uribe's teammates have been singing his praises for many years.
Market
The Dodgers may be open to bringing Uribe back on a one-year deal, after the first two years of their initial commitment went so poorly.  Otherwise, a team with unsettled plans in the short-term at third base would make sense for Uribe, which could mean the White Sox, Yankees, Cubs, Angels, Marlins, and Phillies.  I'm not sure if any teams would consider Uribe as a semi-regular second baseman, but in that case the Orioles, Blue Jays, Tigers, Royals, Braves, and Rockies could be factors.  Uribe may be best served filling an Eric Chavez type of role, in whom the Yankees, Angels, and Diamondbacks are interested according to Jon Heyman of CBS Sports.  
Uribe benefits from a weak free agent market for third basemen.  He's as much of a starting third baseman as anyone else in the group.
Expected Contract
The question with Uribe: one year or two?  On one hand, the bar for a two-year deal is quite low.  Utility infielders and other part-time players routinely get two years, and Uribe's performance in 2013 suggests he can contribute regularly.  On the other hand, Uribe's contract with the Dodgers three years ago was the first multiyear pact of his career, and the first two years went horribly.  In the end, I think Uribe will get a two-year, $12MM deal.
Photo courtesy of USA Today Sports Images.