2:17pm: The Twins have confirmed the trade via press release. Darren Wolfson of 1500 ESPN reports that the Braves are taking on all of Doumit's $3.5MM salary (Twitter link).
1:54pm: The Braves have acquired Ryan Doumit from the Twins in exchange for left-hander Sean Gilmartin, according to Ken Rosenthal of FOX Sports (on Twitter).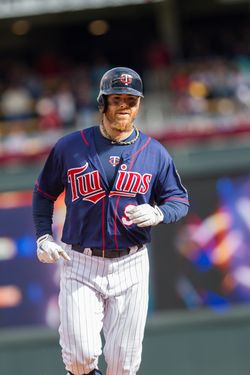 Doumit, who will turn 33 on April 3, is coming off a down season in which he batted .247/.314/.396 and dealt with concussion issues late in the year. However he's just one year removed from a strong .275/.320/.461 showing with a career-high 18 homers for the Twins.
Though he's not considered a strong defensive catcher, Doumit would give the Braves a cheap option behind the dish in the wake of Brian McCann's departure to the Yankees. Doumit is owed jusr $3.5MM in 2014. The Braves have Evan Gattis, Gerald Laird and Christian Bethancourt as internal options at catcher, but Bethancourt could require more seasoning, Laird is a backup and Gattis has serious OBP concerns. He alsos struggled against right-handed pitching (.236/.284/.473), which is where Doumit exceeds (.270/.330/.454).
Gilmartin, 23, entered the 2013 season ranked as the Braves' No. 4 prospect, per Baseball America, and their No. 3 prospect, per MLB.com. Though he suffered a down year, BA still ranked him 10th among Braves prospects, and MLB.com's Jonathan Mayo kept his ranking strong at No. 4.
Gilmartin struggled through injuries and posted a 5.06 ERA across three levels in 2013, averaging 6.9 K/9 and 2.8 BB/9 in a total of 105 innings. Selected with the No. 28 overall pick in the 2011 draft, Gilmartin draws praise for his polish from both BA and MLB.com. BA writes that his 89-91 mph fastball has good movement and is complemented by a plus changeup and a slider with "sharp, late break." According to Mayo, "[Gilmartin's] ceiling is somewhat limited, but he's not far from being ready to step in as a middle-of-the-rotation type in the big leagues."
Jeff Passan of Yahoo Sports first reported that the trade was close (Twitter link).
Photo courtesy of USA Today Sports Images.