DEC. 24: The Dodgers officially announced the signing.
DEC. 20: Joel Sherman of the New York Post reports (Twitter links) that Howell will receive a $3MM signing bonus and be paid $4MM in both guaranteed years of the deal. The option is a $6.25MM club option with a $250K buyout, but Howell can void the option when exercised, if he's willing to forfeit the buyout. The option becomes a player option if he pitches 65 games in 2015 or totals 120 games between 2014-15 and is not on the disabled list at the end of the season.
DEC. 17: The Dodgers have agreed to re-sign left-handed reliever J.P. Howell, reports Jon Heyman of CBSSports.com (via Twitter). The deal includes two years at a guaranteed $11.25MM, plus a mutual option for 2016 that would convert to a player option if it is "triggered," Heyman reports. (Twitter links.)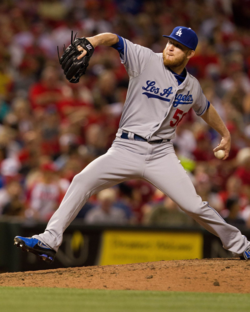 Ken Gurnick of MLB.com reported earlier this evening that Howell was close to a two-year deal for $11.25MM with a $6.25MM third year option that would vest with 120 appearances over 2014-15. Though final details on the option remain unknown, it could be that the mutual option would vest to become a player option at an appearance threshold.
Howell, 30, gets a significant raise on last year's $2.85MM salary. His $11.25MM guarantee falls shy of those received by Javier Lopez (Giants, $13MM) and Boone Logan (Rockies, $16.5MM), but Howell's representatives at the Legacy Agency secured their client a higher average annual value on his deal. And, if he makes good on the contract, Howell will presumably either trigger the vesting option, have the club pick it up anyway, or hit the market at 32 in good position to land another payday.
Last year, Howell registered a 2.03 ERA in 62 innings for the Dodgers, including 7.8 K/9 and 3.3 BB/9 and just 6.1 hits per nine innings. Advanced metrics were a fan of his work in 2013 as well, with his FIP landing at 2.89 and xFIP at 3.48. 
In spite of Howell's excellent 2013 campaign, there were issues that may have held down his value to some extent. Low HR/9 and BABIP numbers last year drove his stellar results to some extent, and anticipated regression in those areas lead Steamer and Oliver (via Fangraphs) to project Howell's ERA in the mid-3.00 range for 2014. Going further back, moreover, though he managed a 3.04 ERA in 2012, it was accompanied by a 4.78 FIP and 4.17 xFIP. And in 2011, similarly unfavorable analytical marks resulted in a 6.16 ERA. 
MLB.com's Ken Gurnick first reported that the sides were closing in on a two-year, $11.25MM deal with a third-year option.
Photo courtesy of USA Today Sports Images.