JAN. 20: MLBTR's Tim Dierkes has the specifics on Kazmir's contract (Twitter link). Kazmir will receive a $4MM signing bonus and be paid $7MM in 2014. He'll earn $11MM in 2015, and his contract contains a clause that gives him a $500K bonus if he's traded.
DEC. 4: Though they have plenty of in-house rotation candidates, the Athletics clearly consider Scott Kazmir to be superior to many of them. Oakland officially announced today that they have signed the left-hander to a two-year contract that is reportedly worth $22MM. Kazmir is represented by the Legacy Agency.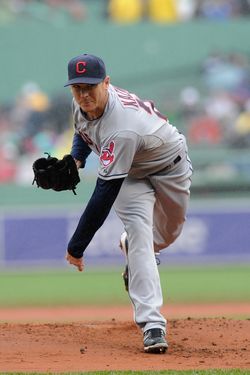 Kazmir, who turns 30 next month, reemerged as a legitimate Major League starter in 2013 after a two-year hiatus from significant big league action. After pitching to a 5.54 ERA in 299 innings from 2009-11 and seeing his average fastball velocity drop below 87 mph, Kazmir returned with a 92.5 mph heater and posted a 4.04 ERA In 158 innings for the Indians. He averaged 9.2 strikeouts and 2.7 walks per nine innings to go along with a 40.9 percent ground-ball rate. Sabermetric stats like FIP (3.51), xFIP (3.36) and SIERA (3.45) all pegged Kazmir as significantly better than his ERA would otherwise indicate. Because he did not receive a qualifying offer from Cleveland, Kazmir's agreement won't require the A's to sacrifice their first-round pick.
Kazmir's $22MM guarantee falls just $1MM shy of Tim Hudson's two-year, $23MM deal with the A's Bay Area rivals — the San Francisco Giants. Oakland was said to finish as the runner-up in that sweepstakes. Kazmir's guarantee and their unwillingness to top the Giants' offer to Hudson suggests that this could be the highest the A's were capable of going in their pursuit of a pitcher.
The Kazmir signing likely puts an end to Oakland's interest in a reunion with Bartolo Colon. Kazmir figures to join a rotation that includes Sonny Gray, Jarrod Parker, A.J. Griffin and one of Tommy Milone, Dan Straily and Brett Anderson. Anderson, who makes $8MM in 2014 and has a $12MM option for the 2015 season, appears to become a prime trade candidate as a result of this signing (if he wasn't already).
Kazmir's contract continues the upward trend we've seen for free agent starting pitcher salaries this offseason. Prior to season's end, MLBTR's Tim Dierkes projected a two-year, $16MM contract that may have seemed aggressive at the time but still fell short of his ultimate guarantee. Agent Brian Peters of the Legacy Agency did well to secure such a payday despite his client's spotty history.
Ken Rosenthal of FOX Sports first reported that the agreement was close (on Twitter), and Jon Heyman of CBS Sports reported that it'd be a two-year contract (Twitter link). Jim Bowden of ESPN and MLB Network Radio broke the news of the two-year, $22MM agreement (Twitter link).
Photo courtesy of USA Today Sports Images.