MONDAY: Joel Sherman of the New York Post reports the contract's year-to-year breakdown (via Twitter): Teheran will receive a $1MM signing bonus and earn $800K in 2014. His salary jumps to $1MM in 2015, $3.3MM in 2016, $6.3MM in 2017, $8MM in 2018 and $11MM in 2019.
FRIDAY, 10:08am: Jon Heyman of CBS Sports tweets that the option is valued at $12MM and contains a $1MM buyout.
9:55am: Ken Rosenthal of FOX Sports reports (via Twitter) that Teheran's extension is worth a guaranteed $32.4MM, meaning he falls slightly short of Madison Bumgarner's $35MM record for a pitcher with one to two years of Major League service time.
9:25am: The Braves announced that they have signed standout right-hander Julio Teheran to a six-year extension that runs through the 2019 season and contains an option for the 2020 campaign. Teheran is a client of Relativity Baseball.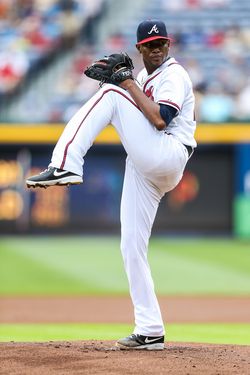 Teheran, who had one year, 62 days of Major League service time, was already under control through the 2018 season. This new contract locks in all of his arbitration salaries and guarantees that the Braves can control one free agent year, with the potential for a second free agent season via the 2020 option. GM Frank Wren is quoted in the press release:
"We are excited to sign Julio to a long-term contract. He is one of the best young pitchers in the National League and one of our core of players we expect to be together for a number of years."
Indeed, the former top prospect took a massive step forward in his first full season at the big league level in 2013. After a slow start to the year (5.08 ERA in April), Teheran righted the ship and turned in an outstanding 2.86 ERA from May 1 through season's end. The net result was a 3.20 ERA with 8.2 K/9, 2.2 BB/9 and a 37.8 percent ground-ball rate. That performance was good enough for a fifth-place showing in the National League Rookie of the Year voting, though it should be noted that 2013 featured a particularly impressive crop of rookies. In another year, Teheran's performance — valued at 2.4 WAR by Fangraphs and 3.2 WAR by Baseball-Reference — may have been worthy of taking the award home.
While terms of the deal have yet to be disclosed, a look at MLBTR's Extension Tracker gives a list of comparables for pitchers with one to two years of big league service. Currently, Madison Bumgarner's five-year, $35MM contract (which contained two options) is the largest deal for a pitcher in this service class. As I speculated last week, when reports of the Braves' interest in an extension for Teheran surfaced, that type of guarantee is certainly within reach over a six-year span for the Colombian right-hander.
It's a surprise to see the Braves, a team not previously known for doling out extensions, sign two of their core players to significant long-term deals this offseason. The team announced a franchise-record eight-year, $135MM extension for Freddie Freeman last week and is also said to have interest in locking up Andrelton Simmons on a long-term deal. Prior to Freeman's extension, that last Braves player to sign an extension with fewer than five years of service time was Brian McCann back in 2007. The Braves did welcome former Rangers and Indians GM John Hart to their front office as a senior advisor this offseason, so perhaps the esteemed executive has had some influece on these decisions.
The Braves feature a wealth of home-grown starting pitchers, as Teheran now looks set to join Mike Minor, Brandon Beachy and Kris Medlen in the rotation for the foreseeable future. The fifth spot in 2014 figures to be filled by some combination of Alex Wood, Gavin Floyd and Freddy Garcia, although Wood (also a home-grown product) or top prospect and 2012 first-rounder Lucas Sims could eventually fill that slot on a more permanent basis.
Photo courtesy of USA Today Sports Images.