Having seen their rotation come into question due to a host of injuries, the Braves made what would have been a relatively shocking move just one week ago; Atlanta announced this morning that they have signed right-hander Ervin Santana to a one-year deal that is reportedly worth $14.1MM — the exact amount of the qualifying offer he rejected back in November.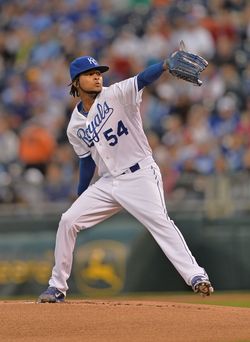 It's been a rocky offseason for Santana to say the least. Coming off one of the finest seasons of his career, the 31-year-old entered free agency with his eyes on a large multi-year contract, but like fellow free agents Matt Garza and Ubaldo Jimenez, found that teams preferred to wait out the Masahiro Tanaka signing before turning to that trio of top MLB free agents.
Jimenez and Santana, in particular, found suitors difficult to come by due to the compensatory draft picks attached to their names after rejecting qualifying offers. When Jimenez eventually struck a four-year deal worth $50MM (the same amount Garza was guaranteed), Santana was left as the odd man out on the free agent market. He held out for his four-year deal shortly but ultimately set a new course and targeted a one-year deal with an eye toward signing as quickly as possible. That new goal came with the news that he was splitting from agent Bean Stringfellow of Proformance. However, Santana (and Jose Bautista) stuck with agent Jay Alou, who resigned from Proformance shortly after the news.
Santana posted a 3.24 ERA with 6.9 K/9, 2.2 BB/9 and a career-best 46.2 percent ground-ball rate in 211 innings for the Royals last year — his lone season with Kansas City. Royals GM Dayton Moore acquired him from the Angels last offseason in what amounted to a salary dump after Santana posted an ERA north of 5.00 in 2012 and was rewarded for his faith in a bounce-back campaign. Santana now has a sub-4.00 ERA in three of his past four seasons and has seen his ability to produce ground-balls steadily increase since 2011.
The Braves didn't look like a team that needed a great deal of pitching after a 2013 season in which their starters finished sixth in the Majors with a combined 3.51 ERA, tied for sixth with a 3.58 FIP and also tied for sixth with a 3.65 xFIP. However, the team saw Tim Hudson depart via free agency and sign with the Giants, and more recently, they've been beset by injuries in their rotation. Kris Medlen left his Sunday start and is believed to have ligament damage in his right elbow that could require surgery. Brandon Beachy is experiencing tightness in his biceps after undergoing a pair of elbow surgeries (one of which was Tommy John) in the past two years, and Mike Minor could miss a couple of weeks to open the season after urinary tract surgery this offseason.
By making this signing, the Braves are sacrificing their No. 26 overall selection in the draft, though that loss is lessened somewhat by the fact that they will have the No. 32 overall pick after losing Brian McCann to the Yankees as a free agent. The signing also means that Royals will now gain the No. 28 selection in the 2014 draft, as Yahoo's Jeff Passan tweeted over the weekend. That will give Kansas City four of the first 58 picks in this year's draft.
Santana also drew heavy interest from the Blue Jays, Orioles (even after the Jimenez signing) and the Twins late in his free agency. Minnesota even offered a three-year deal believed to be worth $30-33MM, but Santana held firm to his desire for a one-year deal, believing himself capable of posting a big season and re-entering the free agent market next offseason. Santana, of course, could find himself in the same situation next year, but the value of next year's qualifying offer could be north of $15MM. As such, he's likely to earn at least $29MM over the next two seasons anyway, meaning Minnesota's offer is just $1-4MM greater over one more year.
Beyond that, the Braves have a tight payroll and had to make a clear exception to sign Santana this season; they may not be able to afford the risk of extending a qualifying offer, even after a solid season. Finally, another strong year would give Santana back-to-back seasons of well above-average performance and four seasons of a sub-4.00 ERA in five tries. That could be enough to persuade teams that were wary of his rough 2012 and/or the medical reports on his elbow to show interest.
MLB.com's Mark Bowman first tweeted that the two sides were nearing completion on a deal, and David O'Brien of the Atlanta Journal-Constitution tweeted that the Braves would announce the signing of Santana this morning. Enrique Rojas of ESPN Deportes confirmed that it was a one-year pact (Spanish Twitter link). Jon Heyman of CBS Sports reported Santana's salary (via Twitter).
Photo courtesy of USA Today Sports Images.