The Royals enjoyed their highest win total since 1989 last season, and GM Dayton Moore issued a pair of four-year contracts to free agents in an effort to push the team into the playoffs for the first time since 1985.
Major League Signings
Notable Minor League Signings
Extensions
Dayton Moore (General manager, two years)
Ned Yost (Manager, two years)
Trades and Claims
Notable Losses
Needs Addressed
Only the Cubs received less offensive production from their collective second basemen than the Royals last year, and only three teams — the A's, Astros and Yankees — received less offense from their right fielders (per Fangraphs' wRC+). Naturally, those were two of Moore's biggest priorities, and he was able to fill both vacancies without breaking the bank.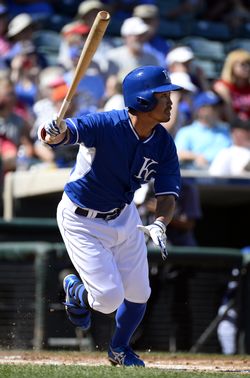 The four-year deal issued to Infante raised some eyebrows, but his glove and ability to hit for average with modest home run totals have made him a steady source of two to three wins above replacement over the past four years. Dating back to 2009, Infante's .296/.332/.413 triple-slash line translates to an OPS+ of exactly 100 and a wRC+ of 101, indicating that he's been a league-average hitter in that time. League-average doesn't sound exciting, but it's a heck of an upgrade over for a team that saw its second basemen combine to hit .240/.296/.306 in 2013 (64 wRC+).
The combined efforts of Jeff Francoeur, Lorenzo Cain, Justin Maxwell and Lough produced a .256/.304/.379 batting line that should be bolstered by the addition of Aoki (pictured). Additionally, Aoki and his career .355 on-base percentage can slot into the leadoff spot for Yost and serve as an improvement over the .309 OBP produced by 2013's leadoff men.
Clearly, the loss of Santana's 211 innings and 3.24 ERA are a blow to the team, but Moore acted quickly to replace those innings by signing Vargas to a four-year deal. As I wrote at the time of the signing, most people focused on the sticker shock of four years for Vargas rather than looking at the relatively tame average annual value. Vargas' durability makes him a reliable source of league-average innings, and statistically, he's not that dissimilar from Mark Buehrle (more on that in the linked article). The contract doesn't come with great upside, but the reasonable AAV allowed Moore to add Infante with a similar line of thinking; tack on an extra year in order to lower the annual commitment.
Of course, Santana ultimately settled for a one-year deal with the Braves — a disappointing outcome that was preceded by the firing of his agent, Bean Stringfellow. Surely, Moore would've been happy to forego the Vargas signing had he known that he could've had Santana on a one-year deal down the line. However, as was the case with other early-season deals, there was no way to know that Santana would be in such a predicament. Rather than spend $12-16MM per year on a big name early in the offseason, Moore chose to divide that annual sum between Infante and Vargas, and there's a good chance the club will receive more total production because he did so.
The signing of Infante made Bonifacio a bit redundant, and that was illustrated by the team's decision to designate Bonifacio for assignment and ultimately release him despite having agreed to a one-year, $3.5MM deal to avoid arbitration. Such contracts aren't fully guaranteed until the season starts, and therefore the Royals only paid him roughly $575K. His salary (plus a bit more) was put toward the decision to bring Chen back into the mix for a rotation spot. Chen turned in a 3.27 ERA last season and has quite a bit of experience as a swingman, should one of the club's younger starters force his way into rotation consideration.
Questions Remaining
Though they addressed the two biggest holes in their lineup, the Royals aren't without questions. First and foremost is the rotation: Santana and Chen provided a relatively unexpected 333 innings of 3.25 ERA baseball for the Royals last season. It seems unlikely that Chen can repeat that feat, and Vargas, who has pitched to a 3.97 ERA over the past four seasons, isn't likely to match Santana's level of run prevention. Kansas City did receive 39 starts of an ERA well over 5.00 from Wade Davis and Luis Mendoza in 2013, so there's some room for improvement there if Yordano Ventura and/or Danny Duffy can take some of those starts and perform well.
The real question, when it comes to the team's rotation, is how many more innings James Shields has left as a Kansas City Royal. The two sides reportedly aren't planning on discussing an extension this spring, meaning Shields is all but certain to hit free agency next November. If the Royals were unable to meet Santana's early-winter asking price, it stands to reason that they'd also be unable to meet the dollars that will be doled out to their top pitcher in free agency, unless he takes a discount. MLBTR's Jeff Todd recently chatted with Tim and I about what Shields could earn in free agency and crafted an excellent analysis on the topic. If Shields is to earn more than $70MM — a very realistic possibility — could the Royals make a competitive offer? They'll have more than $20MM coming off the books from Shields himself, Luke Hochevar and Aoki hitting the open market, but they'll also face large arbitration raises to core players like Eric Hosmer, Mike Moustakas and Greg Holland. Beyond that, Alex Gordon, Infante, Vargas and Billy Butler will see their salaries rise by a combined $7.5MM.
Hosmer and Moustakas were among the game's top prospects for years, and each saw a drastic swing in his production midseason. Hosmer was batting just .261/.321/.335 on May 30 when George Brett took over as the team's interim hitting coach. For the rest of the season, Hosmer was a man on fire, slashing .317/.365/.492 with 16 of his 17 homers coming in that time. Will the improved version of Hosmer show up for the entire season? The same could be asked of Moustakas, whose OPS bottomed out at .528 on June 17 before he went on to bat a respectable .269/.314/.425 over his final 78 games.
Alcides Escobar took a big step back in 2013, though a large portion of his offensive decline was due to the fact that he batted just .555 on line-drives (league average was .690, per Fangraphs). Clearly, Escobar had some poor luck, though his 3% walk rate can't be blamed on that. Despite the lack of free passes, the 16 extra hits Escobar would have had with average luck would've boosted his average from .234 to .260 and his OBP from .259 to .284. Neither is a great mark, but paired with his defense and baserunning, Escobar could be quite valuable with better fortune.
With Gordon and Aoki locked into the outfield corners, it will be up to a combination of Dyson, Cain and Maxwell to man center field. Each is a very strong defender with some question marks at the plate, and a platoon seems like the most likely outcome. But, will Maxwell or Cain be the one to win the job as the platoon's right-handed side? Whichever ends up the odd man out would figure to be a decent trade chip for Moore.
Lastly, while it's a small question mark, the decision to guarantee Pena a spot on the 40-man roster seems peculiar. The 24-year-old is just a .236/.286/.348 hitter in his minor league career, and the club already had Kottaras and Brett Hayes in the mix. Pena may not even end up as the backup, either; MLBTR's Tim Dierkes noted in his post on out-of-options players in the AL Central that Hayes seems to be the favorite to back up outstanding young catcher Salvador Perez.
Deal of Note
When considering the tight budget with which Moore was faced, it's tough to imagine a better fit for the club than Aoki. Kansas City's new leadoff man is guaranteed less than $2MM in 2014 — an unusually low salary for a regular player. Moore filled his need for a leadoff hitter and right fielder in the same trade, and did so without sacrificing the excellent defense Kansas City received from its right fielders in 2013.
Aoki's modest salary also allowed the Royals to spend to stabilize the rotation and provide a significant upgrade at second base for a reasonable price. That's key for this club, because while the payroll is projected to be in the low $90MMs, that's still a record-breaking commitment for the Royals. Consider that the alternative for the Royals was Carlos Beltran, who signed a three-year, $45MM pact with the Yankees. Kansas City pursued Beltran heavily, and had the Royals met his asking price, they likely wouldn't have been able to add Infante. The combination of Aoki and Infante is likely to contribute somewhere around four wins above replacement — a mark that Beltran alone may not reach — and do so for several million dollars less than $15MM.
Lastly, the Royals landed Aoki without surrendering any of their top prospects. Moore parted with lefty Will Smith to facilitate the deal, and while Smith had a nice season out of the Kansas City bullpen in 2013, five years of a reliever isn't a steep price to pay, especially for a team with the bullpen depth Kansas City can boast.
Overview
To call this a make-or-break season for the Royals could be an understatement. This is likely the team's last season with its best pitcher, and arbitration raises plus guaranteed raises to players on multi-year deals could prevent them from spending too freely on next year's open market. The hope is that someone such as Ventura can develop into a front-of-the-rotation arm, but there's no guarantee in that happening.
The Royals' best chance to win comes with Shields at the front of their rotation, and the front office has supplemented the current team with strong, relatively cost-effective options at second base and in right field. With a big season from Hosmer, Moustakas and/or Escobar, the Royals have the talent to give the Tigers and Indians a run for their money in the AL Central. Failing that, a coveted Wild Card spot certainly isn't out of the question. Royals fans could, at long last, see an unthinkable 28-year postseason drought come to an end in 2014.
Photo courtesy of USA Today Sports Images.