The Athletics have officially agreed to acquire outfielder/first baseman Kyle Blanks from the Padres. Minor league outfielder Jake Goebbert will head to San Diego in the deal, along with a player to be named later or cash considerations.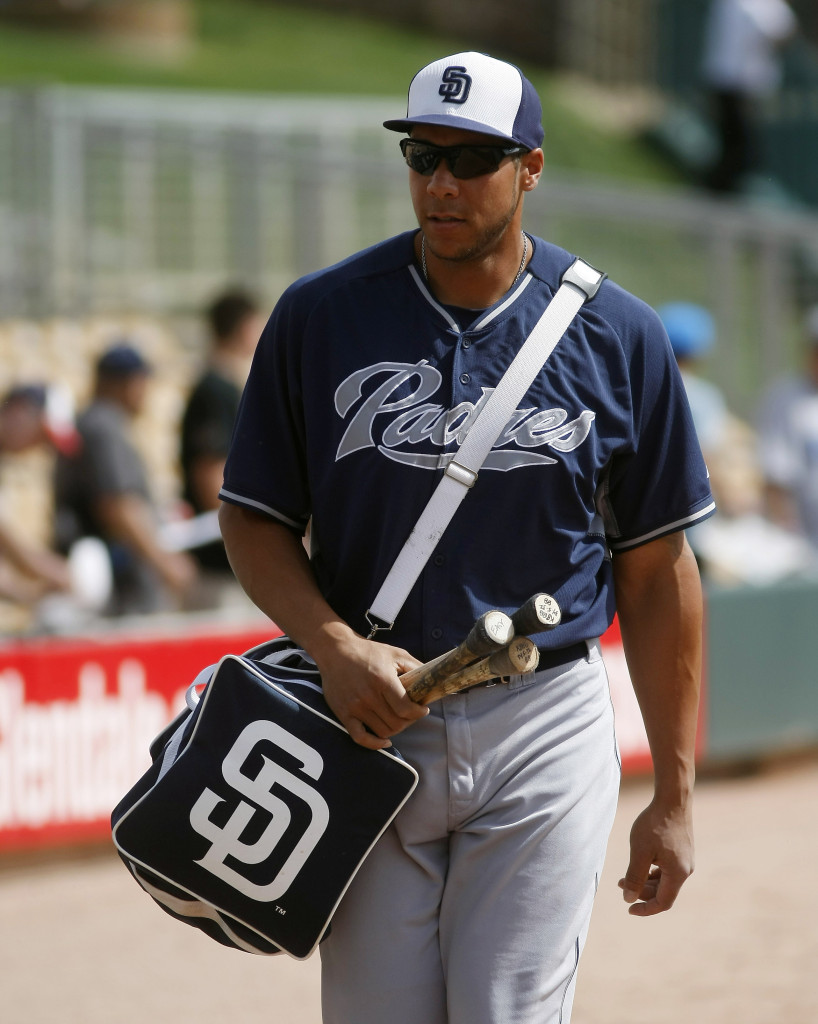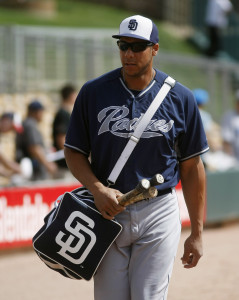 Blanks, 27, has spent most of his big league time in the outfield, but has primarily played at first in the minors. Blanks will be added to the Athletics' MLB roster, and is expected to serve as the right-handed side of a first base platoon with Brandon Moss. He takes the place of the just-designated Daric Barton, a left-handed hitter who had been used against southpaws to little success this year.
A's GM Billy Beane said that he targeted Blanks because he was a right-handed bat who could play at first and the corner outfield, reports Joe Stiglich of CSNBayArea.com (Twitter links). "He is exactly what we were looking for," said Beane, "and there's not many out there." Beane also emphasized Blanks's prospect pedigree, noting that "it looked like he was going to be that guy in the majors until injuries derailed him."
Though Blanks has seen only minimal big league action this year, he has taken 806 MLB plate appearances over parts of six seasons, posting a composite .228/.310/.401 slash with 28 career home runs. Batting from the right side, Blanks has been somewhat more successful against southpaws (.733 OPS) than versus righties (.701). While that variance may be less pronounced than one might have expected, Blanks has posted wider splits in the upper minors. Blanks had been impressive at Triple-A this year, hitting .265/.364/.651 with 9 home runs through just 99 plate appearances.
Blanks, who avoided arbitration for just under $1MM this year, had already accrued over four years of MLB service coming into the season. If he can stay on the active roster long enough to add 140 days to his tally, he would move past five years of service by season's end. This is the final option year for Blanks, meaning that the Padres were going to have to use him or lose him in the near future — and that the Athletics, likewise, will probably not be able to stash him in the minors beyond this year.
Meanwhile, Goebbert — a 26-year-old outfielder — has yet to see any MLB action and has not yet been added to a 40-man roster, meaning that he comes with six years of control and all of his options intact. Of course, the Padres could potentially deem it necessary to give him a 40-man slot to protect him from the Rule 5 draft.
While the former 13th-round draft pick does not have a major presence among independent talent evaluators — he did not place on either Baseball America's ranking of Oakland's top thirty prospects or on MLB.com's list of the club's twenty best prospects — he has been on a tear at Triple-A this year. Goebbert's batting line stands at .257/.371/.505 through his first 132 plate appearances, continuing a trend of posting solid on-base and slugging numbers throughout his time in the upper minors.
ESPN.com's Jerry Crasnick first reported the deal (via Twitter). Interest between the clubs was reported earlier in the week by Chris Cotillo of MLBDailyDish.com (Twitter links), who also noted that Goebbert could be involved. Dennis Lin of the San Diego Union-Tribune (Twitter link) and Susan Slusser of the San Francisco Chronicle (Twitter links) reported that Goebbert was headed to the Padres in the deal, with Slusser also reporting that Blanks would be added to the MLB roster. Ken Rosenthal of FOX Sports tweeted that Blanks was expected to see time at first.
Photo courtesy of USA Today Sports Images.