MLBTR is re-launching its Draft Prospect Q&A series this season in order to give our readers a look at some of the top names on the board in this year's draft. MLBTR will be chatting with some of the draft's most well-regarded prospects over the next couple of weeks as they prepare for the 2014 draft on June 5-7.
Florida's Nick Gordon is universally regarded as the best shortstop in the 2014 draft and, according to some, is the best position player prospect in the draft.  With a pedigree like his, it's no surprise.  Gordon is the son of three-time All-Star right-hander Tom "Flash" Gordon and the younger brother of Dodgers second baseman Dee Gordon.  While his father made his mark in the game and Dee continues to see his star rise, all signs point to Nick making a terrific legacy of his own in the years to come.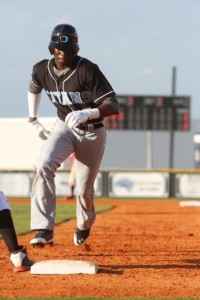 At 6'2″, 170, Gordon exhibits tremendous speed both on defense and around the base paths.  Of course, he also boasts a terrific arm for the shortstop position and, in fact, many believe that he could pursue pitching if he wanted to.  At the plate, the Olympia High School star projects to be an above-average hitter, but his intangibles and makeup have scouts drooling just as much as his physical tools.
In 27 games last season, Gordon, reportedly being advised by Beverly Hills Sports Council, which also represented father Tom "Flash" Gordon and represents brother Dee, posted an absurd slash line of .494/.576/.843 in 99 plate appearances and stole 13 bases.  The youngster has had the attention of college scouts and pro scouts alike for years, but his senior season helped to boost his stock even further.
Gordon, ranked as the fourth-best prospect in the draft by ESPN.com's Keith Law, No. 5 by MLB.com, and No. 7 by Baseball America, spoke with MLBTradeRumors late last week about the draft process, the possibility of going No. 1 overall, and what he's learned from watching his father and brother:
Zach Links: What advice has your dad given you about the draft process?
Nick Gordon: He gives me very good advice.  He just tells me to sit back and take it one day at a time, don't stress out about these things.  You can't control what happens.  I did my best and left it all on the field and after that it's in God's hands.
ZL: What did you take away from your brother's draft experience?
NG: I just remember the great feeling we had afterwards.  Just knowing the hard work he put in high school and to know that it was starting to mean something.  He was ready for his moment and he earned it.
ZL: Do you feel like your transition to major league life will be smoother than others thanks to your family's experience and guidance?
NG: I think I have a little bit of an edge because of my brother and dad.  With everything I'm about to go through they can help me along the way and give me information that maybe some other kid might not get because of the relationships I have with my dad and my brother.
ZL: Scouts look at you as a phenomenal shortstop prospect but there's also talk that you could be a strong pitcher as well.  Is that something that interests you?
NG: I'll do whatever my team needs from me.  I love playing shortstop, it's my Plan A and I don't really have a Plan B.  I think I can be a great one.  But, if my team needs me to pitch, I'll do whatever my team needs from me.
ZL: Before you chose Florida State, what other schools were you giving serious consideration to?
NG: Florida, North Carolina, Clemson, LSU, and a couple of other big schools.  I even liked UCF a lot.
ZL: Why did you ultimately choose FSU?
NG: I went down and I loved it.  Every bit of it.  The coaching staff they have, the players, and just a great environment to be around.  It's like a home away from home for me and knowing the coaches there, it's phenomenal.  Being there I feel like I learned more about my game and myself.  It also helped that I knew a couple of other players that have been there as well and they told me it's awesome.
ZL: Is there a certain range that you have in mind that would make you forgo college?  Certain contract terms?  Certain clubs?
NG: I could see myself playing in every single uniform so every club interests me.  I wouldn't mind playing for every single club. I just want to play the game. My lifelong dream has been to play professional baseball and I want to fulfill my dream.  Whichever organization I end up with, I know that God has a plan for me.
ZL: If you had to call it now, what are the odds that you go to Florida State?
NG: When that day comes for me to decide, I'll talk it over with my family and I'll do whatever is best for me, my mom, and my dad.  I couldn't really put odds or a number on it.
ZL: I've read that you're working to add muscle to your frame.  What's your weight right now and what's your goal weight?
NG: My goal weight is about 185, 190 pounds.  When I get older, probably 24 or 25, then I'd like to be 195 or 200.  Right now I'm at 177-180 pounds.
ZL: Do you have any concern that more muscle will hinder your speed and agility?
NG: Not at all.  In fact I think it can make it just that much better.
ZL: What's the top thing you want to improve on as you go forward?
NG: My strength and staying healthy and getting stronger.
ZL: At what age did you realize that you had a good chance of becoming a major league baseball player?
NG: I always believed that, ever since I was a kid I said I'd be a Major League baseball player.  And when my teachers said, "You need a backup plan," I said, "No ma'am, I'm going to be a baseball player."  All my life I've all I've known is baseball and I've always been striving to be a baseball player and an athlete.  I was never okay with anyone telling me that I wouldn't make it as a player.
ZL: Did you play other sports growing up?  Was there ever a point in your life where you thought your future might be in a different sport?
NG: I played football and basketball. I played both up until 9th grade.  I was playing football and I broke my ankle in 6th grade and then rolled it playing ball..or at least I thought I rolled it. My dad just told me that I bruised it.   Whatever it was, I think it just told my brain [to stop playing] basketball and football.
ZL: What positions did you play in each sport?
NG: I played running back and slot back and safety in football and in basketball I played shooting guard and small forward.
ZL: There was a report recently that the Astros are considering you at No. 1 overall.  I'm sure you don't want to address any team or outcome specifically, but what would it mean to you to be the very first player off the board?
NG: It would mean the world to me.  I know how much talent there is in this draft.  You can't really predict it and there are so many guys that could go No. 1, so it would be a blessing.  If the day comes and I'm the No. 1 pick, that'd be great, but I'm taking it one day at a time.  There's so much great talent here and you can't predict who will be No. 1.
ZL: If, hypothetically, you had your pick, would you prefer to play in a warm climate like what you're used to in Florida or would you welcome a change? [Note: The Astros and Marlins have the top two picks in the draft, but it gets a lot colder from there with the White Sox, Cubs, and Twins rounding out the top five.]
NG: I'd welcome a change because I know I can play in a warm or cold climate.  I know that some guys have a hard time playing in cold weather and I know if I go out there in the cold weather, I'll be fine.  I want that change and that experience as well because just playing in the hot sun all the time can wear on you too.  When I do get the chance to go elsewhere, I mean, it can get cold, but if I've got to play in the cold or the sun, I'm going to play the same way no matter what.  There's no difference in my mind.
ZL: You've spoken quite a bit about your relationship with God.  How has that shaped you as a baseball player and as a person?
NG: I thank God every moment, for everything I get, everything I do.  My faith is a very big part of my life experience and my success in baseball.  I thank God for everything and the position he's put me in and even when he allows for me to learn from my mistakes.
ZL: Recently it was announced that you'll be one of just seven prospects in attendance on draft night.  Who will be with you?
NG: My mom, my father, my little sister, my little brother, and my coach and his wife.
ZL: Will you be nervous on draft night?
NG: I think I'll be a little bit nervous, but I think I'll be relieved when I hear that today is the day I'm welcomed into professional baseball.
ZL: Did you ever find it challenging to keep yourself focused on your high school team's goals as you prepared to take the next step in your career?
NG: Not at all.  It's actually pretty fun for me to sit there and play with my teammates.  I enjoyed it as much as I could and I rarely thought about things concerning the draft.  A lot of times my coach would come to me and say, "Wow, it looks like you're not really thinking about the draft too much," and I just said that I'm enjoying my teammates…I'm appreciative of every moment I had with them.  I loved playing with those guys.
ZL: We all know that you're not going to last until the Dodgers' pick at No. 22, but how cool would it be to play alongside your brother on the other side of second base?
NG: It'd be pretty cool but it'd be competition every single day even though we don't play the same position anymore [laughs].  We'd give each other a handful but it's brotherly love.  I mean, that'd be great.  It'd be a blessing to play next to my brother and my family would love that as well.
ZL: Who wins in a footrace, you or your brother?
NG: I don't know…well…he'd get me.  There's not too many people in this world that can run as fast as him.  He wouldn't beat me by much, but he'd get me.
ZL: How about basketball in the driveway, 1-on-1?
NG: I'd dunk on him.
ZL: As someone whose lifelong dream has been to dunk a basketball, I'm jealous.  At what age could you dunk?
NG: The first time was in 8th grade.  I remember as soon as I did it I called Dee right after the game.  The ref told me to get off the rim. I remember it like it was yesterday.  When I called Dee, my mom was in the background yelling "What?!  You got in trouble for hanging on the rim?"