Last October, despite some questions about his ability, Cuban slugger Jose Abreu signed a six-year, $68MM contract with the White Sox heading into his age-27 season.  Abreu's MLB debut exceeded the most optimistic expectations, and now another Cuban player known for huge power is about to burst on the scene: Yasmany Tomas.  Tomas, just 24 in November, defected from Cuba in June and should be granted MLB free agency shortly.  He's a right-handed-hitting corner outfielder with five years in Cuba's Serie Nacional under his belt, and that experience, paired with his age, makes him exempt from international spending limitations.  Teams will be able to spend whatever they wish to sign him.
Strengths/Pros
The opportunity to sign a potential star player for his prime years comes along at most only a handful of times each year, typically with players coming out of Cuba or Japan.  Abreu was heading into his age 27 season, younger than any normal free agent but still potentially catching some decline at the tail end of his contract.  Since Tomas turns 24 in November, a seven-year deal would conclude with his age-30 season.  He really couldn't be much younger without being subject to each team's international signing bonus pool money, which currently tops out around $5MM and includes a 100% tax on overages of 10% or more.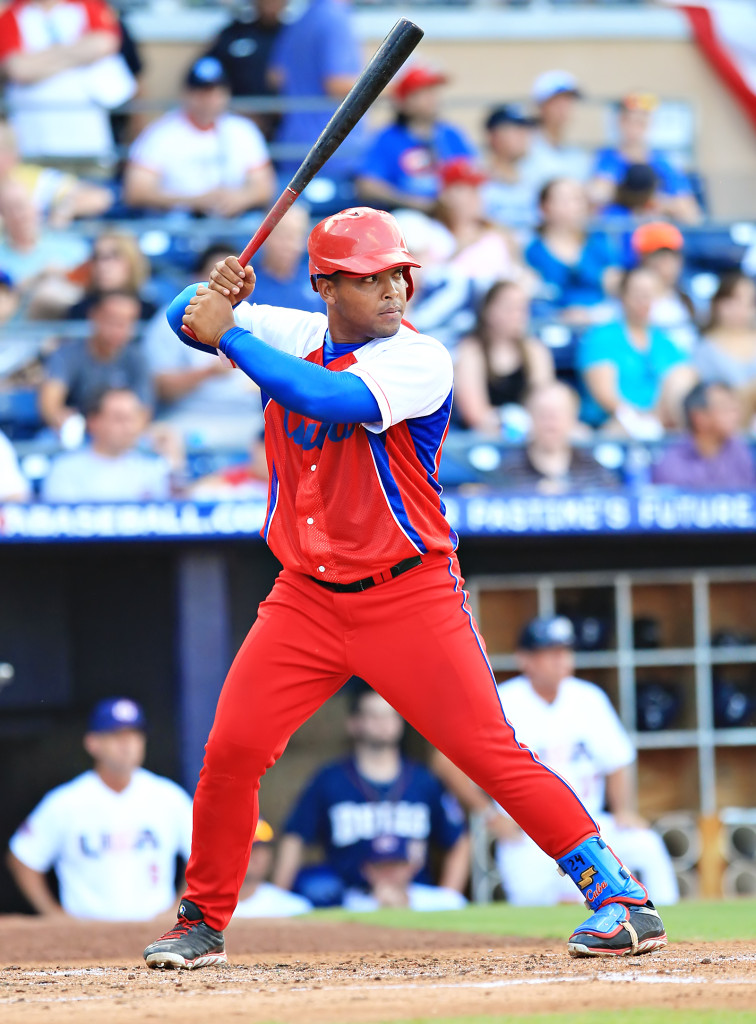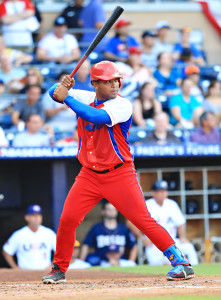 Tomas' best attribute is his power, a trait that is in short supply in today's game.  Only 14 players hit 30 or more home runs in 2013, and fewer might reach that threshold this year.  Tomas has 70 raw power on the 20-80 scale, wrote Baseball America's Ben Badler in June, so he profiles as one of those rare 30+ home run bats.  "He's got a ton of power," countryman Rusney Castillo told WEEI's Rob Bradford through a translator this month.  Tomas has produced a .290/.345/.504 throughout his career in Cuba, although those numbers include a pair of seasons in which he slugged just .385 (2009-10) when he was still a teenager.
Though Tomas checks in at 6-foot-2 and 240 pounds, he's "agile for his size," according to MLB.com's Jesse Sanchez.  Sanchez also says Tomas has a strong arm, so he fits the typical right field profile (some teams may prefer him in left, of course).
One more plus: Tomas is not subject to a qualifying offer, so the cost will be entirely financial.  Other free agent hitters like Hanley Ramirez, Pablo Sandoval, Victor Martinez, Melky Cabrera, and Nelson Cruz are expected to receive and turn down qualifying offers and therefore require forfeiture of a draft pick.
Weaknesses/Cons
Badler wrote in his June scouting report that Tomas has below-average speed.  More recently, Badler cited scouts who clocked Tomas at 6.9 seconds in the 60-yard dash at his Sunday showcase, which could be considered average speed.
Tomas may need some Triple-A seasoning, delaying his 2015 MLB impact.  Badler noted that Tomas' most recent season in Cuba wasn't his best, writing, "This past season in Cuba…Tomas seemed to regress, even losing playing time in the second half, which one source said was the result of an arm injury he sustained crashing into an outfield wall in February."  Word is that Tomas has no physical issues currently.
Badler also noted that Tomas has shown some "swing-and-miss tendencies" and can struggle with quality breaking stuff.  According to Sanchez, Tomas is "characterized as 'high-risk, high-reward' type of player in some international scouting circles."  He seems to come with a lesser reputation and less certainty than Abreu did last year.  Not much has been written about Tomas' defense, except that Sanchez feels the player has room for improvement.
Personal
Sanchez spent time with Tomas prior to his showcase this month, and was struck by his "youthful enthusiasm."  According to longtime friend Carlos Damas, Tomas is "always laughing."  I've heard Tomas likes to play video games in his spare time, and is often seen outside playing stickball with local kids.
The son of a fuel truck driver, Tomas is one of six children.  As you might expect, the slugger found it very difficult to leave his home country.
Market
Tomas' showcase in the Dominican Republic drew hundreds of scouts, wrote Badler.  It is believed that nearly every team in baseball had a presence.  MLB Network's Peter Gammons pegged the Giants as the early favorite, also naming the Phillies, Padres, Rangers, and Tigers as potential front-runners.  The Phillies had a private showcase with Tomas on Monday; the Rangers host him today.  On Monday, Badler named the Rangers, Phillies, Yankees, Diamondbacks, Giants, and Mets as teams with a strong presence at Tomas' showcase.  The Marlins and Pirates were also known to be in attendance.
Expected Contract
Tomas' agent Jay Alou told Jorge Ebro of El Nuevo Herald in early September that he expects to top the record contract for a Cuban player, which is Rusney Castillo's seven-year, $72.5MM deal with the Red Sox signed in August.  While a six-year deal is possible for Tomas, seven makes more sense, especially if Tomas is not expecting to spend all of 2015 in the Majors.  Seven years also gives the opportunity of increasing the overall contract total.
I believe Abreu's stellar season inflated the Cuban market, leading to a likely inferior player in Castillo to top his total guarantee less than one year later.  Nothing pays in free agency like power, so I agree with Alou's expectation of continuing to raise the bar beyond Castillo's $72.5MM.  On September 14th, Nick Cafardo of the Boston Globe passed along the opinion of one international scout who feels Tomas could command $100MM.  Tomas' range seems wide right now.  I see about $80MM as the floor, and $110MM as the ceiling.  My prediction at present: $105MM over seven years.
Photo courtesy of Alyson Boyer Rode.