Indians-turned-Nationals middle infielder Asdrubal Cabrera will finish his eighth year of MLB action at just 28 years of age, presenting a rare youthful free agent option. He can hit and play up the middle. Yet he left Cleveland as something of a disappointment, and has not generated nearly as much hype as was once expected heading into his first crack at free agency. Once expectations are moderated for reality, however, it is apparent that Cabrera remains a rather intriguing player to watch on the coming market.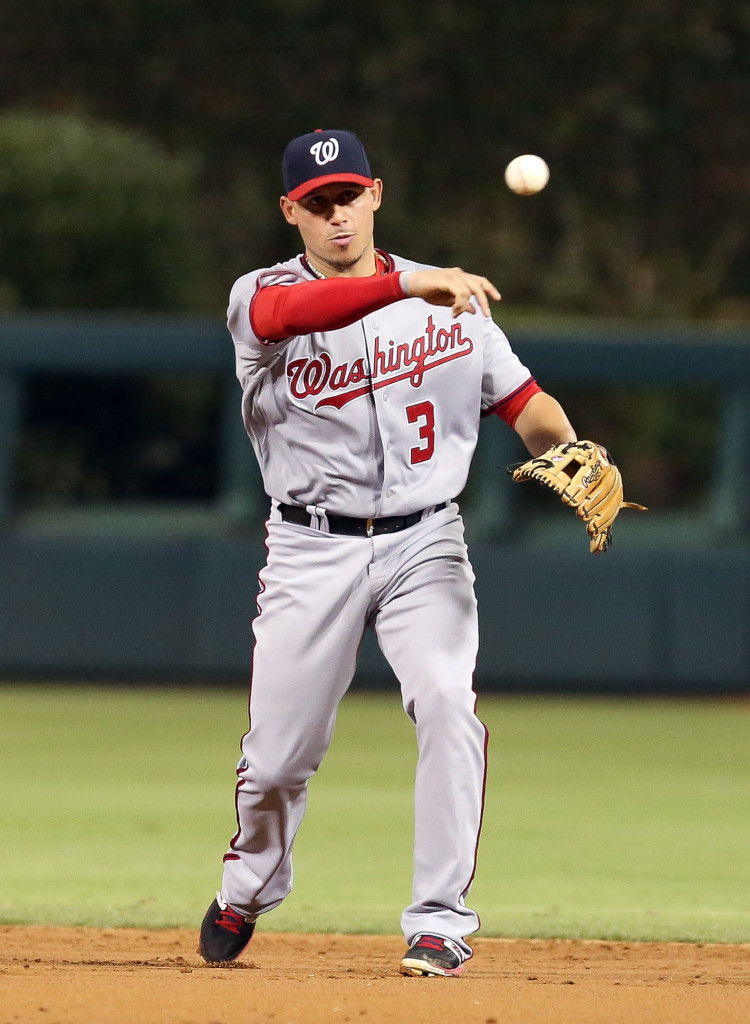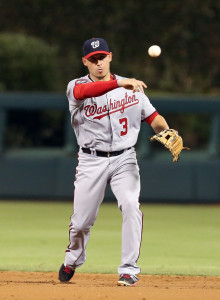 Cabrera's free agent case remains difficult to figure. Over the 2007-12 period, he slashed .279/.342/.416 while manning an up-the-middle defensive spot (mostly, shortstop). Though advanced metrics never viewed him as even an average fielder, Cabrera delivered some value on the basepaths and was at least a solid, above-average regular in the aggregate.
That account of Cabrera took something of a turn, however, more recently. Over 978 plate appearances with Cleveland since the start of 2013, Cabrera's OPS fell beneath the .700 level, making for a below-average bat that significantly reduced his overall appeal.
Nevertheless, in need of a veteran infielder down the stretch, the Nationals made a move to acquire Cabrera at the trade deadline. Notably, the Indians agreed to pay all of Cabrera's salary in the deal, while acquiring an interesting but little-hyped prospect in Zach Walters. On a busy deadline day, the swap looked like a relatively low-impact, gap-filling move for Washington.
Since heading to the NL East-leading Nats, however, Cabrera has looked energized. He owns a .252/.341/.443 slash in the first 133 National League plate appearances of his career, including five home runs and two stolen bases. His resulting 115 OPS+ looks much more like the marks he was putting up in his heyday. Nearly as importantly, perhaps, Cabrera has looked comfortable at second, racking up 284 errorless innings at the position.
Without question, Cabrera's late-season run of success at the plate will have a positive impact on his free agency. He has at least suggested the possibility that he is still capable of being the hitter of old; whether he's convinced scouts, of course, remains to be seen.
The defensive returns, on the other hand, are somewhat more ambiguous. To be sure, proving that he is capable of solidly handling the keystone is a nice feather in Cabrera's hat. At the same time, misplays have not been the major knock on his glove. Range is the primary concern, and he's continued (obviously, in a short sample) to receive well-below-average marks in that respect.
So, where does Cabrera fit into the middle-infield market? Things are somewhat more crowded over at shortstop, where J.J. Hardy probably sets the standard and Jed Lowrie and Stephen Drew also present possible starting-caliber options. And that assumes that Hanley Ramirez is pursued primarily as a third baseman; if enough serious bidders look at him as a shortstop, the market would look even more crowded.
But Cabrera is perhaps best positioned to benefit from a lack of options at second, given his arguably superior bat (to all but Ramirez, at least) and recent experience at the keystone. Clubs looking to add a new second bagger will find limited possibilities on the market; as things stand, Emilio Bonifacio is probably the most appealing candidate.
Cabrera also has added appeal given that he will not turn 29 until the offseason, making him the youngest shortstop-capable player available to the highest bidder. That holds significant value, particularly when viewed alongside the fact that he does not have any significant recent injury history. Cabrera will also come free and clear of draft compensation, as his mid-season trade ensures that Washington will not be able to make him a qualifying offer. Particularly given the down years at the plate from Hardy (at least in terms of power production), Lowrie (who has been better in the second half), and Drew (who has been awful since his mid-season signing), Cabrera stacks up reasonably well.
In the aggregate, though Cabrera may never take the final step forward to become a truly premium ballplayer, he has shown the ability to produce at his earlier levels and should draw fairly significant and potentially broad interest.  Depending on his performance down the stretch and in the post-season, he still has some capacity to climb up free agent boards and become a sought-after asset heading out of the 2014 season.