Michael Morse has provided notice that he is still a force at the plate, but his defensive limitations remain a major factor in his market. He made good on the one-year, $6MM deal he signed with the Giants, but what kind of contract will he achieve in his second successive turn at free agency?
Strengths/Pros
You could probably write this section fairly in just one word: bat. Over 482 plate appearances with the Giants, Morse put up a strong .279/.336/.475 slash with 16 home runs. That line does not quite reach the monster figures he tallied in 2011 with the Nationals — .303/.360/.550 with 31 long balls – but nevertheless indicates that his down season in 2013 can be chalked up in large part to a nagging wrist injury that required offseason surgery.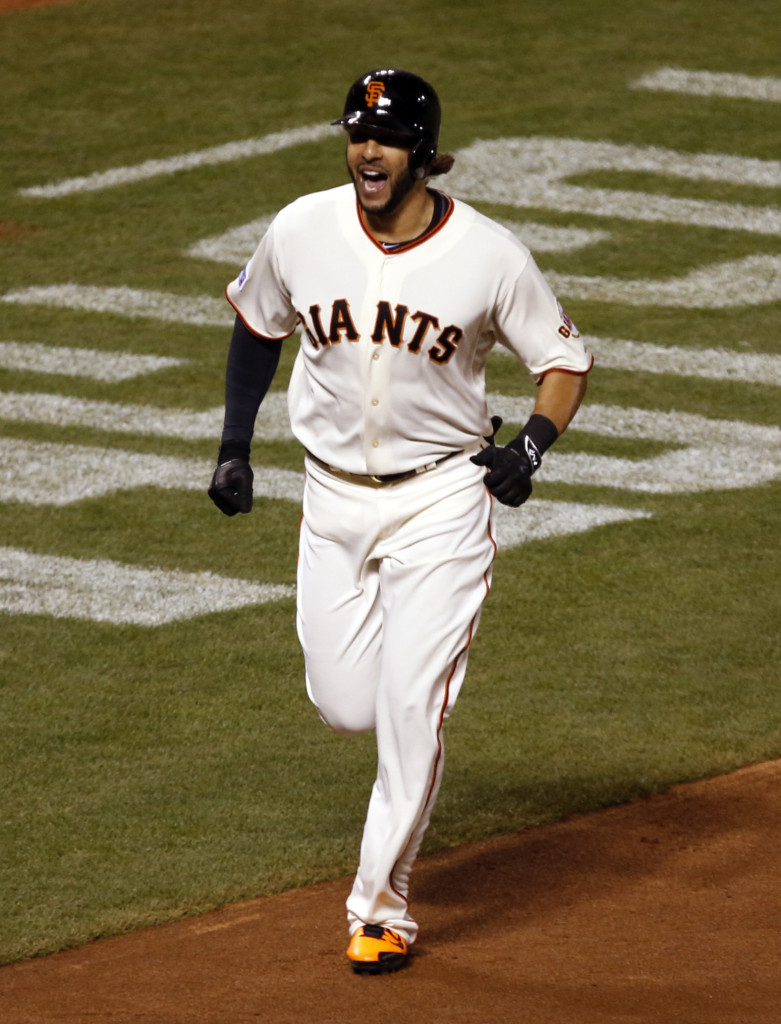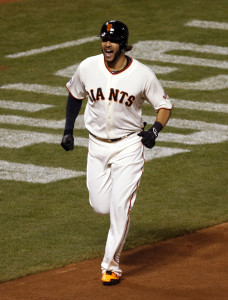 Notably, the right-handed-hitting Morse is productive against both righties (121 career wRC+) and lefties (121 career wRC+). Though he may never again be a truly elite power hitter, he has bumped his ISO back to just under the .200 level and could well improve on his career-low 15.1% HR/FB rate with a move to a ballpark that better suits his notable pop to the opposite field gap.
In truth, there is not much to dislike about Morse's bat. Detractors could point to a slightly rising strikeout rate, but there is no spike that is way out of line with his career numbers. And Morse has had plenty of success with the same general mix of Ks and free passes. Likewise, his numbers in 2014 should arguably be downgraded due to the fact that he carried a sizeable .348 BABIP. (Notably, Morse's rough 2013 season was driven in part by a .254 average on pitches he put in play.) But despite his lack of speed, Morse has put up three seasons of .330-or-better BABIP figures because, well, he hits the ball really hard. With all of his batted ball, pitch recognition, and contact numbers lining up cleanly with his career norms, Morse seems a good bet to continue to produce at a solidly above-average rate with the bat.
All said, Morse would be quite valuable even in a pure DH role, especially since he does not need a left-handed-hitting platoon mate. But that may still sell short his value somewhat. While Morse is widely acknowledged to be a very poor defensive outfielder (more on that below), he has somewhat surprisingly seen relatively little action at first in his career. Over 1,259 2/3 career innings at that spot, he has rated out as a slightly below-average defender. While that may not seem at first glance to be much of a feather in his cap, that decent performance in sporadic playing time provides hope that Morse could be a more reliable option if he were to open the spring with a first baseman's mitt and use it steadily over a season. And it bears recalling that Morse started out his career as a shortstop, and even saw 450 big league innings there in his rookie season with the Mariners. Though he'll never be graceful, it seems plausible to think that Morse could take on a full-time job at first.
Weaknesses/Cons
A hot start, mid-season swoon, and late-year rally is generally not the worst way to hit your walk year. But for Morse, that year all but ended when August flipped to September. Sidelined with a strained oblique, Morse saw just two plate appearances in the season's final month. And as of this writing, Morse has taken just four trips to the dish during the Giants' postseason run, though the most recent produced a memorable home run.
That slightly unfortunate, essentially minor injury could probably be forgotten in large part were it not for Morse's lengthy docket of maladies. The towering slugger has missed significant time over each of the last three seasons – to say nothing of several earlier DL stints – for various aches, pains, and strains. In the aggregate, since that 2011 full-season breakout, Morse has averaged 107 games and 416 plate appearances a year. In particular, acquiring teams that intend to utilize him in the outfield will need to account for the distinct possibility that a full year of production may not result.
Of course, whether to use Morse as a regular outfield option at all is open to question. Among players with at least 1,000 innings in the outfield over the last three years, Morse ranks fifth from the bottom in total negative defensive value by measure of both UZR and Defensive Runs Saved. And the eye test tends to support these findings.
Baserunning, likewise, is a clear negative for Morse, who was one of the league's worst runners this year and probably will be for the rest of his career. He will turn 33 just before the start of the 2015 campaign, though that is still a fair sight younger than several other first base/DH options set to hit the market.
Personal
Morse, who was married in 2012, currently lives within walking distance of AT&T Park, according to this profile from Ann Killion of the San Francisco Chronicle. He grew up in Florida, ultimately being drafted by the White Sox out of high school, but also spent time in Jamaica as a child.
Bearing a nom de guerre of "the Beast," Morse is one of the most colorful players in the game. Whether performing his "Samurai Cobra Snake" routine before entering the box, spinning "Take On Me" before his third plate appearance of a game, or re-enacting a ghost swing before trotting out a grand slam after a review, Morse is undeniably an entertaining presence at the ballpark.
Market
While the Giants signed him as an outfielder, Morse's time there in a regular capacity probably should and will come to an end. Though National League teams in need of a first baseman could make a slight roll of the dice on Morse's defense, the most obvious landing spot remains with an American League club. Lacking platoon splits, he would be an attractive option to share time at first with a more platoon-oriented hitter while taking the rest of his hacks from the DH spot.
Clubs like the Rangers, Mariners, and White Sox seem to be possibilities, and the Royals may be in the market for a Billy Butler replacement. Were Victor Martinez to find a new team, it is possible to imagine the Tigers giving Morse a look to share first base and DH duties with Miguel Cabrera. And several N.L. teams – the Padres, Brewers, Marlins, and possibly the Pirates come to mind – could see merit in installing Morse at first. Should consideration be given to using him in the outfield, it is conceivable that the Giants, Reds, and Mets could get involved. Depending on how the Phillies proceed with their situations at first, third, and the corner outfield, Morse could theoretically land there as well.
As for comps, recent contracts given to Marlon Byrd (2/$16MM), Adam LaRoche (2/$25MM plus loss of a draft pick), and perhaps Mike Napoli (2/$32MM plus sacrifice of potential draft compensation) seem the most relevant points of reference. Byrd's age and near-past disappearance from relevance certainly had a major impact on his market, though he is a more able defender than Morse. And Napoli's strong work at the plate and in the field, combined with an age, seem to make his number out of reach. As for LaRoche, it is hard to ignore the fact that he was coming off of a 33-home run year and was generally well-regarded as a defensive first baseman (whatever the metrics may say).
Ultimately, even without the qualifying offer penalty, Morse seems likely to land shy of LaRoche's deal. That is especially so given the fact that he faces relatively steep competition from bat-first players such as LaRoche (now again a likely free agent), Michael Cuddyer, Billy Butler, and (on the high side) Nelson Cruz and Victor Martinez.
Expected Contract
Morse's representatives at ACES will probably ask for three years, but there is sufficient market competition that I see a shorter pact as the likelier outcome. Though a qualifying offer is unlikely to weigh down his value, Morse has his limitations as a player. Ultimately, I predict that he will land a two-year, $22MM contract.
Photo courtesy of USA Today Sports Images.