"Designated for assignment": three words that strike fear in the hearts of players and their agents. The function of the DFA, after all, is to remove a player from the 40-man roster. Often, that means that a big league stint is over, and that another may not be forthcoming for some time. For players currently in the minors on optional assignment, the loss of a 40-man spot adds barriers to a call-up.
Of course, not all DFAs end up badly for the player involved. Upon designating a player, a team has ten days to trade, release, or outright him. In the case of an outright, another club can claim the player on waivers; that scenario, along with a trade, results in another 40-man spot on a new team. Sometimes, that means a better opportunity (though it can also mean a lot of logistical headaches). Unless a trade or claim takes place, however, it's the minors (sans 40-man spot) or free agency.
MLBTR introduced its DFA Tracker back in August of 2013, and has endeavored to keep tabs on every single DFA since. In addition to tracking whether a trade, release, or outright is pursued, the tracker further reflects the fact that an outrighted player can be claimed, can be assigned to the minors with their original team, or (if they have sufficient service time or have been outrighted before) can elect free agency. (It also covers the rare scenarios of the return of a Rule 5 player and when a player is designated off the 25-man roster and then optioned; we'll leave those to the side during this exercise.) The primary purpose, of course, is to make it easier to keep an eye on the timing once a DFA hits. But it also serves as a historical record.
With that in mind, let's take a look at the numbers. All said, there have been 558 instances of a player being designated since the tracker went live. But so far as the use of the DFA goes, the Rangers have been the kings, with a whopping 38 40-man removals. At the other end of the spectrum, the Cardinals, Mets, Nationals, and Twins only used the DFA six times.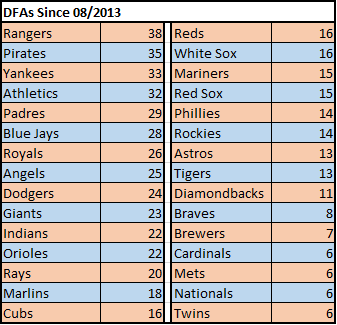 None of that really tells us much, of course. The start and end point are essentially random. And teams can dispose of players through other mechanisms, such as simply going right to an outright or release. But it is at least one indicator of roster management style (as well as recent team needs).
Let's turn, then, to the results of the DFAs. Tallying things up results in the following distribution: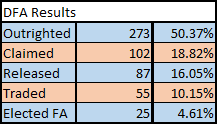 This, again, is not terribly surprising. Most players who have lost their 40-man roster spots are not appealing enough to be claimed, and so make it through waivers and receive outright assignments in their original organizations. The numbers do show that a significant number of players are able to find new 40-man homes — at least temporarily.
At risk of too much excitement in one post, let's take one more angle for the time being. MLBTR has just one full year — with all the different months covered — in its still-new database. So, here's a chart of the number of players designated in every month, along with the number of those players who were ultimately successfully outrighted. The first figure gives an idea of when the mechanism is most heavily used, while the latter gives at least some indication of when a club is more likely to be able to hold onto a player that it tries to pass through waivers.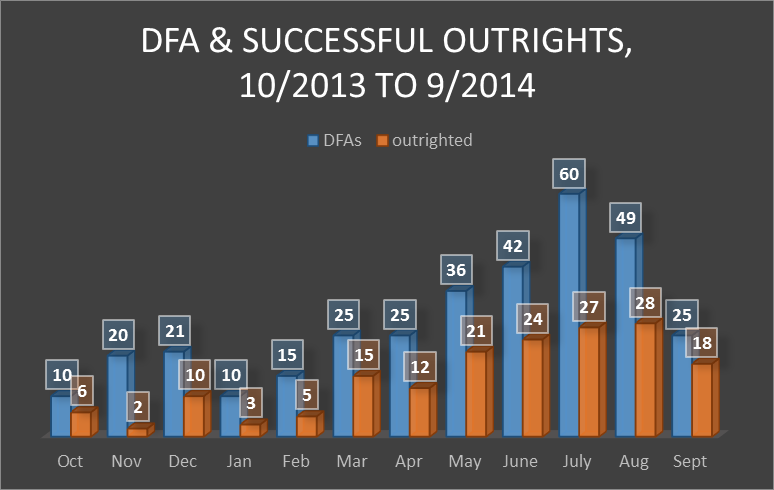 In the end, there is only so much inferring we can do from a dataset limited both by time and the nature of the thing it measures. Perhaps as the DFA Tracker grows, more will be possible. For now, I'll end with this factoid: in the period of time immediately following the end of the 2013 regular season and running through the end of the 2014 regular season, fully 338 players — that's more than 11 per team — lost their roster spots by way of the DFA.