The league has informed teams of the draft bonus slot allocations that will apply to this year's amateur draft, as Baseball America reports. With the first overall pick, the Diamondbacks will have just over $8.6MM to spend (or divert to other picks).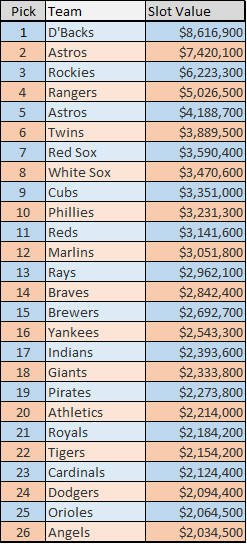 That top choice was given a shade over $7.9MM in value last year. The Astros had agreed to a $6.5MM deal with first overall pick Brady Aiken before a controversial dispute over his physical left that agreement unconsummated. Houston would have been in line to distribute that $1.4MM in savings to other top picks. Particularly with a reportedly weak top of this year's class, Arizona could well look to do something similar.
The first-round values are presented at right. Obviously, every team started with a first-round pick but not every one ended the winter with one still in its bag due to the signing of qualifying offer-bound free agents. And the Astros — like the Blue Jays last year — have an extra first-rounder (in this case, the second overall pick) for failing to sign the prior year's draft choice.
Values of the individual picks are, of course, somewhat less important than are the overall spending pools across all picks, which BA updates here. While Arizona has the largest single pick allocation, Houston's extra first-round choice gives it the greatest overall pool. Indeed, the D'Backs are not even the team with the second-highest total dollars to spend. The Rockies, which also hold the 27th overall choice, hold that distinction.
The reason that Colorado is able to leapfrog their division rival in net draft muscle is, of course, due to the remainder of the first round choices, listed at right. Michael Cuddyer's surprising decision to turn down the team's qualifying offer and sign with the Mets left a highly valuable draft slot in  his former club's hands.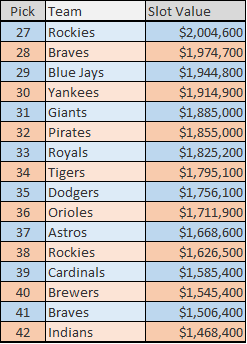 Among these "sandwich" round picks, the first ten (number 27-36) go to teams that lost qualifying offer-declining free agents. The remainder are compensation choices awarded to lower-revenue teams through a lottery.
If you are interested in reviewing all the other bonus limits applicable to the first ten rounds of the summer's draft, be sure to check out the original link listed at the top of this post. BA has listed the values for each of the draft's first 315 picks.