The Nats have enjoyed plenty of success but also plenty of disappointment over the last three years. While the club remains set up to challenge for championships in the future, 2015 is probably the last year it can do so with its current core fully intact.
Major League Signings
Notable Minor League Signings
Tim Alderson, Heath Bell (since released), Bruce Billings, Emmanuel Burriss, Mike Carp, Manny Delcarmen, Tony Gwynn Jr., Rich Hill, Kila Ka'aihue, Steven Lerud, Mitch Lively, Evan Meek, Mark Minicozzi, Matt Purke, Clint Robinson, Ian Stewart, Dan Uggla
Trades And Claims
Extensions
Notable Losses
Blevins, Asdrubal Cabrera, Clippard, Kevin Frandsen, Scott Hairston, Reed Johnson, Jeff Kobernus, Adam LaRoche, Ryan Mattheus, Ross Ohlendorf, Nate Schierholtz, Jhonatan Solano, Rafael Soriano
Needs Addressed
This offseason was obviously dominated by the team's signing of Max Scherzer, who was installed as the Opening Day starter. But it's hard to say that the move functioned to fill a need, so we'll take a closer look at it below in the "Deal of Note" section.
Topping off the MLB rotation is not all the club did to bolster its future pitching ranks this offseason. The organization is loaded with arms for the post-Zimmermann era. After dealing away pitchers like Cole, Brad Peacock, Tommy Milone, Alex Meyer, Robbie Ray, and Nate Karns over the last several offseasons, the Nats did not shed any prized young arms this winter. Instead, after signing high upside Tommy John patient Erick Fedde out of the amateur draft, the Nats added well-regarded righty Joe Ross in the Wil Myers trade.
Then again, if the wisdom of the Rays' front office is to be trusted, perhaps that trade will ultimately become known as the Wil Myers–Steven Souza swap. Or, if Rizzo has his way, the Joe Ross–Trea Turner deal. That last piece, Turner, was the key to the gambit from the Nats' perspective, even if he remains an as-yet unnamed part of the transaction. The speedy young shortstop figures to be the long-term replacement for Ian Desmond, though he'll need to show a lot in 2015 at the Double-A level to enter the big league picture for the start of next season.
To bolster things up the middle in the meantime, the Nats shipped one of the game's most consistent set-up men, Tyler Clippard — yet another organizational stalwart in his final year of control — in exchange for the mercurial Yunel Escobar. The early relationship with Escobar has already seen some rough patches, with some positional consternation and injuries clouding the picture. But things seem to be going smoothly now, with Escobar voluntarily stepping in at third to open the season, and Washington will hope that he can return to being a quality defender and good-enough hitter to occupy one middle infield spot over the next two seasons.
With Clippard gone, the Nats had an opening in the veteran late-inning department, and added former Blue Jays closer Casey Janssen on a deal that reflected his difficulties last year. The Nats will hope there is some gas left in the tank for Janssen, who is currently out with shoulder issues that are hoped to be minor. There are some up-and-coming young arms (Treinen, Aaron Barrett) that could see big innings as well, particularly if Janssen is limited or ineffective.
From the left-handed side, Rizzo continued to tinker. The Nationals will rely upon August claimee Matt Thornton and former minor league signee Xavier Cedeno. Rizzo dealt away Ross Detwiler, who has been a plenty serviceable starter in the past but who did not turn into the dominant reliever the club hoped. And he parted ways with Jerry Blevins after one forgettable year, sending him to the division rival Mets in order to bolster the team's outfield reserves with Matt den Dekker.
As for den Dekker, he looks to be a useful option with the outfield in need of bolstering early this year and a spot in center clearing after the season. Importantly, he has an option year remaining. While Michael Taylor is the player that the club hopes will become the long-term answer there, den Dekker could represent an affordable backup whose left-handed bat will pair nicely with the right-handed-swinging Taylor. He also looks to be a nice fit with the aging Jayson Werth in left to afford extra rest when matchups or game situations permit.
Questions Remaining
This is one of the most complete lineups in baseball — when healthy. But the Nationals have some injury concerns to start the year, with Werth, Denard Span, and Anthony Rendon all on the DL (along with reserve Nate McLouth). The club will fill the void with players like Taylor, den Dekker, Tyler Moore, Reed Johnson, Dan Uggla, and Danny Espinosa. That is probably fine for a short stretch, but could lead to some consternation if Werth, Span, or (especially) Rendon take longer than is hoped.
Elsewhere, the team will be taking on some risk by shifting players to new positions. Escobar has mostly played short, which he seems likely to do again next year, but will play third until Rendon returns and he is bumped back to second. And longtime hot corner stalwart Ryan Zimmerman will move across the diamond to first to account for his balky shoulder. He has looked comfortable there this spring, but will need to lock down the position defensively — and provide a bat to match — to deliver a return on his big contract.
It is not hard to foresee a need arising behind the plate, though that is hardly what the club expects. Wilson Ramos has dealt with various injury issues over the years, and neither he nor backup Jose Lobaton hit much last year. Most teams would be pleased with this arrangement, so it isn't exactly a concern, but could be an area to watch. The organization lost some depth when it was forced to part with the out-of-options Sandy Leon and Jhonatan Solano this offseason, but did trade for Dan Butler and sign Steven Lerud to bolster the ranks at Triple-A.
The pitching staff has ample depth, particularly in terms of starters, so there is not much to discuss there. Then again, the ninth inning has been an area of some concern in the not-so-distant past, and Drew Storen is now without the safety net that Clippard once provided. Then there is the fact that there may have been at least some financial motivation behind the departures of Clippard and Blevins. While Rizzo and company probably feel just fine with the club's options, don't be surprised to see some hand-wringing if injury or short-term performance problems arise at the back of the pen in the season's early going.
Deal of Note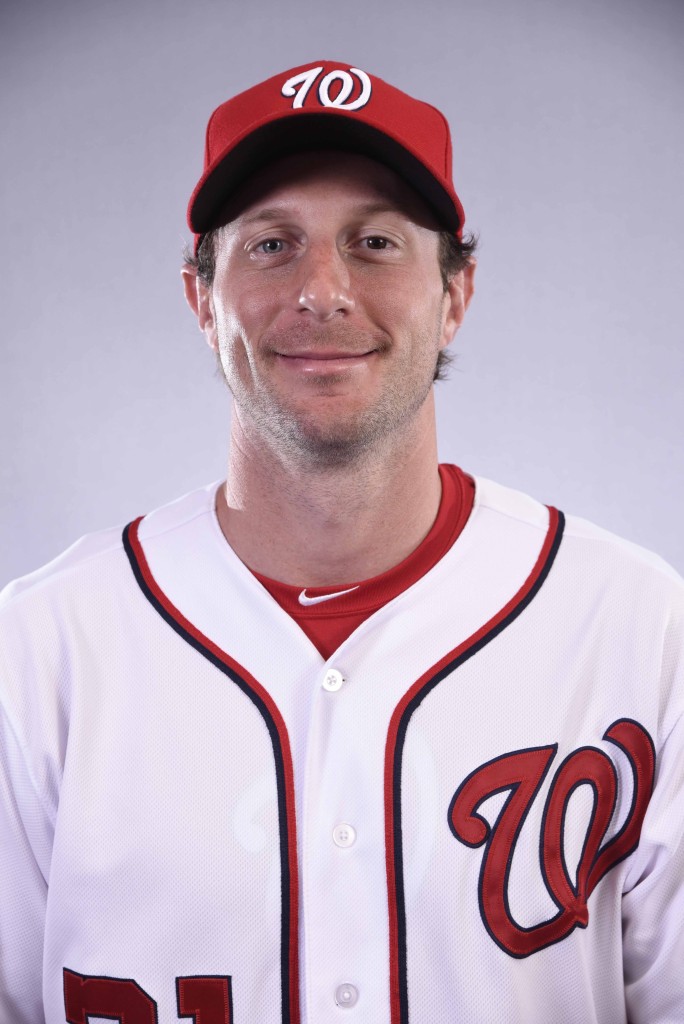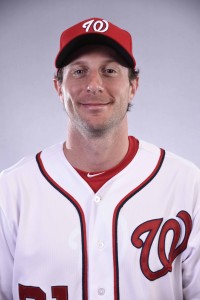 Nationals GM Mike Rizzo does not seem to act out of sentimentality. And neither, apparently, do longtime key players Ian Desmond and Jordan Zimmermann. The clock has likely run on the possibility of extensions for that pair, whose rise to become highly productive big leaguers played an enormous role in the organization's turnaround. Last year was probably the time to get a deal done, but neither player bit at the sizable numbers being dangled. It is hard to blame them for doing so, or to blame the team for not going as high as might've been necessary, with potential nine-figure free agencies beckoning.
If it wasn't already, the writing was scrawled on the wall when Max Scherzer signed his monster deal to join a loaded Nationals rotation. While deferrals reduce the total cost to the team, the investment in Scherzer is enormous, and made new contracts for Desmond and (especially) Zimmermann seem quite unlikely.
Bold as the Scherzer contract is in the long run, it is all the more stunning in the short. Effectively, Washington has taken baseball's best rotation from 2014 — every piece of which returns — and added the best pitcher from the league's second best rotation of last year. If all goes according to plan, the Nats' pitching will be dominant.
Indeed, looking ahead, if all the arms remain healthy — or, perhaps, if the team completely falls apart — it is not impossible to imagine the Nats dealing Zimmermann or Doug Fister over the summer to address other needs. Washington could still maintain a powerful group of postseason starters while filling in the fifth slot with Tanner Roark (the game's most eligible sixth starter), Blake Treinen, Taylor Jordan, or A.J. Cole. More likely, one or more of those pitchers will be installed in the rotation next year as the club waits for younger, even higher-ceiling arms (namely, Lucas Giolito, Reynaldo Lopez, and Fedde) to develop.
Overview
This is a win-now team, but not one that is structured to fall apart with its veterans. Washington has run its payroll up to over $160MM, near the top of the league (non-LA/NYC bracket). But its future commitments remain manageable even after signing Scherzer: $84MM next year and no greater than $59MM in the years that follow. The club's top arb-eligible players for 2016 and beyond (Stephen Strasburg, Bryce Harper, Storen, Ramos, and, potentially, Rendon) have all seen their arbitration earning power suppressed to some extent, leaving additional room.
Likewise, plenty of young talent is filtering up and should soon be ready to plug into the MLB roster or deal away for more established players. By most accounts (including Baseball America) the Nats possess a top-ten farm system, representing a quick replenishing for a system that had lost a ton of well-regarded players to graduation and trade.
While the future still looks bright, it will be a tall order to meet or exceed the organization's current situation. Not only are the club's best young players and veterans alike at or near their primes — a difficult nexus to achieve — but the rest of the division seemingly features two still-advancing hopefuls (Mets, Marlins) and a pair of rebuilding outfits (Braves, Phillies). The window will still be open after this year, but probably not as wide.
Photo courtesy of USA Today Sports Images.