In a draft class that featured several high-quality pitchers at the top, LSU ace Aaron Nola was viewed as one of the very best and universally regarded as the most major league ready of any of them.  Scouts were impressed by Nola's poise, maturity, and (perhaps most importantly) his pinpoint accuracy and multiple teams in the top ten were connected to the hurler, but the Phillies were the club that pounced at No. 7.  Back in June, Nola spoke with MLBTR as a part of of our Draft Prospect Q&A series.  Recently, we checked in with Nola as he was gearing up for the 2015, a season that could see his big league debut.
Zach Links: When the Phillies drafted you last summer, there was immediately talk of you quickly making a path to the big leagues since you were so polished. Did the Phillies indicate to you last summer that you could be bumped up to the majors rather quickly?
Aaron Nola: They didn't really say exactly that. They didn't really say much in terms of that.  For me, the way I look at it is, whenever they want me up, its their call.  Wherever they put me, my focus is going to be where I am and play to to the best of my ability.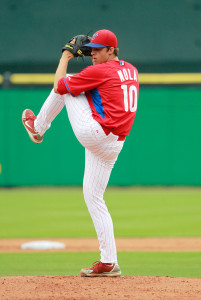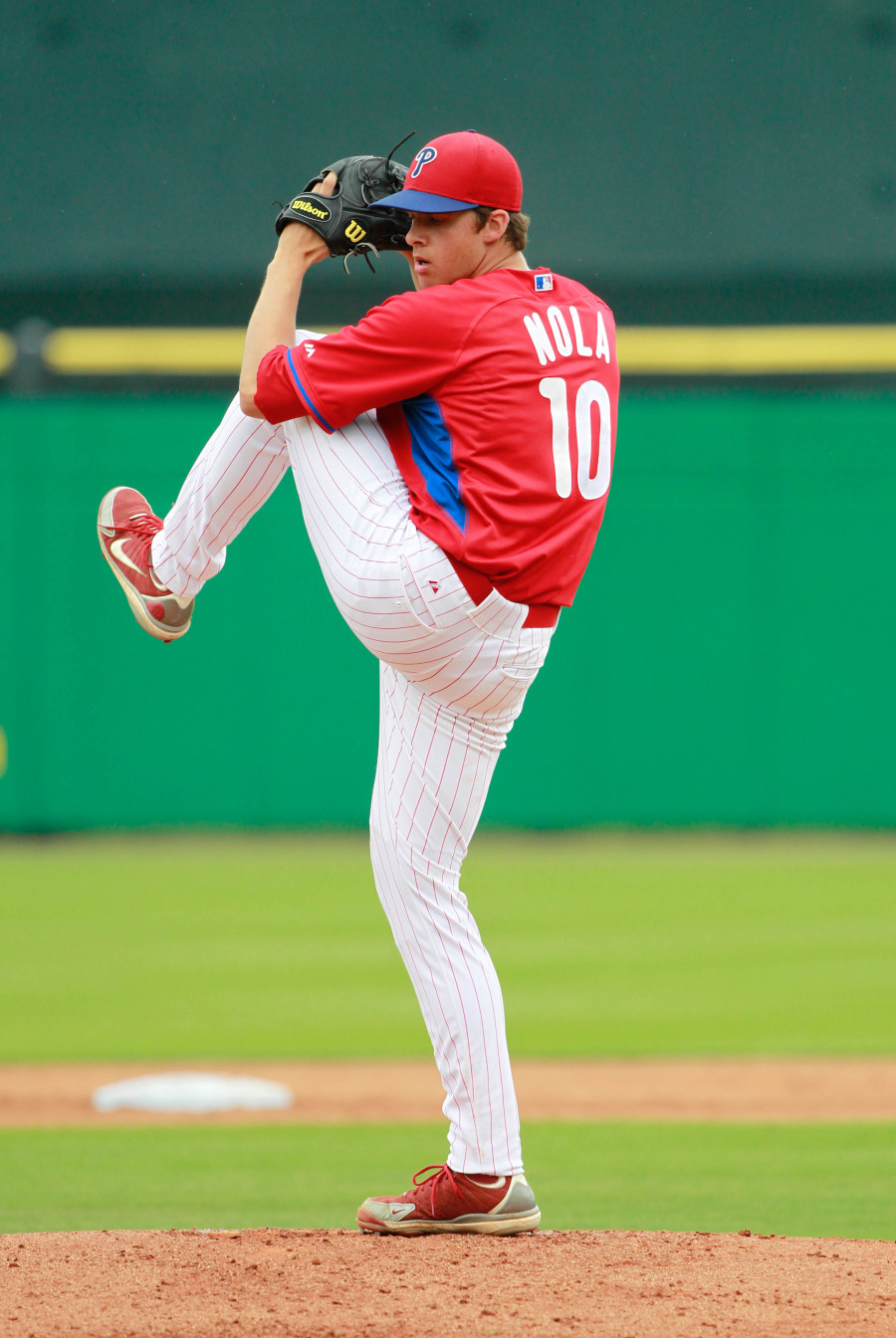 ZL: Some folks were surprised that the Phillies didn't have you in major league camp for the entirety of the spring.  Were you expecting to be in big league camp for the whole thing, as opposed to just a bit at the end?
AN: They just told me that they were going to send me to minor league camp and I was okay with that.  I had fun, I had a good time.
I knew a lot of guys there and there's a good group of guys there and it was pretty cool pitching against the Yankees that one time.  I was around guys in the clubhouse and getting to watch what they do and how they play the game, it was a really good and really educational experience.
ZL:  Alex Rodriguez offered up some really high praise after facing you in spring training, telling reporters (including Ryan Lawrence of the Philadelphia Daily News), that you had a "good arm" and "a bright future" that "the Phillies should be very excited" about.  [Nola allowed a single to Rodriguez in their first meeting, but struck him out with a changeup the next time around.]  What was your reaction to that?
AN: I was just thinking that was pretty cool. We all know what he's done in his career, he's an unbelievable player and just watching him step in the box and the battle going on, it was surreal.  Growing up we were just watching that guy on TV all the time and I was always hoping that one day I would pitch against him, so that was pretty cool.
ZL: Did you have any jitters when he stepped into the box?
AN: Maybe a little bit. I wasn't too nervous coming in because it wasn't the first time I pitched in front of a crowd like that.  We pitched in front of some huge crowds at LSU.  If there were any butterflies, they went away when I stepped on the mound because everything felt normal for me.  I think some minor jitters sometimes are good, in a way.
ZL:  The Phillies landed you at No. 7 but there were a number of teams connected to you, including the Twins at No. 5. Did you see the Phillies as your most likely landing spot on draft week, or did you see anyone else as the frontrunner?
AN: I just kind of told myself at that point that I was focused on my season at LSU and the games we were playing at that time.  At that point, I was blessed and honored to be in that situation, to know that I'd probably be called in the first round wherever I go.  I couldn't control any of that, and I didn't know where I'd end up when I was watching on TV.
It was an honor that the Phillies picked me, that day is something that I'll always cherish and remember.
ZL: How has your daily preparation changed from this time last year to today? What kinds of things do the Phillies have you doing differently?
AN: I'm not doing anything different, really.  What the Phillies have me doing is pretty much what I've done before.  The only difference I'm pitching more often.  I'm getting out on the mound more and more and I'm pretty accustomed to that at this point.
ZL: When we spoke last year, there were some scouting reports questioning your 3/4 arm slot. Have the Phillies tinkered with that at all?
AN: No they have not.  It's the same slot I've always done.  I've never thrown a pitch another way and always thrown in that arm slot.
ZL: The Phillies were zeroed in on their veterans for a long time and playing for the here and now, but they seem to be focused on building on younger talent now. Are you excited to be part of the youth movement in Philly?
AN: Everyone there, they're all great guys and I got to know them really well, or at least have good relationships with them.  I've been hanging out with them a lot this year and I can tell you that they play the game the right way and work really hard.
I think those guys are great and their stars have been at the top of the game for years.  They have had unbelievable careers and I don't know what is going to happen but they're working so hard this spring.  I'm excited to work my way up to that level and play alongside them.
Photo courtesy of USA Today Sports Images.