The Blue Jays have officially struck a stunning deal to acquire Rockies shortstop Troy Tulowitzki and veteran reliever LaTroy Hawkins in exchange for Jose Reyes and a trio of minor league pitchers. Promising young righties Jeff Hoffman, Miguel Castro, and Jesus Tinoco make up the key components of Colorado's return. Needless to say, the move constitutes one of the most stunning deadline deals in recent memory.
Tulowitzki will pick up a $2MM assignment bonus and a full no-trade clause by virtue of being dealt. No money is changing hands other than the differences in the contracts, but the financial component of the deal was certainly significant.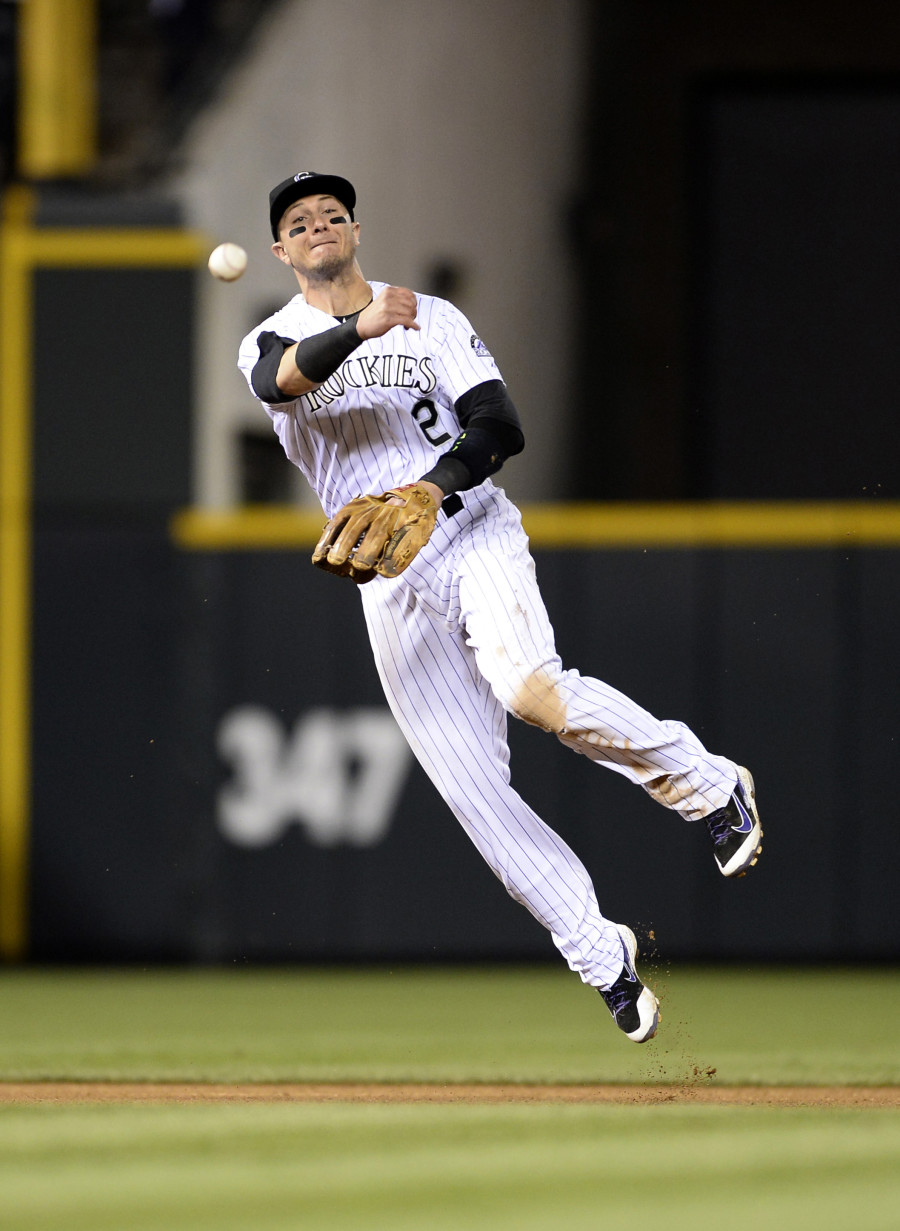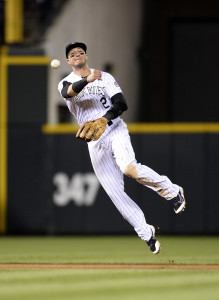 Both of the primary pieces in this deal are playing under significant contracts. Tulowitzki is owed $20MM annually this season and from 2016-19, before a $14MM payday in 2020 and a $15MM club option ($4MM buyout) in the following campaign. Reyes, meanwhile, is on the books for $22MM annually from 2015-17, and comes with a $22MM club option that also includes a $4MM buyout. All said, then, Reyes is guaranteed $50MM less in total following the present season (before tacking on the additional $2MM assignment bonus and the remainder of Hawkins' $2.25MM salary).
Tulowitzki, 30, has long been one of the game's best overall players. And he is as closely associated with his franchise as is any other player. There has been near-constant speculation as to whether Colorado owner Dick Monfort would consider parting with his club's superstar, but it appears that a series of disappointing seasons has finally brought matters to a resolution.
While the long-time Rockies franchise face has been quite good this year, he hasn't played quite to his own lofty standards. Over 346 plate appearances, he's registered a .305/.353/.478 slash. With the effects of Coors Field factored in, that's good for a 111 wRC+. His defense has rated out more as good than excellent. The net is that he's racked up 1.4 fWAR and 1.9 rWAR on the year. Through this approximate point last season (375 plate appearances), Tulo had already compiled 5.3 fWAR and 5.5 rWAR.
Of course, the biggest question with his long-term value lies in the arbitrary stopping point just noted. Tulowitzki never again took the field in Colorado after mid-July, as he ultimately underwent hip surgery. Since becoming a full-time regular in 2007, Tulo has averaged just 114 games a season.
With the first major move of his tenure, GM Jeff Bridich opened an array of questions about the team's intentions over the coming days (and beyond). It remains to be seen whether Colorado has intentions of plugging Reyes into its lineup or, instead, moving him to a third club to add other young pieces.
Colorado does not have a deal in place currently to move Reyes elsewhere, Joel Sherman of the New York Post tweets. But a move seems quite plausible. The Rockies have highly-regarded shortstop prospect Trevor Story playing well at Triple-A, and just used the third overall pick in last month's draft to select top-rated high schooler Brendan Rodgers, though he's obviously a ways from the big leagues.
Then, there's the matter of Carlos Gonzalez, long considered the twin-bill feature alongside Tulo at Coors Field. He's rebounded from a long rough stretch to enhance his value, and a move to shed his remaining obligations while adding young talent now seems more plausible than ever. Having parted with Tulowitzki and Hawkins, Gonzalez and other veteran assets (such as reliever John Axford) could conceivably change hands.
Regardless whether Reyes is ticketed for another destination, he offers his own blend of upside and downside. At age 32, he's fallen back to a .285/.322/.385 slash line and is no longer the outstanding defender he was early in his career. Still, he's a solidly above-average regular in a position of some scarcity (at least, in terms of established veterans) around the league. This becomes the second time that his contract — originally signed with the Marlins — has changed hands, and it may not be long until it moves again.
As for the young pieces, the 22-year-old Hoffman fell to the Jays in last year's draft after undergoing Tommy John surgery. That he was still taken ninth overall speaks to his talent, of course, and he's already moved to the Double-A level with Toronto. Having cracked many top-100 leaguewide prospect rankings before the season, the high-upside right-hander shot up to 33rd on Baseball America's mid-season list after showing his old stuff with a new UCL. He's said to have a big fastball, excellent curve, and promising change. Over 67 2/3 innings, mostly at High-A, Hoffman has worked to a 2.93 ERA with 6.1 K/9 against 2.3 BB/9.
Castro, 20, has a more projection-dependent future outlook. He opened the year in the big league pen after finishing off 2014 at High-A. The righty struggled somewhat in that cameo, but still pitched beyond his years and has shown a live arm. He entered the year rated the #9 prospect in the Jays organization by Baseball America, which noted his lofty upside and need to develop reliable secondary offerings to factor as a long-term MLB starter. Kiley McDaniel of Fangraphs had him in the sixth slot this spring. With his quick ascent, Castro has moved to the fourth position on BA's list and number five on MLB.com's latest ranking.
Finally, Tinoco has enhanced his stock by working to a 3.54 ERA over 81 1/3 innings at the Class A level this year, striking out 7.5 and walking 2.4 batters per nine. Even before that promising showing, he landed 16th on the pre-season Blue Jays prospect list of Kiley McDaniel of Fangraphs. Tinoco can run his fastball up into the upper nineties and has two promising secondary offerings with good feel on the mound, per McDaniel, who indicates that the youngster has a good deal of upside.
As eye-opening as the transaction was for the Rockies, it's arguably just as shocking — for different reasons — from the Jays' perspective. Toronto has struggled with pitching all year, but has a highly productive lineup. Reyes was earning big money to play shortstop, and the rest of the infield was filled with productivity, including recent major trade acquisition Josh Donaldson — who rates as the game's best third baseman — and first baseman/DH Edwin Encarnacion. (Notably, those sluggers, outfielder Jose Bautista, and numerous other key contributors are all right-handed hitters, as is Tulowitzki.)
Toronto will add a reliever to its mix in Hawkins, but he's more of a sturdy presence than a shut-down arm. The 42-year-old owns a 3.63 ERA with 8.1 K/9 against 1.6 BB/9 over 22 1/3 innings on the year. It's hard to believe at his age, but he's compiled a 3.11 earned run average over 237 2/3 frames dating back to 2011.
Despite the fact that the Jays dealt away two promising young arms, it seems likely that the seemingly all-in club will use additional pieces to add a starter. But with one out-of-nowhere move now completed, it remains to be seen whether something even more creative could go down.
Blue Jays GM Alex Anthopoulos has pulled off his share of stunners over the years, with the deal that brought Reyes to Toronto ranking high among them. But after dealing for Donaldson, signing Russell Martin, and now adding one of the game's best-known stars in Tulowitzki, Anthopoulos and his club are fully committed to win now in a manner not previously seen.
Ken Rosenthal of FOX Sports first reported the deal (links to Twitter). Jon Heyman of CBSSports.com was first to report that no money would be exchanged (Twitter links) and that three minor leaguers were in the deal. Bob Elliott of the Toronto Sun first noted Hoffman's likely inclusion, via Twitter, with Thomas Harding of MLB.com tweeting that he would in fact be in the deal. Jon Morosi of FOX Sports was first to suggest that Castro was likely going to Colorado, on Twitter, with Heyman tweeting that he was a part of the package. Heyman tweeted Tinoco's involvement. Rosenthal noted on Twitter that Tulowitzki would receive an assignment bonus and no-trade protection by virtue of being dealt.
Photo courtesy of USA Today Sports Images.