It took only a month for the Blue Jays to elevate Marco Estrada from rotation depth to full-time starter.  After Daniel Norris' early struggles got him demoted in early May, Estrada stepped into the open rotation spot and has quietly delivered some quality numbers.  Estrada has a 3.18 ERA, 6.78 K/9, 2.93 K/BB rate over 147 1/3 innings, highlighted by no-hit bids in consecutive June starts.  This solid season couldn't have come at a better time for Estrada as he prepares to hit the open market this winter.
It was a little under 14 months ago that Estrada was losing a starting job, as the Brewers demoted him to the bullpen after he posted a 4.96 ERA and a whopping 27 home runs over his first 107 innings of the 2014 season.  MLBTR's Tim Dierkes saw Estrada as a borderline non-tender candidate last winter, but the Jays agreed to a one-year, $3.9MM deal after acquiring him from Milwaukee in exchange for Adam Lind.  Despite moving to a hitter-friendly AL ballpark in the wake of a season that saw him devastated by the long ball, Estrada has posted a career-low 8.1% homer rate in 2015, well below his 12.1% mark he posted from 2008-14.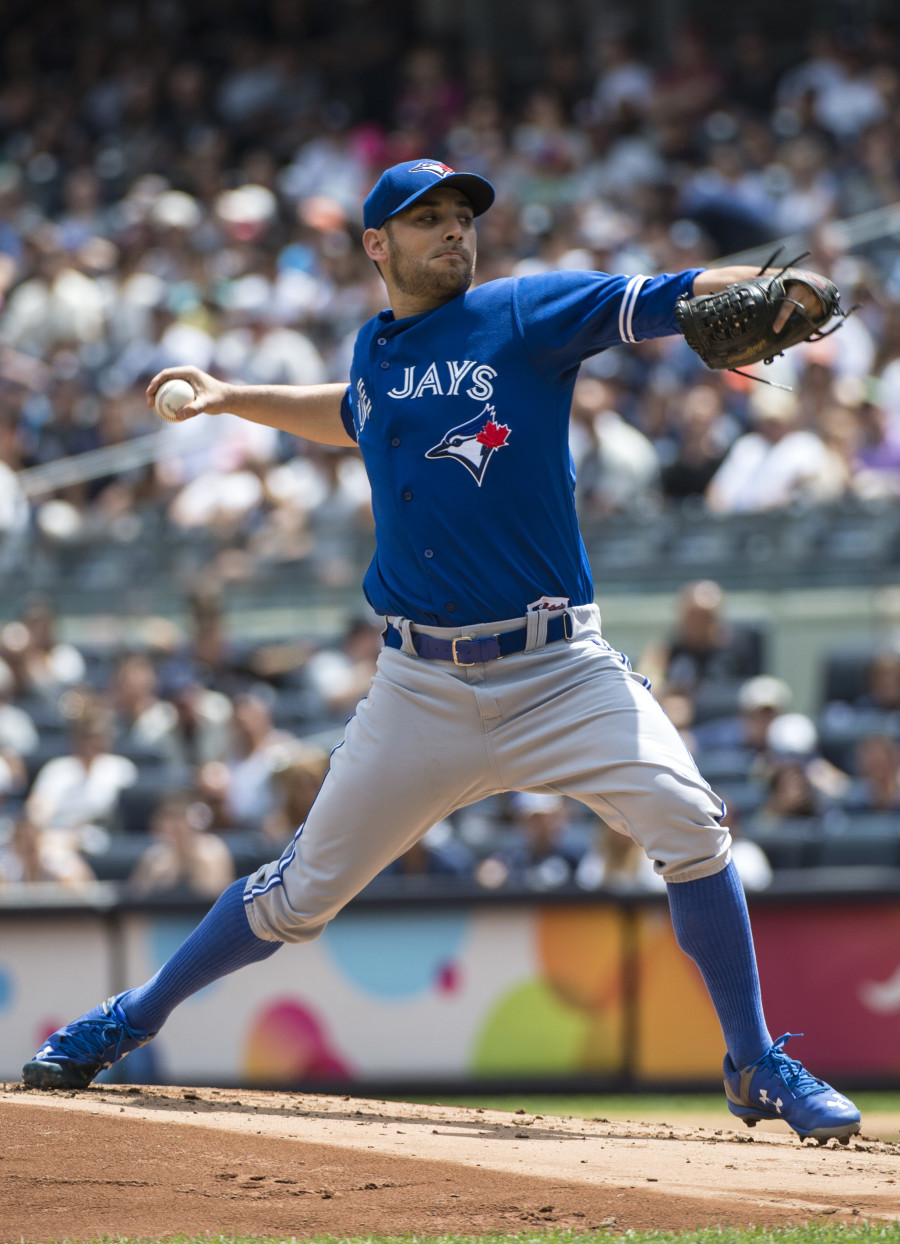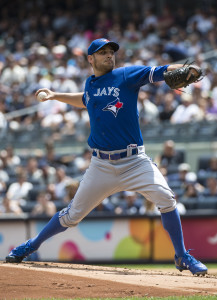 Advanced metrics, however, don't paint nearly as flattering a picture of Estrada's performance this season.  The low strikeout rate, only a 32.2% grounder rate, a .225 BABIP and 77% strand rate all add up to an unimpressive trio of ERA indicators — 4.28 FIP, 4.89 xFIP, 4.58 SIERA.  Estrada's K/9 has steadily dropped in each of the last four seasons and his current 6.78 mark would be the lowest of his career.
Estrada's success might go beyond just some batted-ball luck.  For starters, he is widely regarded as possessing one of the game's best changeups.  Estrada throws his signature pitch 28.5% of the time and at an average speed (78.7 mph) over 10 mph slower than his 89.3 mph fastball, an unusually large velocity drop that creates all sorts of difficulty for batters.  Since the start of the 2011 season, Estrada has the lowest line drive rate (18.1%) of any pitcher in baseball with at least 600 innings pitched, so his low BABIP number both this season and over his career (.276 prior to 2015) can partially be explained by the fact that hitters simply have trouble making solid contact with Estrada's arsenal.
It's worth noting that, going into 2014, Estrada was considered by some to be a possible breakout star following two strong seasons for Milwaukee.  Estrada's agents at TWC Sports will likely point to 2014 as the outlier of the righty's four most recent seasons due to the spike in home runs.  If Estrada can hold his own (2014 excepted) in the likes of Miller Park and Rogers Centre, it could be argued that he could be even more effective in a less-notorious hitters' park given how he limits hard contact.
This winter's free agent class is heavy with top- and front-of-the-rotation arms, and Estrada's market will further diminish due to the fact that he turns 33 in July 2016.  A three-year contract is probably stretching it for a pitcher that old, though it could be argued that Estrada has the type of pitching style that will age well.
I can see Estrada landing a two-year deal in the $20MM range, perhaps with an option added.  It's hard to find comparable contracts given Estrada's somewhat unique career history, though he could be seen as something of a blend of Carlos Villanueva (a swingman) and Scott Feldman (a non-strikeout pitcher coming to free agency fairly late), with Estrada falling between Villanueva and Feldman in terms of being an established starter.  Villanueva signed a two-year, $10MM free agent deal with the Cubs after the 2012 season and Feldman inked a three-year, $30MM deal with the Astros after 2013, so a two-year/$20MM projection for Estrada splits that difference exactly.
It's possible Toronto could look to bring him back since David Price may leave in free agency and Mark Buehrle may retire, though the team hopes to have a healthy Marcus Stroman and a more seasoned Aaron Sanchez in the 2016 rotation.  It's probably unlikely the Jays make Estrada a qualifying offer since they wouldn't be keen on paying him roughly $15.7-$16MM on a one-year deal if he accepts.  While Estrada is probably looking for multi-year security for his first dip into free agency, it's not out of the question that he would be the first player to accept a qualifying offer if the Blue Jays did offer one.  If Estrada and his agents felt having draft pick compensation attached would severely harm his market (a likely scenario), he could take the QO, still score a nice one-year payday and stay in a familiar situation with a strong lineup and defense.
Presuming he doesn't have the qualifying offer hanging over him, Estrada could get a lot of interest as an under-the-radar choice for a team that misses out on the big names in the first or second tier of free agent arms.  His price tag should be reasonable enough that small or mid-market teams could get into the mix, as well as larger-market teams looking for help at the back of their rotations.
Photo courtesy of Gregory Fisher/USA Today Sports Images