Jason Heyward hasn't maintained the power output that many once predicted, but he'll hit the market at a very young age while playing at quite a high level and should be paid accordingly.
Strengths/Pros
There's a lot to like about Heyward's all-around game, as he rates as a positive in essentially every area. His tools are undeniable, and he's turned them into tangible production in most regards.
Heyward's best single attribute might be his glove. Ultimate Zone and Defensive Runs Saved ledgers are filled with big numbers, as he's consistently rated as an outstanding right fielder. Since he debuted in 2010, Heyward has easily paced all outfielders in accumulated UZR (Alex Gordon's 68.3 UZR is second to Heyward's 96.2). Though his arm is more solid/good than great, he excels in the range department and isn't prone to mistakes. Given his age and remarkable consistency, this is about as bankable a skill as one could hope to find.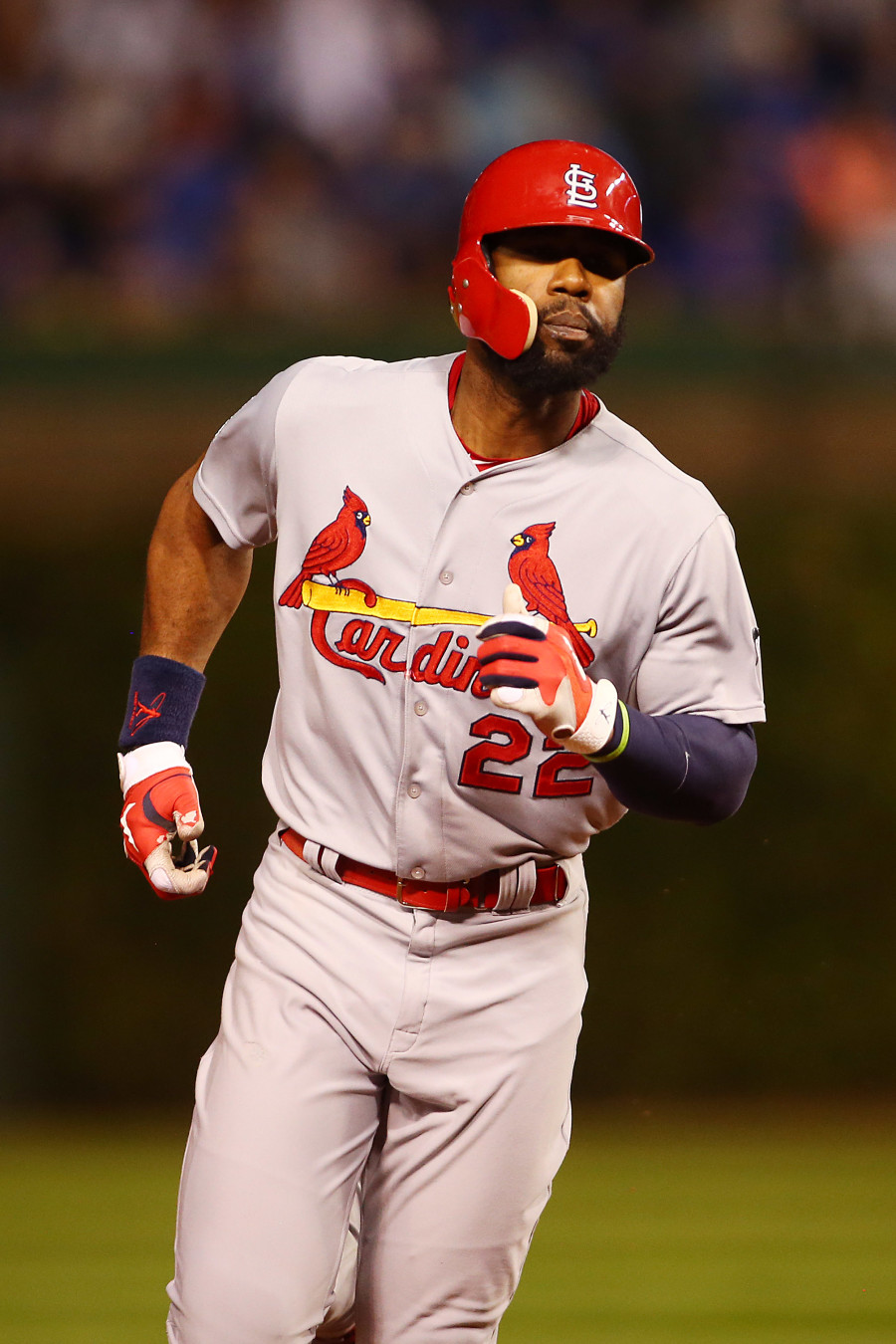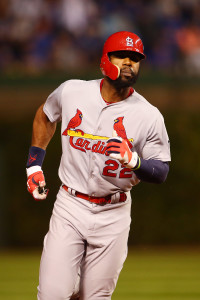 Another often-underappreciated source of value is the basepaths, and Heyward excels there, too. He's a fairly consistent source of twenty stolen bases, and more importantly, draws excellent overall marks. Indeed, Heyward ranked fifth in all of baseball in 2015 in Fangraphs' BsR metric (the baserunning component of fWAR) and sits in the top thirty since his rookie year.
Heyward isn't quite as outstanding with the bat — if he was, we'd be looking at Mike Trout's theoretical free agent case — but he's hardly a liability. He's reached base at a solid .353 clip and walked at a strong 10.8% rate for his career. Though Heyward's power has not returned to its peak 2012 levels (27 home runs, .210 ISO, .479 SLG), he's significantly cut back on the strikeouts since and now sits at about a 15% K rate, well below the league average.
Having only just turned 26, it's not at all out of the question that Heyward could still tap into some pop, particularly since he's shown the ability to do so at the major league level. His HR/FB rate did land at 12.0%, near his historical norm, after it fell to 6.5% in 2014.
It's also worth noting that Heyward has also continued to improve in the plate discipline department over the years, showing that he's continuing to hone his craft. His chase rate and overall swing percentage have dropped every year since 2012, and his contact numbers have risen: in his most recent campaign, he posted a 93.8% in-zone contact rate.
By measure of wRC+, Heyward has been 18% better than the league-average batter over his career and was slightly north of that in 2015, when he slashed .293/.359/.439. He's been a consistently above-average performer at the plate, apart from a fairly mild sophomore slump, and also shown the ability to hit the ball to all fields. All said, there's a lot to like about Heyward at the plate.
But the biggest reason that Heyward's free agent guarantee will likely place at or near the very top of the market is his age. Though he's already racked up six full years of MLB service, Heyward won't turn 27 until next August, making him a rare free agent who still could have much of his prime ahead of him. For some context, consider that Alex Gordon — another top free agent corner outfielder this year — had his breakout 2011 campaign in his age-27 season. Gordon, one of Heyward's chief competitors this winter, is a full five years older.
The total package makes Heyward one of the game's best overall players. He hasn't put up a single huge season, really, but consistently registers excellent campaigns. Somewhat quietly, he's accumulated more fWAR since 2010 than any outfielder not named Trout, McCutchen, or Bautista. (He sits 11th overall among position players.)
That's due in part, also, to his solid record of durability. Heyward has averaged 139 games and 572 plate appearances per year — good, but not great — but has mostly missed time due to bad luck (e.g., appendectomy, broken jaw).
Weaknesses/Cons
There's really no broad area in which Heyward fares particularly poorly, but there are certainly some rather significant factors that hold down his value.
The power conundrum certainly rates at the top of the list. As discussed above, it is a huge question for him. His established 27-homer upside remains tantalizing. Were he a reliable source of 25 home runs, his earning power would be astronomical. But, that's not how things have shaken out in recent seasons. Heyward's isolated power hasn't exceeded .150 in either of the last two years, and he hasn't popped more than 14 long balls since his 2012 campaign.
As a result, some teams looking at the idea of committing huge money over a lengthy term will certainly feel some uncertainty. If you believe that Heyward has settled in as a 12-to-15 annual home run level of power, then any fall-off in his speed and defense could leave him as an even less exciting player than he already is. Two fairly recent, seven-year free agent deals with non-power-hitting, average-OBP outfielders — Jacoby Ellsbury ($153MM) and Carl Crawford ($142MM) — have fallen flat.
We discussed Heyward's increasing contact tendencies above, and that does have some benefits (e.g., his improving strikeout numbers). But the list of elite contact makers is also riddled with slap hitters, and there are some concerns in Heyward's batted-ball profile. Last year, his groundball/flyball ratio was way out of whack when compared to career norms. After consistently hitting in the range of 45% groundballs against 35% flyballs annually, Heyward saw his groundball rate shoot up to 57.2% while his flies plummeted to 23.5%. That could be a one-year blip, but it's not the most encouraging sign to see so many balls hitting the ground.
Likewise, Heyward has traditionally struggled against left-handed pitching. He increased his output to about league-average in 2015, but he's running a .230/.309/.351 batting line for his career. When weighing a decade-long commitment (or thereabouts), it'd probably be preferable not to be wondering whether and how soon you'll need to find a platoon mate.
Personal
Heyward was born in New Jersey but grew up in Georgia and excelled there as a high school ballplayer. He wears the number 22 to honor the memory of his former high school teammate, Andrew Wilmot.
As Peter Gammons explored in an interesting 2010 piece, Heyward is the product of a well-educated and thoughtful family. Even as his son participated in competitive youth baseball, Heyward's dedicated father made sure the focus remained on having fun. Even as he was just entering the big leagues, Heyward drew rave reviews from teammates, coaches, and scouts for his hard work, and he's only enhanced that reputation since.
"I love to play. I love to play hard," Heyward himself explained. "I try to play the right way. I was brought up by parents who taught me to treat everyone with respect, to treat them the way I want to be treated."
Market
Heyward is a special free agent because of his age and consistent level of production. That his annual earning power isn't exceptional could keep more teams in the hunt than might otherwise be the case, and of course some will see an opportunity to buy up still-undervalued skills.
It's hard to completely rule out any large market clubs, because other roster moves could always be made to free space for this kind of opportunity. Organizations such as the Angels, Tigers, Giants, and Mariners have the means and, quite possibly, the need for Heyward. The Cardinals don't generally chase top-of-the-market free agents, but just had him for a year and gave Matt Holliday big money under similar circumstances. There'd be a nice fit with the White Sox, Orioles, Astros, Royals, and Padres, if they're willing to spend beyond their typical levels. Meanwhile, big spenders such as the Yankees — but also, theoretically, including the Cubs, Dodgers, Rangers, and Nationals — could make room for Heyward if they feel the opportunity is just too good to pass up.
Expected Contract
There's a range of possibilities here, as always, but I'm guessing Heyward will command a longer deal at a slightly lesser average annual value. Ellsbury's deal came at just under $22MM in AAV, and even Crawford cracked $20MM annually (five years ago). It's hard to put Heyward in the same production bracket as Robinson Cano (ten years, $240MM), and you could argue that he's not as valuable a free agent as was Prince Fielder (nine years, $214MM), depending upon how one values defense and baserunning. But those signings show that super-length contracts at still-significant AAVs can be had.
It's important to note, also, that Heyward looks like a prime candidate to negotiate an opt-out clause into his deal. Given his age, he'd probably see value in having the right to return to free agency after a reasonable stretch. (After all, as MLBTR's Steve Adams points out, even five years from now Heyward will still be younger than Gordon is as he hits the market this winter.) And Heyward is represented by Excel Sports Management's Casey Close, who has guided clients such as Zack Greinke and Masahiro Tanaka to opt-out arrangements.
My prediction: ten years, $200MM.
Photo courtesy of USA Today Sports Images.