Teams will have to decide whether Jordan Zimmermann is a top-of-the-staff stalwart or a steady mid-rotation arm.
Strengths/Pros
Zimmermann is often credited with a "bulldog" mentality because he so consistently attacks hitters in the zone. He conveys a sort of unemotional intensity on the hill that contributes to his well-earned reputation for steadiness and relentlessness. But he's not just a big, lumbering arm; Zimmermann is also an excellent athlete who moves well off the mound and fields his position well.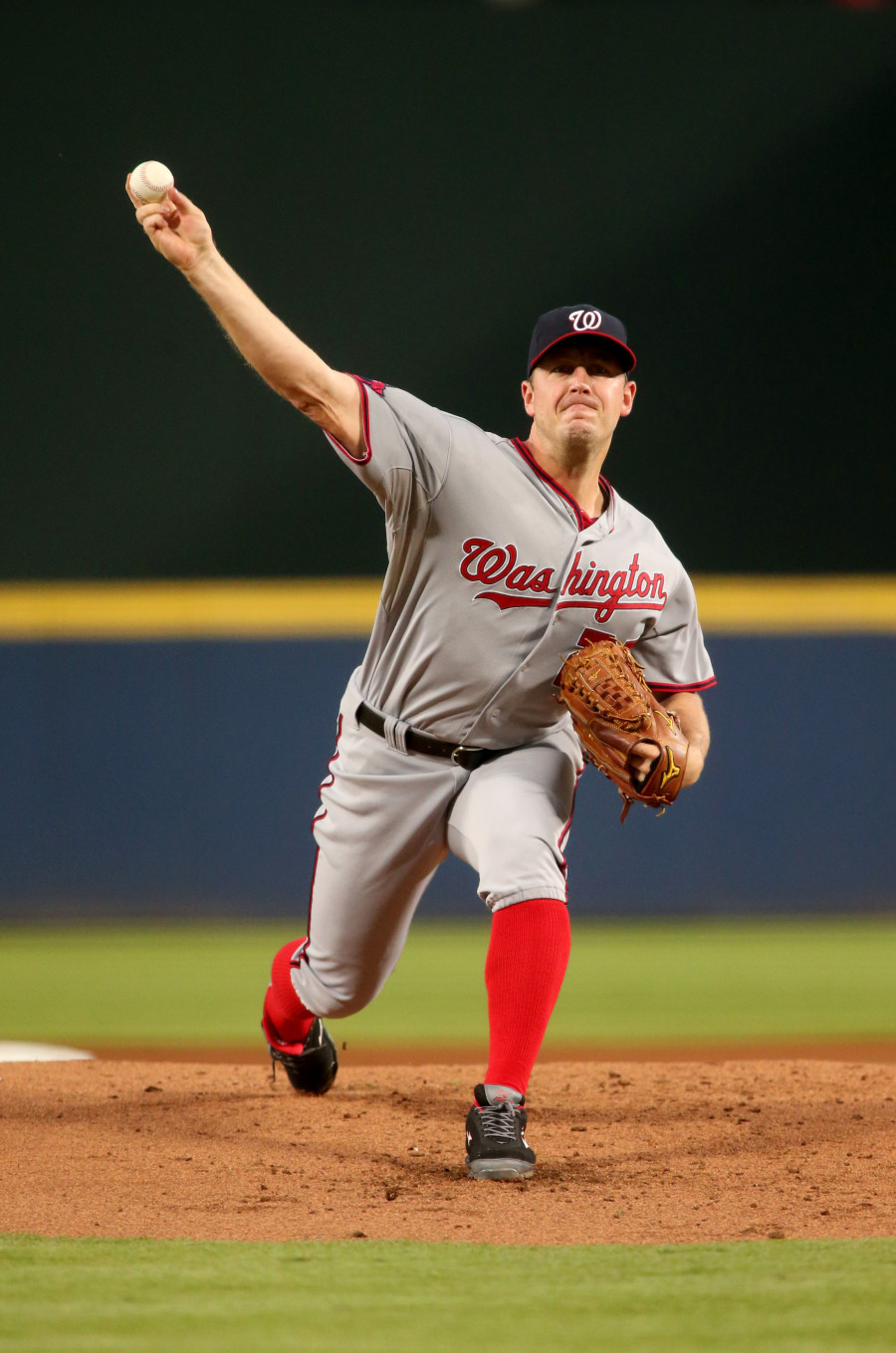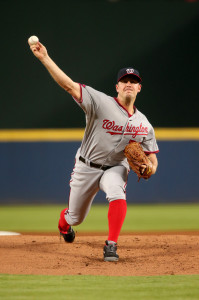 Age and innings go a long way in determining the length of free agent deals available to starting pitchers, and Zimmermann fares well in both regards. While he's not the youngest arm on the market, he won't turn thirty until May 23rd of next year.
Zimmermann has also been quite durable in recent years. He was shut down early in 2011, his first year back from Tommy John surgery, as the Nationals sought to build up his innings. In the four years since, Zimmermann has made at least 32 starts each season while compiling 810 1/3 total innings. Though he's never put up gaudy single-season inning tallies, he is fifth in the game in total starts since the beginning of 2012 and ranks 12th in total frames over that span.
That's a nice base to work from, but performance will obviously drive both years and value. Heading into this season, there was reason to believe that Zimmermann could reach (or even exceed) Jon Lester's six-year, $155MM deal with the Cubs. After all, he was coming off of two consecutive years in which he landed in the top ten in the National League Cy Young voting, building off of two very good seasons before that. His 2014 campaign, in particular, was outstanding: Zimmermann posted a 2.66 ERA with 8.2 K/9 against a league-low 1.3 BB/9.
While he has often described his approach as pitching to contact, Zimmermann has also shown the ability generate swings and misses (though, as explained below, that comes with some caveats). 2014 set a high-water mark for Zimmermann's strikeouts, but he was able to return to that level over the latter half of last year, so it may be too early to write off his ability in that regard despite uninspiring overall numbers in 2015.
And focusing on the swings and misses tends to detract from the veteran's single best skill: his impeccable control. Zimmermann has never permitted more than two free passes per nine innings over a full season. Since the start of 2011, only six starters with over 500 innings have bettered his walk rate.
Another area where Zimmermann has performed well is in limiting platoon splits. He's been slightly better against righties historically, of course, but has handle opposite-handed hitters in equivalent manner in most regards. Lefties do draw walks at a higher rate (2.3 vs. 1.4 BB/9), but their overall production has not been markedly greater (.310 vs. .286 wOBA).
Weaknesses/Cons
There's a lot to like, but 2015 represented a step back for the righty, and not just in the earned run department. Zimmermann's 3.66 ERA was by far the highest full-season mark of his career, and his FIP (3.75), xFIP (3.82), and SIERA (3.83) marks all landed a fair sight over his career averages.
Of greatest concern to his outlook, perhaps, was the failure to maintain what had been a breakout season in the strikeout department. His 2014 swinging strikeout jump (from the mid-8 percent range to 10.3%) has basically dropped back to where it was before and now looks like an outlier. And that issue is compounded by the fact that Zimmermann doesn't generate a ton of groundballs, having settled into the low-forty-percent range.
It is interesting to note that Zimmerman trended upwards in terms of strikeouts over the season's second half, posting 8.3 K/9 over his final 90 innings of the year. But that was not accompanied by success, as it coincide with a large jump (from 0.64 to 1.60 HR/9) in home run proneness that almost entirely explains his earned run leap.
Bottom line: it's not clear that Zimmermann can generate the whiffs you'd like to see while keeping the home runs in check. Doing both of those things drove his outstanding 2014, but he was running a HR/FB rate (6.4%) that was significantly below his career level (now 9.1%). This past year, while Zimmermann's batted ball results were in line with his track record, he allowed a career-high 1.07 HR/9 on a 10.9% HR/FB rate.
Zimmermann certainly has had success in the past despite middling K numbers, but he's always outperformed ERA estimators. In particular, SIERA has never been a big fan — crediting him with just a 3.62 lifetime mark. He fares better by measure of FIP (3.40) and xFIP (3.57), but all those numbers paint him more as a steady mid-rotation arm than the somewhat higher-level arm that his 3.32 lifetime ERA might suggest.
As teams decide how to judge those numbers, they'll also be looking at other recent indicators. The pitch value of his fastball (per Fangraphs) fell into the negative for the first time over a full season after consistently rating as a plus offering. Possibly reflecting some lost confidence, Zimmermann dropped his fastball use rate back into the low-60% range after it had risen to over 70% in 2014. He also continued to work higher in the zone with the pitch, continuing a trend from 2014. While that might have helped him restore the swings and misses, it came with too many long balls and marginal grounder rates. 
So, what's up with the heater? One possible root issue is an average velocity drop. The offering was still within one mile per hour of his top career speed, so it isn't necessarily a huge red flag, but that velo loss — combined with the other issues and sagging production — isn't particularly promising, either.
Another historical strength that came into some question last year is performance against left-handed bats. Zimmermann's fastball-slider-curve mix is well-established and has long been effective, but he's generally also sprinkled in the occasional change. He largely dropped that pitch last year. Whether or not that's a contributing cause, Zimmermann allowed a .281/.338/.438 batting line to opposite-handed hitters. Those are his worst-ever full-season marks in each of the triple-slash stats.
Personal
Zimmermann is a native of Wisconsin and graduate of the University of Wisconsin-Stevens Point. ESPN.com's Jerry Crasnick's 2013 profile of Zimmermann paints him as something of a mid-western archetype. An outdoorsman in the offseason, he doesn't put much of his personality on display publicly but is known to deliver "a wry sense of humor" in the clubhouse environment.
Jordan and his wife Mandy have two children, the second of whom was born just one day before he took the bump on July 12 of this year. It wasn't his best outing, but Zimmermann wasn't making any excuses. "Still have to go out there and throw the ball over the plate," he said.
Market
As mentioned above, there was a time where the Lester deal looked plenty attainable for Zimmermann, who looked to be chasing David Price and Johnny Cueto in earning power. Now, the Relativity Client has clearly been bypassed by the older Zack Greinke and stands alongside Cueto as players whose value took a bit of a hit down the stretch. There's competition, as well, from pitchers like Mike Leake, Jeff Samardzija, Wei-Yin Chen, and Japan's Kenta Maeda.
Though he won't reach the AAV achieved in the Lester deal or even the somewhat lighter pre-2012 Greinke pact ($147MM over six years), it still seems plausible that Zimmermann will get a sixth guaranteed year — possibly at a lower rate. There's some wiggle room in his market, especially if some teams still prefer the suddenly questionable Cueto, but there ought to be a lot of clubs with interest, helping prop up his floor and creating the possibility of some upward movement.
There are any number of clubs that might pursue Zimmermann, some of whom won't likely be after the two arms ahead of him. The fact that he'll be bound by draft compensation will provide something of a limiting factor, but there ought to be a good number of suitors. Basically the entire AL East (Rays aside) could theoretically have interest, as might the Tigers, Astros, Cubs, Dodgers, and Giants. Somewhat less obvious teams like the Mariners, Angels, Twins, Marlins, Cardinals, and Diamondbacks could also make sense. And if Zimmermann's market sags early, other opportunistic buyers might conceivably get involved. A return to the Nationals can't be written off entirely, but that ship likely sailed when the sides were unable to match up on an extension.
Expected Contract
It might be on the higher side of his market, but given his durability and broad potential market, I think Zimmermann will get to six years — though he might have to sacrifice a bit of AAV to get there. I'll predict a six-year, $126MM contract.