Once the game's most-hyped prospect, switch-hitting catcher Matt Wieters has put in six years of Major League service with the Orioles.  After five-plus years as a very good, durable backstop, Wieters missed a year due to Tommy John surgery and played in 75 games this season.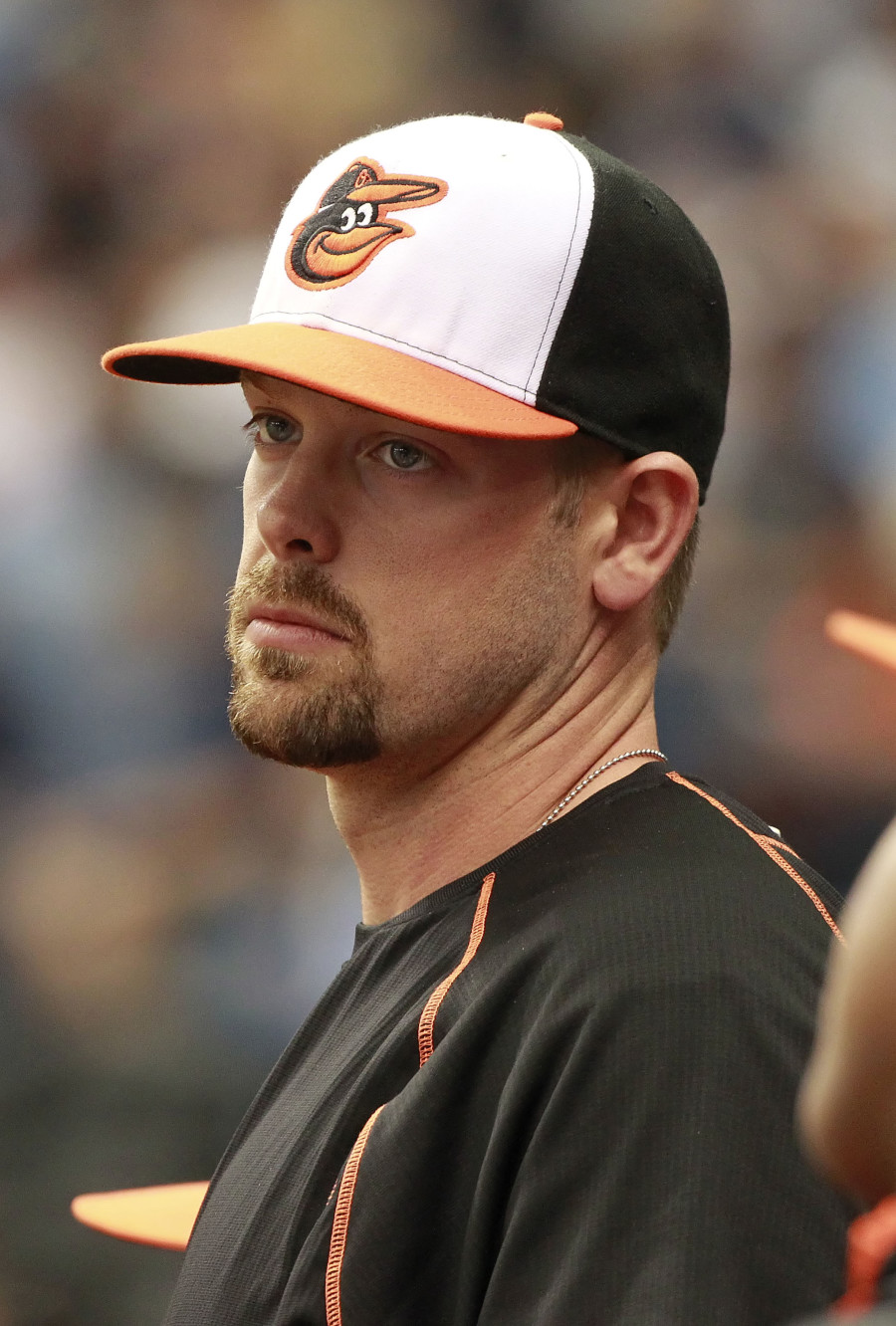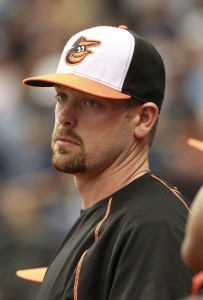 Strengths/Pros
Wieters is an above average hitter for a catcher.  In 2015, the average catcher hit .238/.302/.376 with a Weighted Runs Created Plus of 85.  Wieters hit .267/.319/.422 with a wRC+ of 100.  He displayed a league average bat, even though catchers generally hit significantly worse.  He has shown good pop, leading all catchers with 67 home runs from 2011-13.  Wieters made the All-Star team twice in that span, and again in 2014 after a 26-game hot start to that season.
Defensively, Wieters has been among the game's best at preventing stolen bases.  The stat Stolen Base Runs Saved credits catchers for throwing out runners and preventing them from attempting to steal in the first place, and Wieters led all of baseball from 2011-13.  The simpler version of this is caught stealing percentage, and Wieters was among the top four qualified catchers in each of 2011-13 seasons.  Wieters has also been one of baseball's best at blocking pitches.  He won Gold Glove awards in 2011 and '12.
As with Justin Upton, it feels like Wieters may not have reached his ceiling.  The Orioles drafted Wieters fifth overall in 2007, and his 2009 big league debut was highly anticipated.  In 2008, Baseball America wrote that Wieters had "the makings of a legitimate star," a switch-hitter with plus bat speed, good plate discipline and pitch recognition, and excellent defense including plus-plus arm strength.  He doesn't turn 30 until May, and is easily the best free agent catcher.
Weaknesses/Cons
From 2011-13, Wieters caught 3,539 2/3 innings, the most in baseball.  The ability to catch more than 140 games per season would be considered a huge positive, but as Wieters heads into free agency, we have to question how many innings behind the plate he can handle for the next several years.  Wieters' 2014 season ended on May 10th with elbow soreness, and he had Tommy John surgery in June of that year.  Though he was at one point on track to be ready for Opening Day, Wieters experienced elbow tendinitis in March and started the year on the DL.  His season debut came on June 5th.
From the day of Wieters' season debut, he started at catcher for 55 of the team's 109 games.  He battled a hamstring strain in August and a wrist injury in September.  Still, there was no point this season where Wieters was used like a regular catcher by the Orioles.  As Mark Brown of Camden Chat pointed out, he only caught on consecutive days four times this year.   He's not a good enough hitter for significant time at DH or first base to be appealing as part of a long-term contract, as it was with Brian McCann.  In a given year, anywhere from 11-18 catchers get at least 900 innings behind the dish, and a team giving a multiyear pact to Wieters will need confidence he can do that.
Exploring the question of Wieters' ability to stay behind the plate long-term, one must consider his massive size.  He is literally the only regular catcher in baseball history who is 6'5″ and 230 pounds.  Dropping the weight requirement to 220 gives a list of five total catchers (including Wieters himself).  One of those is Joe Mauer, who was done catching by age 31 due to a lengthy history of concussions as well as back and leg injuries.
Looking at Wieters' pitch framing data at StatCorner, he's below average at getting pitches outside of the zone called strikes for his pitchers.  The stat is called oStr%, and Wieters was the worst in baseball this year among those with a sample of 4,000 or more pitches.  He was below average at this key framing skill from 2012-14 as well.  Also, it's unclear whether Wieters' once-vaunted arm is as effective at preventing stolen bases.  He threw out 30.8% of attempted thieves this year, which would  have ranked eighth among qualifiers.
I believe Wieters will receive and turn down a qualifying offer from the Orioles, meaning signing him would require a team to forfeit its first eligible draft pick.  This could present an issue for a team like the Mariners, who probably wouldn't want to give Wieters a decent-sized contract and also forfeit the 11th overall draft pick.
Personal
Wieters was born in Charleston, South Carolina and resides in Sarasota, Florida with his wife and son in the offseason.  According to Dan Connolly of the Baltimore Sun, Matt met his wife while attending Georgia Tech, and they also have a house in Atlanta.  Will Graves of the Associated Press called him a "stoic cornerstone" for the Orioles in 2013, and more recently Connolly wrote, "Wieters' leadership, steady influence and professionalism has been immeasurable."  Matt's father, Richard, was a minor league pitcher for the Braves and White Sox, and as you'd expect, that sparked an interest in the game for Matt.  He remained humble despite huge hype coming out of college and in his minor league career.
Market
Interest in Wieters will vary based on his contract demands and whether he receives a qualifying offer.  I feel making a qualifying offer is a relatively easy "yes" for the Orioles, because he'd be worth $15.8MM on a one-year deal if he accepts.  But why would a 29-year-old catcher, the best free agent at his position, decline his first chance at an open-market multiyear deal without fully exploring the market first?  If all the multiyear offers are unacceptable, Wieters would probably be able to find a one-year deal worth close to $15.8MM in February or March.  In March 2014, Wieters' agent, Scott Boras, told ESPN's Jerry Crasnick in reference to Stephen Drew and Kendrys Morales, "Everybody talks about these players turning down these [one-year] qualifying offers like they're village idiots. The reason is, they don't want to be in the same position again next year. If I'm a good player, I'm going to take the prospect of free agency."
If Wieters becomes a one-year deal guy late in the offseason, opportunistic teams will swoop in, and the door could re-open to the Orioles.  Before then, Boras needs to find a team that loves Wieters' pedigree, and feels he can be a bargain on a multiyear deal if an offseason of normal rest brings back the durability he once had.  Clubs that could enter the market for a starting catcher include the Rangers, Nationals, Braves, White Sox, Mariners, Twins, Rockies, Angels, and Astros.  Of those nine teams, the Braves, White Sox, and Rockies have protected first round picks.  The White Sox have not historically been involved with a lot of Scott Boras' free agents, but we can't rule them out.  The Braves are a legitimate match.  Wieters grew up rooting for the Braves, his father pitched in their minor league system, and he starred at Georgia Tech.  Plus, former Oriole mainstay Nick Markakis joined the Braves last winter, and the team appears to have soured on young catcher Christian Bethancourt.  The Rockies have Nick Hundley in place for 2016, but could see Wieters as a long-term solution behind the plate.
The Nationals are an under-the-radar fit.  They were not happy with Wilson Ramos this year, according to MLB.com's Bill Ladson, and the team's management has a well-known strong relationship with Boras.  Meanwhile, Jon Heyman of CBS Sports says the Rangers could take a look at Wieters, but only if he does not receive a qualifying offer.  Surely Boras would appreciate the Orioles choosing not to make a qualifying offer, which would be extremely risk-averse.  The O's didn't make a qualifying offer to Markakis last winter, which Mark Brown of Camden Chat theorized may have been a gesture of loyalty from owner Peter Angelos.
Wieters has little competition on the free agent market, but he will be affected by the availability of Brewers catcher Jonathan Lucroy.  Any of the above teams could make a deal for Lucroy and drop out of the Wieters market.
Expected Contract
I can picture Boras coming out of the gates seeking Russell Martin/Brian McCann money for Wieters, meaning five years and $82-85MM.  I don't think he'll get there, but I'm predicting a four-year, $64MM deal, even with a qualifying offer.