In the wake of Jose Bautista's breakout 2010 season, the Blue Jays signed the right fielder to a five-year, $65MM extension that covered his final year of arbitration eligibility and first four free agent seasons.  (It also included a $14MM club option on the 2016 campaign.)  This extension generated quite a bit of controversy at the time.  An MLBTR poll revealed that over 72 percent of readers polled felt the deal was unwarranted, and several pundits felt the Jays should've sold high on Bautista rather than gamble that his out-of-nowhere slugging prowess wouldn't just as suddenly disappear.
Instead, that extension turned out to be one of Alex Anthopoulos' canniest moves as Toronto's general manager.  Bautista has averaged a .933 OPS over the last five seasons, and he leads all players with 173 home runs over that same span.  Needless to say, that $65MM deal has turned into one of the largest bargains in the sport, and the club's decision to pick up Bautista's $14MM option for the coming season was the easiest of no-brainers.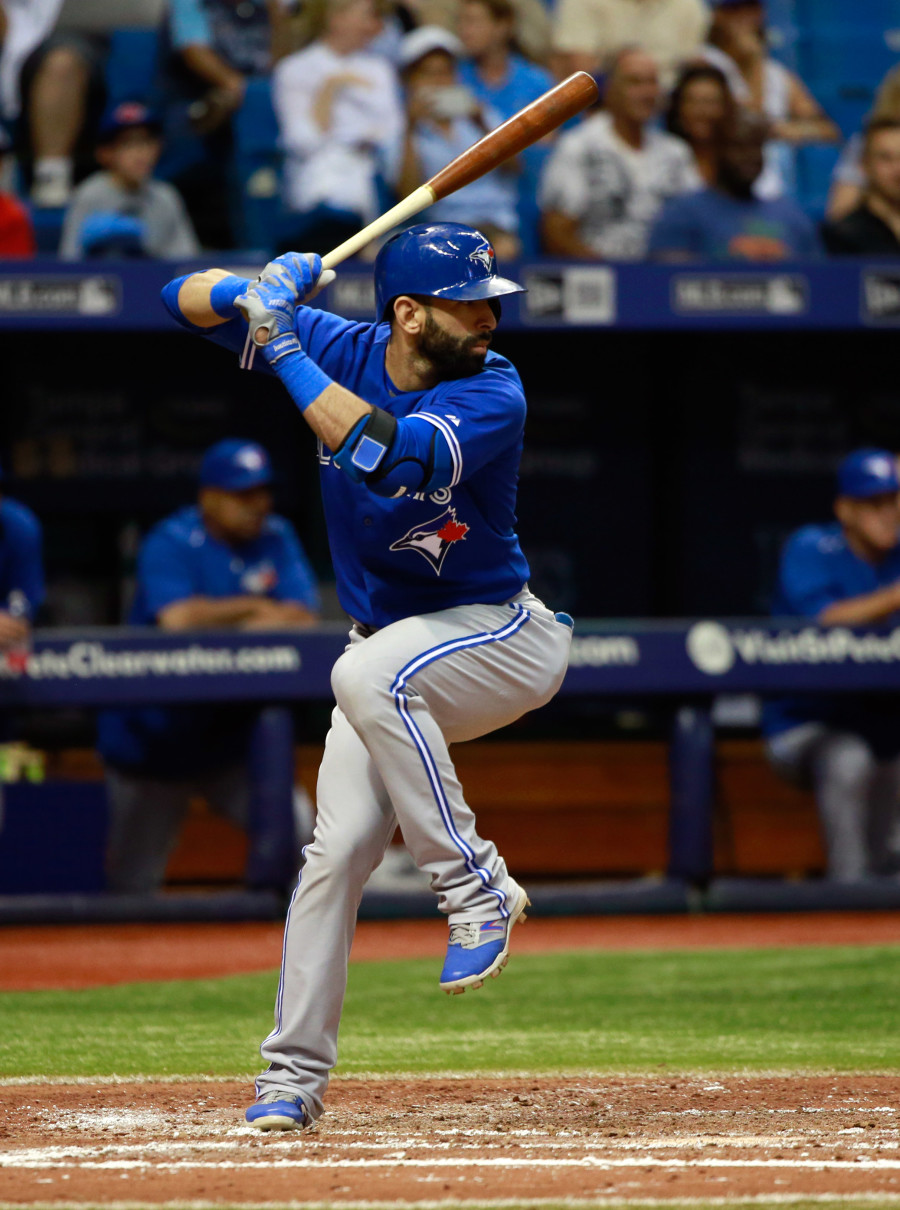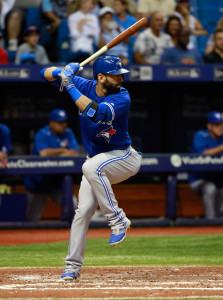 With this track record under his belt (and in the wake of a certain instantly-iconic postseason blast), Bautista has a lot of negotiating power on his side if the Jays want to negotiate an extension this offseason.  That being said, there are a large number of factors to consider in this particularly interesting extension case, as if Bautista and the Jays were to reach a new deal, it would very likely set a new contractual precedent.
Bautista is still hitting at an elite level as he enters his age-35 season, and thus he doesn't really have any comparables among past players with at least 6 years of service time who signed multi-year extensions.  Looking at veteran sluggers who have signed big free agent deals in recent years, Bautista has out-performed the likes of Victor Martinez, Nelson Cruz or Carlos Beltran and also lacks major baggage like Cruz's PED suspension history or the torn ACL that cost Martinez his entire 2012 season.  Since V-Mart was limited to DH-only duty and still received a $17MM average annual value, Bautista and agent Jay Alou can certainly make the case that Bautista's superior hitting numbers and added defensive value deserves a $20MM+ AAV.
It may sound like a big salary for a player in his mid-30's, yet power is a valuable commodity.  Tim Dierkes predicts that five of this winter's free agents (Jason Heyward, Chris Davis, Justin Upton, Yoenis Cespedes, Alex Gordon) will all find deals with an AAV north of $20MM per season; add Bautista to that group, and he and Davis topped them all by each posting a 147 wRC+ in 2015.  There's enough interest in Ben Zobrist that he could also conceivably find a four-year deal entering his age-35 season, and while Zobrist far outpaces Bautista in defensive versatility, Bautista is also the far superior hitter.  To sum up, if Bautista hit the open market this winter, he'd very likely find a four-year deal in the $80MM-$100MM range.
This is the price tag the Blue Jays will need to approach in order to extend their star.  If they're open to meeting this price, it might be a smart move to tear up Bautista's 2016 contract and essentially start the extension next season by giving him a raise to at least $20MM and then three more $20MM+ seasons through 2019 (with possibly a vesting option for 2020).  Starting a four-year extension in 2017 would mean the Jays are on the hook for a big salary in 2020 when Bautista would be entering his age-40 season.  If I'm the Jays, I'd much rather pay Bautista a $20MM+ salary next year than I would for 2020 since the team is obviously much more confident that Bautista will still be a top run producer in the short term.
We've already looked at the pros of a Bautista deal, so now let's focus on the cons.  Despite Bautista's consistency, guaranteeing big money to any slugger in his mid-30's carries a lot of risk.  Of the three veteran free agents I cited earlier, Martinez and Beltran both struggled through injury-plagued down years in the first seasons of their latest contracts.  Bautista's 2012 and 2013 seasons were both shortened by injuries — a bad wrist that required surgery after the 2012 campaign and a bruised hip that led the Jays to shut Bautista down in late 2013.
He also played through a shoulder injury for much of 2015 that didn't much affect his hitting, though it weakened his usually-strong throwing arm and may have contributed to his subpar defensive metrics (-3 Defensive Runs Saved, -12.5 UZR/150).  Bautista's defensive numbers in right field have fluctuated over the years, though it also wouldn't be a surprise if his 2015 stats are the first sign of a permanent downswing.
So if the Blue Jays were to extend Bautista, it would be under the assumption that he might only be a couple of seasons away from permanent first base/DH duty.  It's this scenario that poses the biggest question mark to a Bautista extension, as the Jays already have Edwin Encarnacion as a full-time 1B/DH.  Encarnacion is also eligible for free agency after the 2016 season, is 26 months younger than Bautista and he's posted slightly better numbers in some notable stat categories since the start of the 2012 season.
Bautista: 2266 PA, 130 HRs, 355 runs, .261/.377/.522, .387 wOBA, 146 wRC+, 18 fWAR
Encarnacion: 2431 PA, 151 HRs, 352 runs, .274/.371/.549, .391 wOBA, 149 wRC+, 16.3 fWAR
In Russell Martin and Troy Tulowitzki, Toronto already has two major salaries on the books for the next four and five years, respectively.  Another big long-term commitment will be added if the club extends Josh Donaldson.  It's hard to see the Blue Jays committing over $40MM per season in additional salary through the rest of the 2010's to two more players, especially two players in their mid-30's who would be locked into the first base and DH spots.
Unless Bautista or Encarnacion could somehow be talked into another team-friendly deal, the Jays may well have to choose which of the two franchise cornerstones they want to keep in the fold.  Encarnacion is younger but Bautista is the better athlete of the two.  In terms of pure dollars, Bautista's age makes him slightly cheaper to extend since Encarnacion would likely push for another guaranteed season or two.  Then again, if the Jays are willing to spend big money to retain a slugger, going with the younger option makes more sense if they feel all else is equal or if they feel Encarnacion will age better over the next few years.
Optics will also play a big role in a Bautista extension.  The Blue Jays organization already took a PR hit with its revived fanbase this offseason given the awkward nature of Anthopoulos' departure.  It wouldn't help public perception of new president/CEO Mark Shapiro or the Rogers Commnications ownership group if a new deal couldn't be worked out with the face of the franchise.  Bautista hasn't been shy about expressing his opinions on the club's business over the years, and one suspects he would speak up if he doesn't feel the Jays are making a concerted effort to extend him.
From Bautista's perspective, an extension would allow him to remain in a familiar spot, keep him playing for a contender if the Jays keep up their 2015 form and, in all likelihood, spend the rest of his career in Toronto.  Given all of the factors that will go into Bautista's extension case, it will fascinating to see if the two sides can reach a new deal or if Bautista will be tossing a bat while wearing another team's uniform in 2017.
Photo courtesy of Kim Klement/USA Today Sports Images