The Mariners and Rays have announced a three-for-three trade that sends infielder/outfielder Brad Miller, first baseman Logan Morrison, and reliever Danny Farquhar from Seattle to Tampa in exchange for righty Nate Karns, lefty C.J. Riefenhauser, and minor league outfielder Boog Powell.
With the trade, new Mariners GM Jerry Dipoto has made a striking first major move. The key piece, of course, is the 27-year-old Karns, who put up a solid 147-inning campaign last year, working to a 3.67 ERA with 8.9 K/9 and 3.4 BB/9. He'll bring ample, cheap control with him to the Mariners, even if he regresses (and/or fails to progress). Evaluative statistics such as SIERA (3.90) were not terribly high on his first complete big league season, though he'd still be quite a productive asset if he pitches at that level. It's worth noting that Karns was shut down late in the year with a mild forearm strain, though he also obviously passed a medical exam since the trade is now official.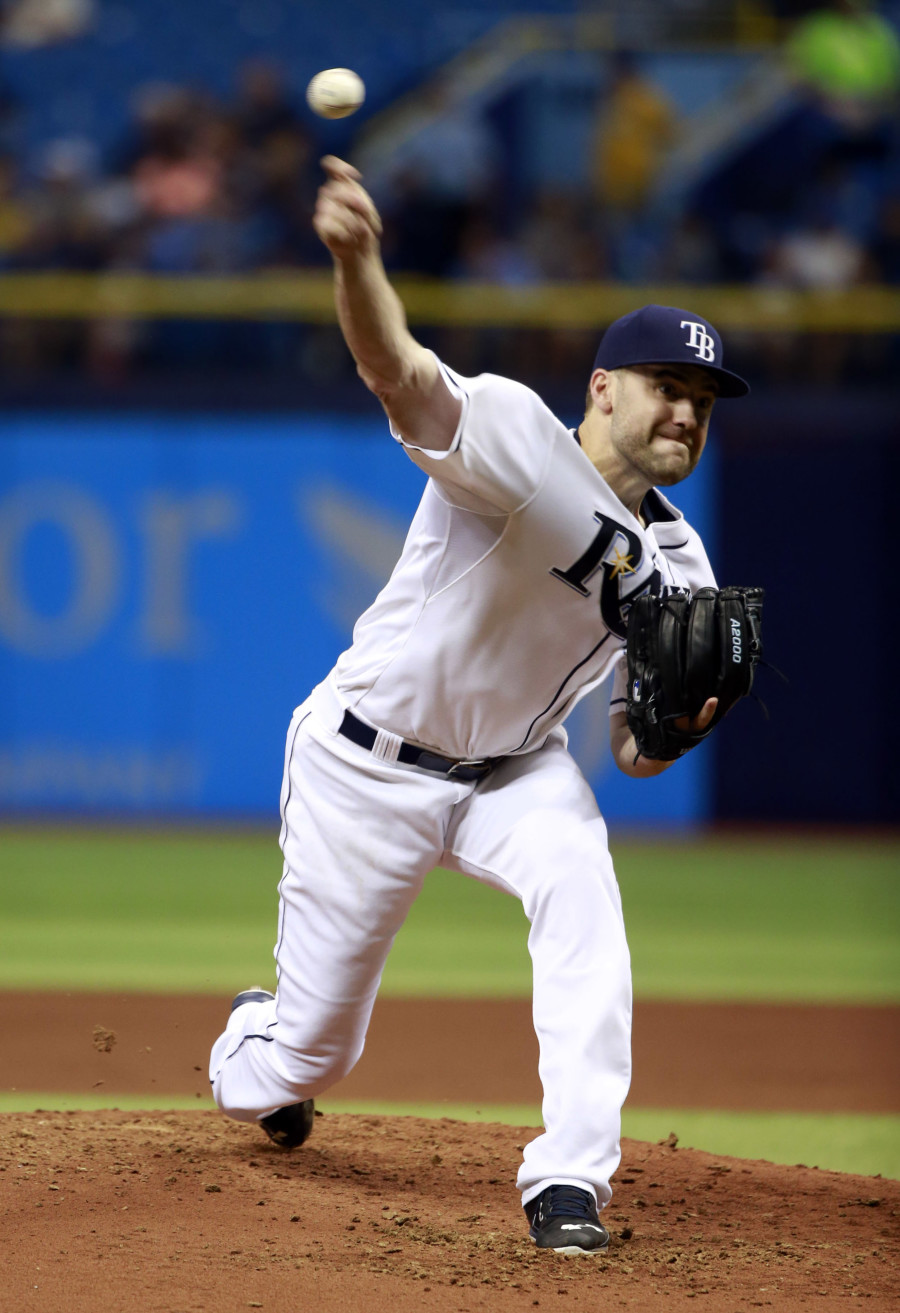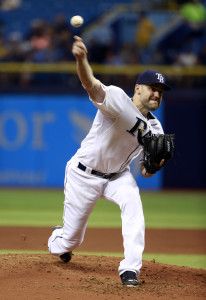 Seattle also gets Riefenhauser, a 25-year-old southpaw. He has yet to do much of use in the big leagues (6.30 ERA in twenty innings), but has put up stellar run prevention numbers in the upper minors.
And Powell is not an inconsequential piece of the deal, either. He had been rated 13th on MLB.com's list of the best Tampa Bay prospects. That publication credited him for excellent plate discipline and on-base skills, as well as solid defensive versatility across all three outfield positions. Powell, 22, slashed a productive .295/.385/.392 while splitting time evenly between Double-A and Triple-A (though he was better at the lower-level stop).
Prying Karns loose required Dipoto to part with some appealing assets. Miller, a talented 26-year-old, won't be eligible for free agency until after the 2019 season. He had been unable to hold down the everyday shortstop job with the M's but did product an above-average (when park-adjusted) batting line of .258/.329/.402 last year. He also contributed 11 home runs and 13 steals. Miller has some experience in the outfield (as well as at second and third), and figures to be a versatile piece for Tampa. Defensive metrics are not fond of his work in center field, though they have viewed him as an average (1.9 career UZR) to slightly below-average (-9 career Defensive Runs Saved) fielder at short.
Morrison has had his ups and downs, and didn't exactly light the world on fire at the plate last year with a .225/.302/.383 slash and 17 home runs over 511 plate appearances. But he has shown more at times, including in 2014, and ought to provide a first base/DH option for the Rays. He is projected by MLBTR to earn $4.1MM in his final season of arbitration eligibility.
Farquhar, 28, is another interesting player. He has shown the ability to put up big strikeout totals out of the pen, racking up double-digit K-per-nine tallies in both 2013 and 2014 and contributing 71 innings of 2.66 ERA ball in the latter of those seasons. But he struggled badly last season, dropping back to 8.5 K/9 while permitting 5.12 earned runs per nine in his 51 frames. Farquhar was more effective in Triple-A, though he tallied 38 innings at that level, making for rather a heavy usage over the course of the year.
For the Mariners, Karns will obviously slot into a rotation that figured to be in need of at least one or two more arms with Hisashi Iwakuma hitting the open market. He fits the profile — young, controllable, power arm — of the pitchers that Dipoto had been busy adding with the Angels. It's unclear as of yet whether the addition of Karns will impact the team's efforts to bring back Iwakuma.
Meanwhile, parting with Miller and LoMo takes away two regular contributors from last year's Seattle roster, though it also frees up the payroll commitment that the latter would have required. The team could go with highly-regarded prospect Ketel Marte and/or the still-young Chris Taylor at short. Slugger Mark Trumbo sits atop the first base depth chart for now, but he's projected to take home a $9.1MM arb payday before hitting the open market after the season. The resurgent Jesus Montero, who also hits from the right side, represents another option at the position. And it's still possible to imagine the club exploring the free agent and trade markets for an upgrade.
On the Tampa Bay side of things, Karns was one of several quality young starters on the staff, which can still run out Chris Archer, Jake Odorizzi, Drew Smyly, Matt Moore, and Erasmo Ramirez. (Ramirez, of course, came to the Rays in yet another trade with the Mariners last winter.) Alex Cobb will eventually re-join that group, which will ultimately be supplemented by other promising pitchers who are rising through the ranks.
Miller joins Logan Forsythe and another former Mariner, Nick Franklin, in the middle infield mix. (While Forsythe thrived last year, Franklin scuffled in the majors — though he put up good numbers during his time at Triple-A.) It's certainly possible that Miller will step in at short for the departing Asdrubal Cabrera, though Tim Beckham and (eventually) Daniel Robertson could also factor there.
Adding Morrison is certainly an interesting element of this trade. He's not exactly cheap for the budget-conscious Rays, who are losing DH John Jaso to free agency. But he could be a better value proposition than the team might've found on the open market. It's also possible to imagine him stepping in at first base if the club tries to find a taker for James Loney and some of his $8MM salary.
This was not the first trade for several of the names involved in tonight's deal. Karns went to the Rays from the Nationals before the 2014 season in exchange for a package that included Jose Lobaton, Felipe Rivero, and Drew Vettleson. That same winter, the Mariners added Morrison from the Marlins in a swap for righty Carter Capps. Powell was a part of last winter's Ben Zobrist/Yunel Escobar deal. And Riefenhauser has changed hands several times, by way of trade and waiver claim.
Photo courtesy of USA Today Sports Images.