Do not adjust your screens — the Yankees did, in fact, actually go the entire offseason without signing a Major League free agent.  New York instead relied on the trade market for upgrades as the team looks for a much lengthier postseason visit even as it continues to keep a close eye on future payroll commitments.
Major League Signings
Trades And Claims
Notable Minor League Signings
Notable Losses
Needs Addressed
The Yankees have dealt from their catching depth by trading Francisco Cervelli and Chris Stewart over the last two offseasons, and New York moved yet another backstop by sending John Ryan Murphy to the Twins in exchange for Aaron Hicks.  It was an interesting one-for-one swap of young talent that filled a need for both clubs — Minnesota now has a long-term answer behind the plate, while Hicks can back up all three outfield positions and has good numbers against southpaws.  It was only a few years ago that Hicks was seen as one of baseball's better minor leaguers, so it's certainly not impossible that Hicks can still break out at age 26.
When Hicks was acquired in early November, the Yankees could've had an eye on him as not just a fourth outfielder, but perhaps a platooner or everyday starter in left as Brett Gardner's replacement.  Gardner's name reportedly surfaced in talks with several teams, including the Cubs as part of a potential swap for Starlin Castro.
As it turned out, the Yankees did indeed land Castro, though at the cost of swingman Adam Warren and veteran backup infielder Brendan Ryan.  Second base has been a problem area for New York since Robinson Cano's departure, and adding Castro is a potential long-term answer.  The 26-year-old already has three All-Star appearances under his belt and is signed through the 2019 season (for $38MM), though as we'll cover later, this is not quite a slam-dunk upgrade for New York.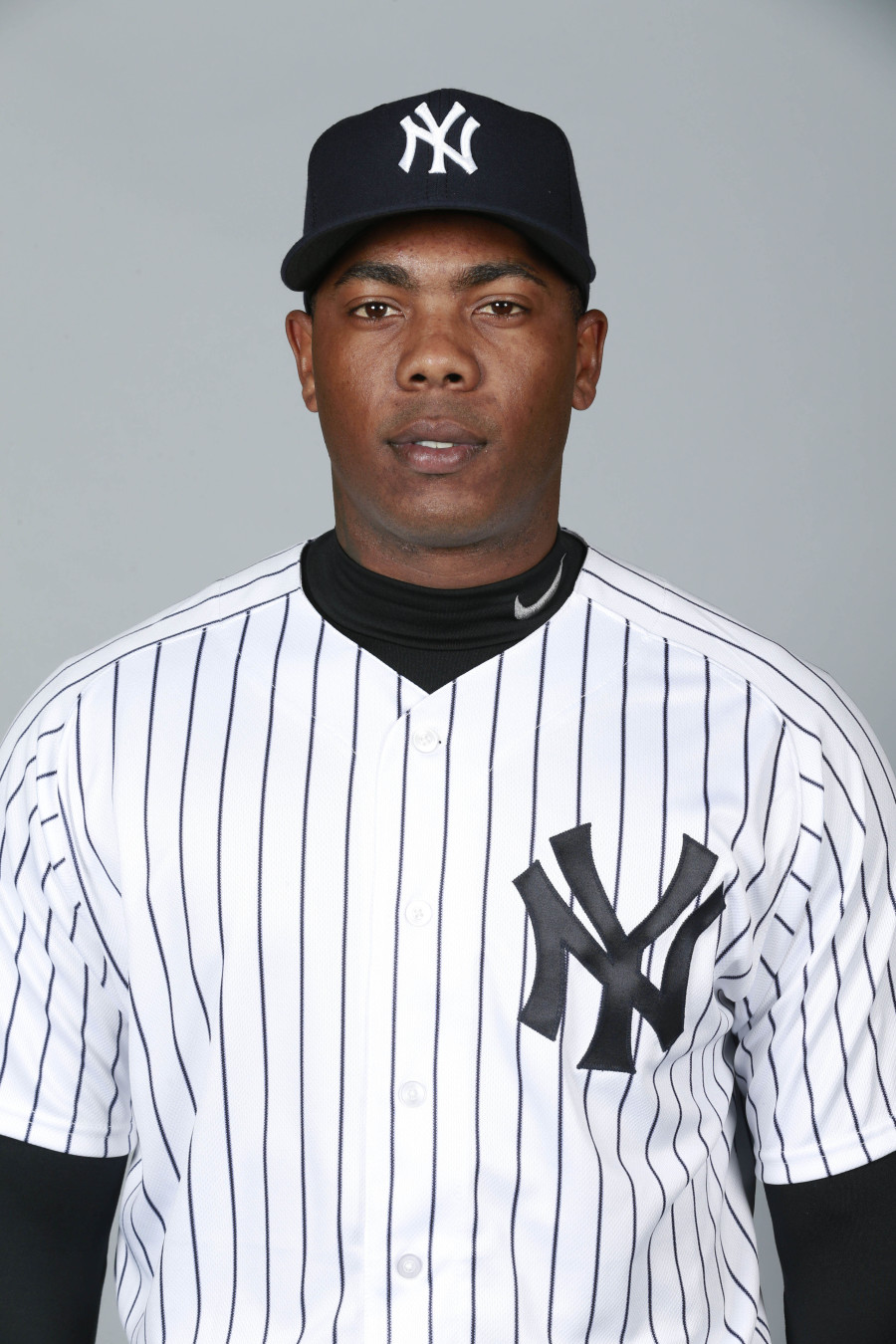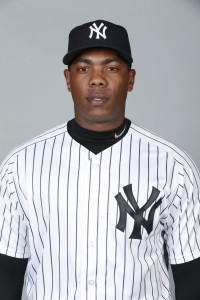 Trading four prospects for one year of a relief pitcher usually isn't considered a steal, and yet Aroldis Chapman has been so dominant over his career that four non-elite prospects was, in pure baseball terms, a very reasonable price to pay.  Of course, there was a huge reason the Reds' price was so relatively low — the domestic violence allegations that scuttled one trade between the Reds and Dodgers for Chapman, and led to Chapman's 30-game suspension under the league's newly-established domestic violence policy.  The Yankees faced criticism from several quarters for acquiring Chapman while the allegations were still being investigated, and while no criminal charges were ultimately filed against the reliever, the trade still left a bad taste in the mouths of many fans and pundits.
Once Chapman returns from suspension, he'll become the closer of what could be one of the best bullpen trios in baseball history.  The combination of Chapman, Andrew Miller and Dellin Betances goes a long way towards assuaging concerns about the Yankees rotation.  The Yankees clearly had the idea of an uber-bullpen in mind for months, dating back to the July trade deadline and their interest in both Chapman and Craig Kimbrel, though it's interesting to note that they also explored trading Miller this winter for starting pitching.
Infield depth is still a concern for the Yankees, though they did make some moves to address the backup situation with a number of minor signings and acquisitions that led to Ronald Torreyes earning a bench spot.  Torreyes and Dustin Ackley will be tasked with stepping in should veterans be in need of rest days.
Keep reading for more analysis after the break …
Questions Remaining
Nobody really expected the Yankees to be big players in this winter's free agent market, as the club is widely assumed to be waiting for several of their current big contracts to expire before eyeing another splurge (possibly in the vaunted 2018-19 free agent class).  Not signing any free agents at all, however, is a little surprising.
Signing a veteran or two on even a modest one-year contract might have been a better long-term strategy than filling roster holes by dealing away promising and controllable young talent.  Murphy and Warren may not seem like huge losses on such a star-studded roster, yet were both sneaky-valuable parts for the 2015 Yankees, able to step in when Brian McCann needed to play first or take an off-day, or make a spot start when a Yankee pitcher was unavailable.
The Yankees are hoping that Austin Romine can successfully step in as backup catcher, with top prospect Gary Sanchez waiting at Triple-A after a rough Spring Training.)  New York's bench projects as Romine, Torreyes, Ackley and Hicks, which may not have the experience or ability to hold the fort if more than one of the Yankees' several veterans hits the DL for any extended period of time.  Greg Bird's absence due to season-ending shoulder surgery is a big loss to the Yankees depth chart, as the possible first baseman-of-the-future looked to build on an impressive rookie year.
Beyond Bird's surgery, the Yankees were dealt two more injury blows in the same Spring Training game.  Bryan Mitchell, tabbed as Warren's successor in the swingman role will now miss several months due to a fractured toe.  Miler received a chip fracture in his non-throwing wrist after being hit by a line drive, though he plans to pitch through the injury.  If Miller needs time off, however, the late-game relief juggernaut will suddenly be down to just Betances until Chapman's suspension ends in May.
It's easy to have 20-20 hindsight in the wake of injuries, yet even if everyone was available, the trades of Warren and Justin Wilson were still somewhat unusual given that the Yankees were clearly putting a premium on a strong bullpen.  New York did have another bullpen addition (and their only free agent signing) seemingly lined up in the former of righty reliever Tommy Hunter, though that reported two-year deal worth $11.5-$12MM fell through after the Yankees had concerns with the results of Hunter's physical.
The Yankees' need for a deep relief corps became even more pressing since they weren't able to land any rotation help.  They were speculatively linked to free agent arms like Jeff Samardzija and Wei-Yin Chen, though there was never any sense that New York was hotly pursuing either those two or really any top free agent starters.  Rather than signings, the Bronx Bombers were known to be looking to trade for pitching, dangling Miller, Gardner and Ivan Nova as possible trade chips for rotation upgrades.
Gardner's inclusion in that list is interesting, as the veteran had a bit of a down season both offensively and defensively in the first year of the four-year, $52MM extension he signed with New York in 2014.  Of all the high-priced veterans on the roster, the front office might've felt Gardner had the most trade value given how the others are even more expensive, older or have more injury baggage.  While Gardner's subpar 2015 has been blamed on a wrist injury in the second half of the season, teams obviously weren't willing to meet the Yankees' asking price on a 32-year-old who's owed $38MM through the 2018 season.
With no starting help to be found, Nova will be the first line of defense should injury or performance issues befall any of Masahiro Tanaka, Michael Pineda, Luis Severino, Nathan Eovaldi, or C.C. Sabathia (who was just named the fifth starter).  The rotation could be excellent if everyone is healthy and effective, though there are enough injury question marks that expecting 30+ starts from everyone is simply unrealistic.  If the Yankees are in the hunt at the trade deadline, the rotation stands out as the likeliest area of need.  Needless to say, it would help the Yankees greatly if Severino builds on his strong rookie season and emerges as a top-of-the-rotation arm.
Deal Of Note
The eight players who have seen time at second base for the Yankees over the last two seasons combined for a total of 0.6 fWAR as second basemen.  By that measure, Castro looks like a clear upgrade…until you consider that Castro posted just 0.8 fWAR in 2015 and 0.1 fWAR in 2013.  Those two rough seasons came the midst of two productive seasons (3.1 fWAR in 2012, 2.8 fWAR in 2014), which adds to Castro's enigma.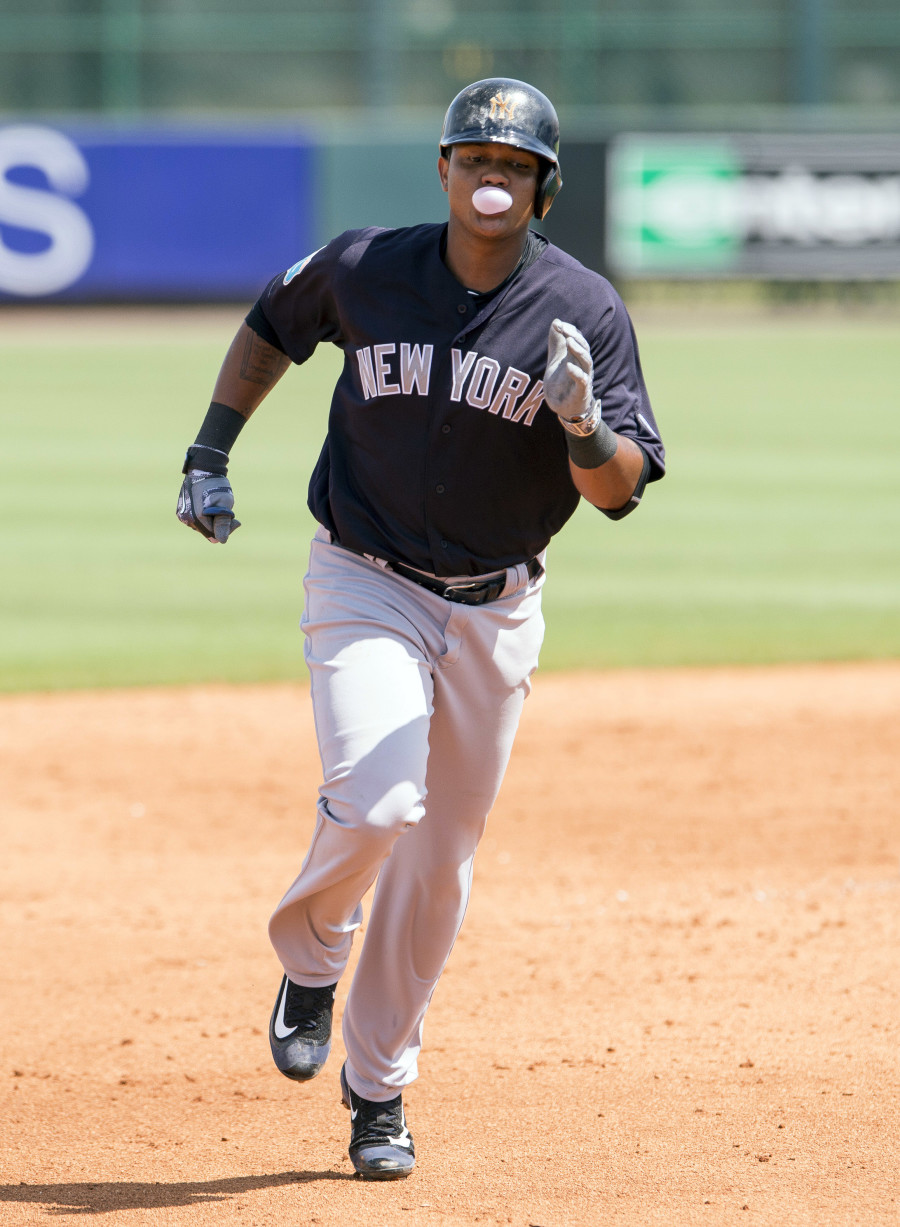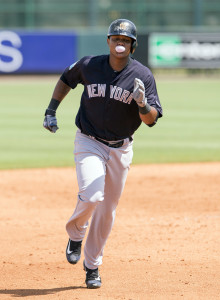 This inconsistency  — and, obviously, the presence of Addison Russell and Ben Zobrist — is why the Cubs were willing to part ways with a player who seemed to be a cornerstone for the Theo Epstein era just a few years ago.  On the flip side, it's also easy to see why the Yankees would be interested in Castro, especially since his bat woke up after being moved from shortstop to second last season (.941 OPS in 121 PA at second, .597 OPS in 443 PA at short).
Defensively, Castro was pretty average in his brief time at the keystone, with +2 Defensive Runs Saved but a -4.1 UZR/150.  That's not bad considering that prior to last year, he'd played just 27 games at second in his pro career and none since 2009.  The Yankees would happily take average defense if Castro's bat keeps producing, though Castro's history of low on-base percentages is a bit of an awkward fit with the team's usual focus on plate discipline.
GM Brian Cashman spoke openly about how he hated to give up Warren in the Castro deal, and the Cubs badgered him about the right-hander for a month before finally agreeing.  A Gardner-for-Castro swap would've been the club's preferred choice of a Cubs trade, as the two are owed an equal amount in future salary and New York could've then used extra money to pursue other needs.  Still, if Castro bounces back again and finally solidifies second base, the Yankees will consider that extra $38MM well spent.
Overview
Every season is a "win-now" season in the Bronx, though the Yankees feel particular pressure to strike in 2016.  McCann, Alex Rodriguez, Carlos Beltran and Mark Teixeira all bounced back to deliver productive and generally healthy seasons last year, so the Yankees are trying to capitalize while these veterans still have something left in the tank.  This may explain the short-term addition of Chapman, though in Castro and Hicks, New York also added two pieces that can help both now and in future seasons.
Of course, with just so many aging players on the roster, it's impossible for the Yankees to expect everyone to be in good form at the same time.  While the aforementioned four veterans are coming off good years, for instance, New York is now hoping for bounce-backs from Gardner, Jacoby Ellsbury and Chase Headley.  The Yankees had one of the better overall offenses in baseball last year, though keeping that consistency going over the entire year proved to be difficult to manage throughout the lineup.
Despite all the inevitable injury concerns and all of the injuries that have already occurred, if this club gets even slightly above-average health the rest of the way, it wouldn't be a surprise to see the Yankees make some noise in the postseason.  The Chapman/Miller/Betances trio is so dominant on paper that if all three are available and healthy, the Yankees will find themselves playing a lot of six-inning games.  Between that relief corps, an experienced lineup of star hitters and a potential breakout rotation, there are a lot of positives on the roster.  The Yankees have won pennants after free-agent spending sprees on several occasions; could they now win one with no FA spending?
How would you evaluate the Yankees' winter? (Link to poll for mobile app users)
Photos courtesy of USA Today Sports Images