Imagine a world without Clayton Kershaw. Following baseball would be a lot less entertaining for those who derive joy from watching a dominant player perform at an all-time great level, but at least the sport wouldn't be devoid of standout left-handers. The likes of Chris Sale, David Price, Madison Bumgarner, Jon Lester, Cole Hamels, Dallas Keuchel, Jose Quintana and Rich Hill would still be around, after all.
One of those names is eye-catching, and it's certainly not Sale, Price, Bumgarner, Lester or Hamels, all of whom have long track records of excellence. Keuchel has faltered in the early going this season, but he was stellar in 2014 and followed that up with an American League Cy Young Award-winning campaign in 2015. Quintana, meanwhile, has been one of baseball's most effective starters since his coming-out party in 2013.
Now we arrive at the 36-year-old Hill, who ranges from four to 10 years the senior of every other southpaw listed above. This is the same Hill who, prior to last September, hadn't made a major league start since 2009. Between 2007-15, he appeared in the majors with seven different teams – including multiple stints with the Red Sox – and toiled with a slew of minor league clubs. As recently as last August, Hill was in the independent Atlantic League as a member of the Long Island Ducks. The Red Sox then brought back Hill on a minor league deal in mid-August, and they summoned him to the majors a month later. Beginning on September 13th, Hill embarked on a four-start rampage that saw him strike out 32 hitters, walk five and compile a 1.55 ERA across 29 innings. Hill parlayed that resoundingly successful three-week run into the richest payday of his career when he landed a one-year, $6MM deal with the Athletics in November.
Over nearly twice the sample size this year (57 2/3 innings), Hill's brilliance has continued. Among qualified starters this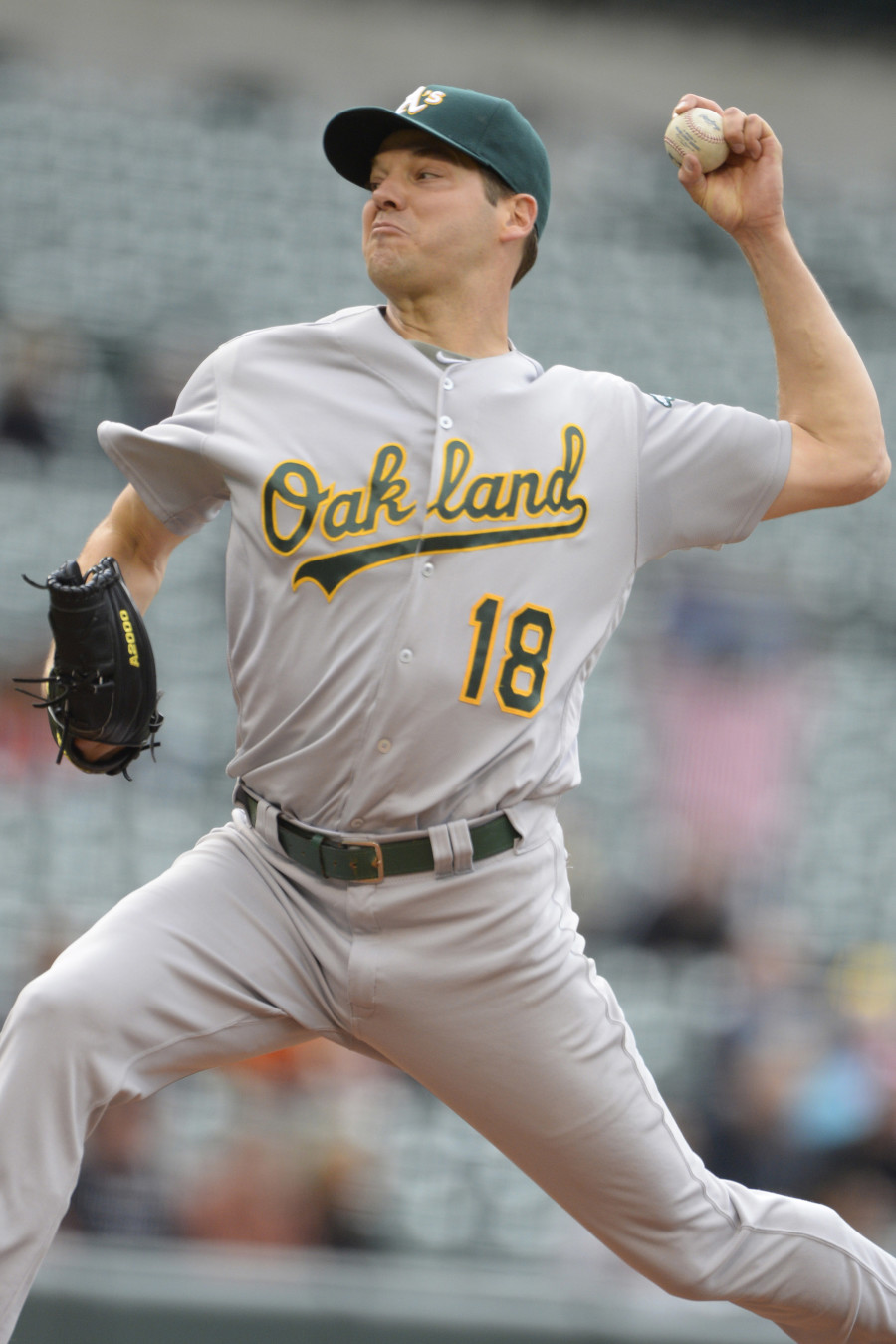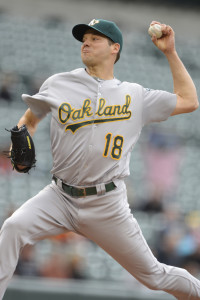 season, Hill ranks eighth in ERA (2.18), ninth in FIP (2.72) and 13th in K/9 (10.13). His 3.60 xFIP is less exciting, albeit still easily above the league-average mark of 4.03, and Hill's 48.5 percent grounder rate trails only Noah Syndergaard, Kershaw and Danny Salazar among pitchers who have struck out at least 10 batters per nine innings. Amazingly, Hill manages to keep company with their ilk despite neither throwing particularly hard nor possessing an expansive repertoire with which to confound hitters. His 90.4 mph average fastball isn't exactly imposing, and Hill relies almost exclusively on two pitches. The thing is, opposing offenses can't seem to figure out either pitch. Hill's curveball, which he has thrown a little over 50 percent of the time this year, has been the second-most valuable curve in the league to this point, according to FanGraphs. His four-seamer, deployed on 44 percent of pitches, has been the league's 11th-most valuable fastball, placing him in a class with Syndergaard, Stephen Strasburg and Johnny Cueto.
Moreover, Hill hasn't shown vulnerability against either left- or right-handed hitters. Lefties have slashed a terrible .200/.238/.254 line while facing Hill, and righties (.207/.320/.280) haven't exactly resembled Mike Trout. All of that amounts to a .237 wOBA, which means Hill is turning enemy hitters into something resembling the toothless 2016 versions of Jose Iglesias (.234) and Alexei Ramirez (.245).
Everything isn't perfect for Hill, granted, whose BB/9 of 3.28 is too high. He also could face regression from his 79.2 percent stand rate and .287 batting average on balls in play. Further, Hill has the league's third-lowest swing rate (40.7 percent), so perhaps his numbers will revisit Earth if opposing hitters adjust and start trying to put the ball in play more against him. Of course, when batters have made contact against Hill, not much has happened. His 16.3 percent infield fly rate ranks seventh in the league, and Statcast (link via Baseball Savant) indicates that Hill has allowed an 86.3 mph average exit velocity on batted balls. Kershaw, by comparison, is at 86.4. As evidenced by some of the other names on the leaderboard, surrendering soft contact doesn't always guarantee results, but it can't be construed as a negative. Neither can limiting the distance of batted balls, which Hill has also done. At an average of 191 feet, he's once again right in line with Kershaw, who's at 192.
All of this analysis leads us to the fact that the A's have an eminently valuable commodity on their hands as the August 1st trade deadline creeps closer. At 20-28, Oakland is already nine games out of the AL West lead and 7.5 behind in the Wild Card chase. What's more, the A's don't look like a highly talented team destined for an appreciable turnaround. Assuming the club's losing ways continue, there won't be a compelling reason for executive vice president Billy Beane and general manager David Forst to retain Hill beyond the deadline. Not only is Hill a pending free agent, but he'll likely be the top starter available over the summer if the A's shop him. That should only serve to drive up the A's asking price and enable them to secure something enticing in return for Hill.  The only reason trading Hill wouldn't make sense is if the A's intend to extend the lefty, which can't be ruled out.
The A's and Bay Area-rival Giants aren't known for dealing with each other, but Hill would seem to fit rather well in San Francisco's rotation as it tries to secure an NL West title. The Giants have an outstanding trio in Bumgarner, Cueto and Jeff Samardzija, but they're looking for answers otherwise. Another go-around with the Red Sox might make sense, too, given the uncertainty in their rotation past Price, Rick Porcello and knuckleballer Steven Wright. Teams like the Royals, Tigers, Rangers and Orioles (one of Hill's previous employers), among others, look more hard up for rotation help than the Giants and Red Sox, and bear in mind that Baltimore may have created some in-season spending room with a pair of trades earlier this week. It's also possible an injury (or injuries) will open up a need that doesn't currently exist on another club's starting staff, of course, thus leading to another potential Hill suitor.
FanGraphs pegs Hill's 2016 contributions at $13.6MM in worth, which means the A's have already more than doubled their investment so far, and – barring an injury to Hill or a drastic, unexpected decline in performance –  they're primed to continue building on that surplus value over the next couple months. When those months pass and the season reaches the deadline, the A's will be in position to transform an aging player on whom they took an offseason flyer into at least one quality young piece from another team. Oakland has made some head-scratching decisions in recent years (the Josh Donaldson trade and the Billy Butler signing come to mind immediately), but the move to buy low on Hill is going as smoothly as the club could have hoped, and has the chance to continue paying dividends in future years.
Photo courtesy of USA Today Sports Images.