At thirty years of age, Zack Cozart has fully hit his stride as a ballplayer. Yet because of his early-career struggles at the plate and an ill-timed knee surgery last year, he's earning just under $3MM this season with one more arbitration-eligible campaign to come. That makes him an interesting and affordable trade piece for the Reds.
A deal is far from a fait accompli, but seems increasingly likely as the market develops. Still, Cincinnati could certainly justify holding onto him if a fair offer isn't forthcoming. As I recently noted in ranking Cozart among the game's top fifteen trade candidates, though, he will quite likely be the best shortstop available. Particularly since he was kind enough to acknowledge his MLBTR readership recently, we thought it made sense to take a look at where he could end up playing next.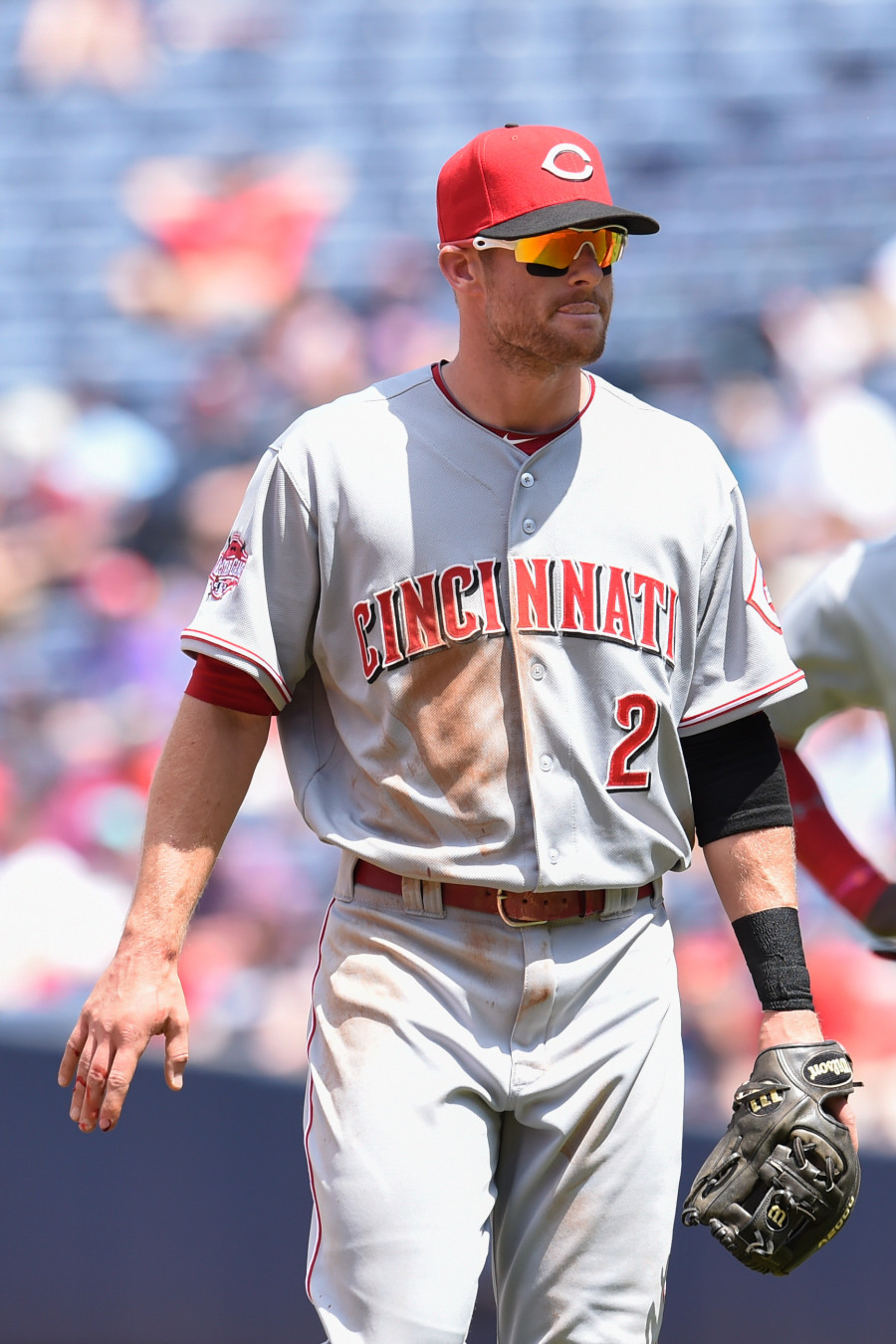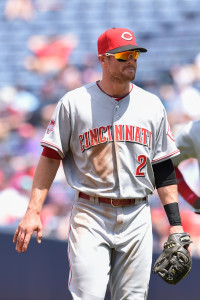 Cozart began turning heads last year, when he came out of the gates with a strong .258/.310/.459 batting line and nine home runs over 214 plate appearances. Then came his hard-to-watch injury, which occurred as he hustled to leg out a grounder and landed awkwardly on first base. That not only sapped Cozart's arb earning power, but put a halt to his efforts to prove that he had really turned a corner at the plate. After being installed as Cincinnati's regular shortstop in 2012, he managed only a .241/.280/.362 batting line over 1,761 trips to the plate in the next three years. He did show some pop, with 31 total home runs, but the bat looked marginal.
Thus far in 2016, Cozart has put both the injury and those past struggles in the rearview mirror. He has maintained and even improved upon his offensive production from last year, slashing .273/.316/.486 over the first 275 plate appearances of the season. Cozart is making hard contact (32.9%) and spraying line drives (23.4%) at career-best rates, and he's continuing to bang long balls on about 13% of the flyballs he hits. He has actually been better on the road than at Great American Ballpark and isn't benefiting from an inflated BABIP.
If you want to take the optimistic side, Cozart's development looks somewhat similar to that of Brandon Crawford. As in the case of the Giants' $75MM man, Cozart has never faced questions with the glove. In fact, Cozart has been among the most valuable defenders in all of baseball, delivering more or less equivalent value to Crawford. Just check out this UZR-based leaderboard from 2012-16 and whistle with surprise and admiration.
With solid baserunning mixed in, Cozart is and always has been a fairly high-floor player. That's why he managed to play at about a two-WAR clip even when he was sagging on offense. Mix in an average or better bat, though, and you're suddenly looking at a guy who has already compiled two wins in just 67 games. With the cheap salary and bonus year added in, that's a pretty appealing trade piece.
There's little question that the Reds front office believed Cozart would ultimately deliver this kind of productivity; he has been an everyday player since 2012. But Cincinnati may not be well-positioned to enjoy the fruits of its patience. The club isn't expected to contend before Cozart hits free agency after the 2017 season, and an extension doesn't seem particularly wise given his age and the team's ongoing efforts to trim obligations and manage some long-term contracts that haven't panned out. Plus, the organization has a pair of intriguing young infielders at the major league level — Eugenio Suarez and Jose Peraza — who could step in at short.
All sounds good so far … but truth be told, there isn't a really evident match on paper. There are a few contenders whose shortstops have scuffled thus far, to be sure. And some other clubs have needs around the infield that could conceivably be met by adding Cozart. But it's tough to find any specific team that is likely to feel extremely motivated to add a new face at short.
Let's take a closer look:
Royals: K.C. just hasn't received much of anything from Alcides Escobar, who has followed up on a poor offensive 2015 with an even worse start to the current campaign (56 wRC+) while drawing negative defensive metrics. Meanwhile, holes opened at both second and third; while they've been plugged admirably by Whit Merrifield and Cheslor Cuthbert, it's not clear that either will be up to the task of regular duty for the long haul. It's possible to imagine Cozart being utilized in any number of ways by the resourceful Royals.
Mariners: Seattle hoped that Ketel Marte would be ready for a regular role this year, but he's struggled to a .278/.305/.363 batting line and hasn't drawn rave reviews from defensive metrics with the glove. The team traded away a one-time option, Chris Taylor, and hasn't received much at all from reserves Shawn O'Malley and Luis Sardinas. Installing Cozart could allow the M's to turn Marte into a super-utility player who could see time all over the infield and outfield.
White Sox: Highly-regarded prospect Tim Anderson has been a league-average hitter over his first 74 plate appearances, but there are some red flags mixed in. He has yet to draw a walk, is striking out in about a third of his plate appearances, and is benefiting from a .370 BABIP. Ultimately, his current productivity is dependent upon a .219 ISO that would dwarf anything he has done in the minors. While Chicago may not want to burn resources and may be glad to roll the dice on Anderson's talent, the fear of regression is real. It's worth noting, too, that second baseman Brett Lawrie has cooled off considerably since his hot start.
Mets: Yes, the club just added Jose Reyes to provide an option with David Wright possibly down for the count in 2016. But that move didn't come with any financial risk. And Reyes looked like a shell of his former self last year before sitting out the first half of this season. Then, there's the fact that Asdrubal Cabrera has never had good range at shortstop. Adding Cozart up the middle while bumping Cabrera to third could represent a huge defensive upgrade.
Giants: San Francisco is set at short with the aforementioned Crawford and has quality young options at second (Joe Panik) and third (Matt Duffy). But Duffy is currently out and the organization is rumored to have looked at Yunel Escobar. Cozart would represent a similar addition in terms of his cost now and in 2017, and he's probably the better player at this point. Of course, adding an infielder never seemed like the most pressing need in the first place.
Astros: Hear me out! Most agree that Carlos Correa is not a great defensive shortstop; moving him to third has long been discussed as a possibility. Adding Cozart and bumping Correa to third would essentially be another way of addressing the team's questions at the hot corner. Top prospect Alex Bregman is streaking toward the majors, of course, but the team might not want to rush up the 2015 draftee or rely on him too heavily right out of the gates. I'll admit it's a long-shot, but it could be an interesting fit.
Marlins: We've long heard how enamored Miami is of Adeiny Hechavarria, and he's highly valued for his glove, but he's one of the team's few regulars that isn't hitting for the club. Cozart would also make a great platoon mate for Derek Dietrich at second, and could spell Martin Prado at third. With Dee Gordon's return nearing, though, Cozart would likely only make sense if the club decides it's time to replace Hech. Pitching seems a much higher priority for the Fish.
Tigers: This situation looks much like that of the Marlins. Jose Iglesias remains a fantastic fielder, but he's now hitting .255/.314/.332 on the year. Plus, Nick Castellanos is a marginal defender at third and is carrying a sub-.700 OPS in June. Cozart could bump Castellanos to the outfield while J.D. Martinez is out and then be utilized in a variety of ways — including, conceivably, as the regular shortstop — down the stretch.
Orioles: Cozart doesn't look all that dissimilar from a younger version of J.J. Hardy, who is now nearing 34 years of age. Hardy's always-questionable on-base abilities have faded yet further in the last two years, and he last hit double-digit home runs in 2013. It's not entirely inconceivable that Baltimore could seek his replacement in Cozart, though the elder player remains a top-quality defender. That scenario would begin to look more plausible if Hardy suffers another injury or can't pick up the pace he has set since returning on June 18th (.257/.257/.314).
Others: We're really starting to wade into implausible territory the further we get down the list here, but there are some other teams who could match if you squint. The Red Sox have 99 problems and shortstop ain't one, but adding Cozart to the mix would open up some platoon opportunities at first and third, give the team a highly-capable fill-in at the middle infield, and/or open up the possibility of utilizing Travis Shaw in left. And the Rays could conceivably send Cinci a useful arm in order to improve its shortstop situation at a reasonable price — with an eye on 2017. You could make a case that the Indians could improve upon Juan Uribe, who isn't hitting much but still defends like a champ. But even then, they'd probably be better suited adding an outfielder and deploying Jose Ramirez at the hot corner. The Dodgers always seem to find a way to add another infielder, though admittedly it's difficult to see in this case; the Yankees would probably prefer to have better production from second and third, though that's a tough fit.
In the aggregate, the demand side of the equation isn't terribly robust. The real question, perhaps, is whether one or more contender will come up with a really significant need between now and the deadline. In the event of an injury or steep performance decline from one or more shortstops, the Reds could be left holding a critical piece of the trade deadline puzzle.
Photo courtesy of USA Today Sports Images.