After a down season in 2016, the Pirates will face a number of challenges as they try to regroup.
Guaranteed Contracts
Arbitration Eligible Players (service time in parentheses; projections by MLB Trade Rumors)
Free Agents
Before the season, Pirates GM Neal Huntington controversially described 2016 as a "bridge year," which he later clarified meant the club was transitioning from a core of Andrew McCutchen, Neil Walker, A.J. Burnett, Pedro Alvarez and Russell Martin to one led by McCutchen, Starling Marte, Gerrit Cole, Mark Melancon and Gregory Polanco, as well as newcomers Jameson Taillon, Josh Bell and Tyler Glasnow. The Pirates stumbled across that bridge, winning just 78 games in 2016 after three straight playoff berths, and now they're trying to figure out what's on the other side.
Much went wrong for the Pirates in 2016, beginning with McCutchen's abrupt, and huge, step backwards. Cole had arm trouble and wasn't as effective as he'd been in 2015, and Melancon, who was about to become a free agent anyway, ended up traded to Washington for fellow reliever Felipe Rivero and a prospect.
Not much went right for other members of Huntington's new core, either. Catcher Francisco Cervelli, whom the Pirates extended in July, struggled with a broken hand and only hit one home run all season (although he did have a .377  OBP). Second baseman Josh Harrison, who'd signed an extension in 2015, had an underwhelming year, batting .283/.311/.388, and he ended the season on the DL. And lefty Francisco Liriano, whom the Pirates had signed through 2017, struggled and then was shipped to Toronto in a baffling salary dump that also cost the Bucs two good prospects.
Not everything went badly. Toolsy right fielder Polanco hit .258/.323/.463 with 22 home runs, although he faded down the stretch. Taillon reemerged after missing two years to injury and had a terrific rookie season, posting a 3.38 ERA, 7.4 K/9 and a highly impressive 1.5 BB/9 in his first 104 big-league innings. Bell hit quite well in his first taste of the big leagues, although, as expected, he struggled defensively. David Freese was effective at the infield corners, resulting in a two-year extension in August. And the team got strong contributions from several peripheral players who could contribute in the future, like Rivero, reliever A.J. Schugel and utilityman Adam Frazier.
Still, there's no shortage of problems. Many of the Pirates' top performers in 2016, including Sean Rodriguez, Matt Joyce and trade deadline pickup Ivan Nova, will be free agents this winter, meaning the Bucs will have to replace their contributions somehow. Third baseman Jung Ho Kang, one of the 2016 team's top on-field performers, was accused of sexual assault in the middle of the season. Glasnow showed weaknesses in his first taste of the big leagues, walking 13 batters in 23 1/3 innings.
Perhaps most crucially for the Pirates' 2017 chances, the Bucs seem to have too little good pitching to be competitive, and fewer obvious routes than usual they can take to find more. Cole and Taillon figure to head the Bucs' 2017 rotation. Beyond that, they have Glasnow, who has electric stuff but could probably use a bit more time at Triple-A. Pittsburgh also has youngsters Chad Kuhl, Steven Brault and Trevor Williams; Kuhl in particular performed admirably in his rookie season in 2016, but no one from that trio looks like more than a middle-of-the-rotation type, even in the long term. The Pirates also have Drew Hutchison, who would probably look like a non-tender candidate had the Pirates not acquired him as their only return in the Liriano trade. The options after that, including Nick Kingham, Juan Nicasio and likely non-tender Jeff Locke, are even more speculative.
The obvious solution would be to head to the free agent market, but that cupboard is mostly bare. One of the top pitchers available is Nova, who has said he has enjoyed playing in Pittsburgh and would appear to be a solid solution to the Pirates' lack of pitching depth going forward, having thrived with the Bucs down the stretch. Nova is likely to be paid handsomely this winter, though, and it doesn't seem likely that a team that just made the Liriano trade is going to make the commitment necessary to retain him. The Bucs have reportedly already been aggressive in trying to retain him, but his reported asking price of five years and $70MM is likely too steep.
Instead, the Bucs could look for the next Nova, who was just the last in a long line of struggling pitchers to have success in Pittsburgh. The question is who that will be. A reclamation project like Andrew Cashner or old friend Edinson Volquez (whose option will reportedly be declined by the Royals) might make sense, or the team could head to the trade market, where there could be any number of possibilities, including some who might come completely out of nowhere. Either way, it would be surprising if the Pirates landed anyone especially high profile.
The Pirates' collection of position players seems relatively set, for better or worse. Cervelli, Harrison, Kang, McCutchen, Polanco, Freese, left fielder Starling Marte and backup catcher Chris Stewart all have long-term deals, and the Bucs also have two first basemen, Bell and John Jaso, under control for 2017. The only position that leaves is shortstop, and tendering Jordy Mercer will likely be a relatively easy decision. On the bench, the Pirates have expressed interest in retaining Rodriguez, but he and Joyce seem likely to head elsewhere — the Bucs might feel they have enough bench players available with Stewart, Jaso, Freese and the versatile Frazier, and likely won't want to sign Rodriguez or Joyce to the sorts of multi-year deals they'll seek on the open market.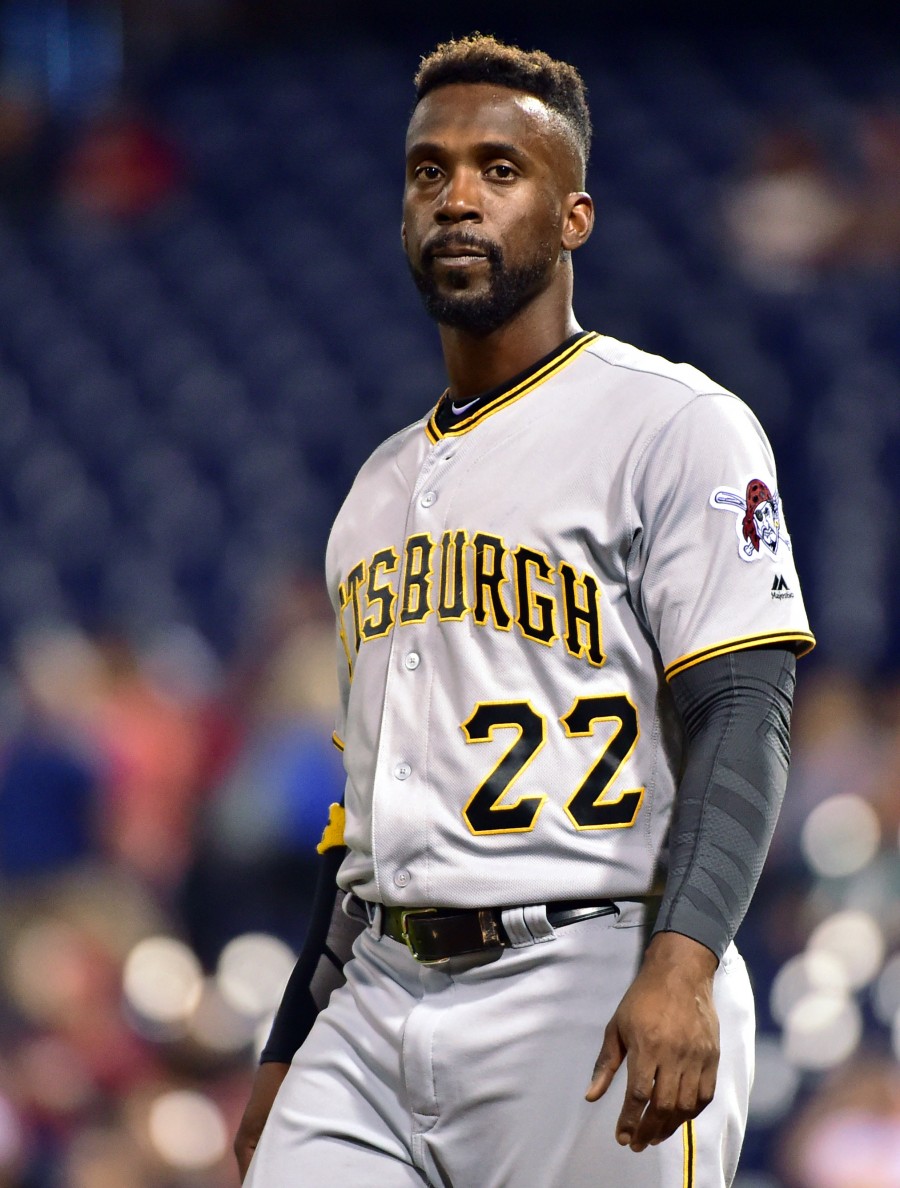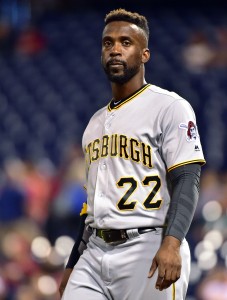 The key topic is whether the Pirates will entertain the possibility of trading McCutchen, who has two years of control remaining on the deal he signed with the team in 2012. Huntington has already subtly acknowledged the chance that he could trade the Pirates' superstar. McCutchen is coming off an uncharacteristically mediocre season in which he batted .256/.336/.430 while also grading poorly on defense. Nearly every aspect of his offensive game declined, from his average to his power to his walk rate to his speed. He'll be 30 in October.
If the Pirates do explore dealing McCutchen, it's unclear what kinds of proposals they'll get. The team could point to his fine performance down the stretch (he batted .284/.381/.471 from Aug. 1 through season's end) as evidence that the old Cutch is back, although it's not clear how convincing that line of argument will be. There's also the possibility that the Pirates could receive underwhelming offers but make a deal anyway, figuring it's better to deal a player who might continue to decline before more poor performances and/or the ticking clock of free agency further depress his value. If the Bucs do trade McCutchen, top prospect Austin Meadows would be his long-term replacement, although Meadows could probably use a bit more time in Triple-A, having batted .214/.297/.460 in his first exposure there this season.
The Bucs will also surely look for bullpen help, though they'll probably begin by sorting through the talent they already have. Closer Tony Watson, fellow lefties Rivero and Antonio Bastardo, and righty Schugel are the only near-locks to return in 2017. The team will have tender decisions to make on righties Nicasio and Jared Hughes. Nicasio, who made a relatively paltry $3MM in 2016, struck out 138 batters in 118 innings, and had success after moving from the rotation to the bullpen in June, would seem like an obvious tender, although that hasn't been the consensus of the Pittsburgh media. Hughes, meanwhile, could be a non-tender. Hughes posted a strong 3.03 ERA in 2016, but his K/BB shrunk to 1.55, a poor figure for a pitcher who lately hasn't been as successful at inducing ground balls as he was in the past.
That could leave two or more open spots in the Pirates' bullpen. It's possible that at least one of those will go to a pitcher that gets bumped out of the rotation like Williams or Hutchison, but it's also likely that the Bucs will pursue at least one reliever — probably a righty. They don't seem likely to retain Neftali Feliz, who could receive a multi-year deal after a solid season in black and gold.
Unless the Pirates do deal McCutchen, then, they aren't likely to have a splashy offseason. Then again, they rarely do, and they've had success in recent seasons thanks in part to lower-profile acquisitions like Martin, Burnett, Liriano and Melancon. That success partially dried up in 2016 — the signings of Freese and Joyce and the re-signing of Rodriguez turned out to be inspired moves, but the team leaned heavily on new starting pitchers Jon Niese and Ryan Vogelsong, who flopped.
Still, the Pirates could surprise us. On balance, they're still one of the best teams at finding underappreciated talent. Whether they'll be able to find enough of it to come even with the Cubs seems highly unlikely, but perhaps they can at least reestablish themselves as a Wild Card contender. That must be what the organization is hoping, or 2016 could turn out to be a bridge to nowhere.
Photo courtesy of USA Today Sports Images.