MLBTR is publishing Offseason Outlooks for all 30 teams.  Click here for the other entries in this series.
After missing out on their first World Series title in nearly 70 years, the Indians enter the offseason with a strong core in place but multiple injury question marks as well.
Guaranteed Contracts
Arbitration Eligible Players
Contract Options
Carlos Santana, 1B/DH: $12MM option with a $1.2MM buyout (team already exercised)
Free Agents
Cleveland Indians Depth Chart; Cleveland Indians Payroll Information
Game 7 of the World Series was an emotional roller coaster for Indians and Cubs fans alike, but the Indians' followers will be the ones who have to endure the thoughts of what might have been this winter after coming up just shy in the 8-7 extra-inning loss. The good news for the Cleveland faithful, though, is that the vast majority of the 2016 team will be back in 2017 — including the entire pitching staff. Corey Kluber will once again lead the rotation, possibly with a second Cy Young Award in his back pocket, and he'll be joined by a hopefully healthier Danny Salazar and Carlos Carrasco. Salazar recovered well enough to pitch in relief in that deciding game, and while Carrasco didn't appear in the postseason after going down with a fracture in his pitching hand, he should be back up to speed next spring. Any of that trio could potentially lead a big league rotation, and they'll be joined by Trevor Bauer and Josh Tomlin to round out the starting five for recently-extended manager Terry Francona.
With those five starters set to return and a promising young arm in Mike Clevinger also at the ready, Cleveland doesn't need to make any notable starting pitching additions, though president of baseball ops Chris Antonetti and GM Mike Chernoff could still pick up a starter or two on a minor league deal (as most teams will do in the offseason). If Cleveland wants Clevinger to start in the minors rather than spend the 2017 season primarily in the bullpen, the team could pursue a swingman like Yusmeiro Petit, Dillon Gee or Bud Norris, though some of those names could be looked at as starting pitchers by other teams. Any of the bunch could step into the rotation should multiple injuries occur, and each would be an option for spot starts as well.
The bullpen will also remain largely intact, although adding a left-handed reliever is a logical step. Andrew Miller is the only southpaw locked into next year's bullpen — Antonetti has said he has no plans to trade Miller this winter, much to the chagrin of bullpen-hungry teams around the league — and as dominant as he is, the Tribe probably prefers to have a couple of lefties back there. Ryan Merritt cemented his place in Cleveland lore with an ALCS spot start for the ages, and he could be an option if the Indians don't feel like paying for an arm like Brett Cecil, Boone Logan, Jerry Blevins or Mike Dunn. The trade market will also bear myriad options of varying quality.
The rest of the 'pen should be largely set. Cody Allen will be back to close things out in the ninth, with Miller undoubtedly accumulating some save chances as well. Bryan Shaw is a lock to return, and he'll be joined by Zach McAllister, Jeff Manship and Dan Otero in the right-handed setup corps. Each of those arms notched an ERA comfortably south of 4.00 (though Shaw and especially Manship had some shaky peripherals). In particular, Otero's brilliant season may have flown under the radar — a waiver claim last winter, he logged an immaculate 1.53 ERA with 7.3 K/9, 1.3 BB/9 and a 62.3 percent ground-ball rate in 70 2/3 innings.
Cleveland's position players offer less certainty than the pitchers due largely to Michael Brantley.  Improbably, the Tribe made their World Series run without any real contributions from the man who was a bona fide MVP candidate in 2014 and has been one of the team's best players since 2012. Brantley had his second shoulder surgery in about a 10-month span back in August, and what he'll be able to contribute next year is anyone's guess.
The rest of the outfield, too, has some questions. Rajai Davis is a free agent after delivering a tremendous 2016 campaign on a one-year deal. Tyler Naquin broke out in a way that few expected possible, and while he got some Rookie of the Year love on the heels of a .296/.372/.514 batting line, he wilted in August and September (combined .234/.331/.331) and received virtually no playing time against lefties (40 plate appearances). Beyond that, his center field defense rated anywhere from below average (-5.1 UZR) to dismal (-17 DRS) depending on one's metric of choice. He'd probably deliver better marks in a corner, but Brantley and Lonnie Chisenhall are also best suited for corner work.
Chisenhall bore a lot of similarities to Naquin, in fact, delivering very solid marks against right-handed pitching but playing cheerleader nearly every time a left-handed opponent was on the mound (Chisenhall had just 52 PAs against lefties). There hasn't been any indication that he'll be available in trades this winter, but with a $4.1MM projected salary and a skill set that seems redundant alongside Naquin, I can see Cleveland exploring the idea. Trade deadline acquisition Brandon Guyer provides a right-handed-hitting platoon complement in the corners.
Center field, then, seems like a potential area of upgrade with Davis hitting the open market. The team does have top prospect Bradley Zimmer in the upper minors, but his 30.7% strikeout rate between Double-A and Triple-A is a clear indicator that he still has some work to do. Brantley could also play center field, though as previously noted, it's tough to rely on him for regular work. And there's also Abraham Almonte, but he posted a .294 OBP last year after serving an 80-game PED suspension and doesn't have a track record outside of what could have been a fluky 2015. With so many corner options but no sure thing in center, Cleveland could pursue a reunion with Davis, look to sign Jon Jay or go really big with a run at Dexter Fowler. The latter of those three scenarios is the least likely, as Cleveland already projects to have a franchise-record $113MM payroll and probably wouldn't be keen on surrendering its top pick. But Fowler would be a clear upgrade, and the deal could be backloaded to stack more money up beyond the 2017 season — after which Santana, Shaw and the remainder of the money owed to Chris Johnson will be off the books.
As for the infield, it's mostly set. Jason Kipnis and Francisco Lindor comprise one of the best double-play tandems on the planet and are controlled for years to come. Jose Ramirez broke out in 2016 and delivered a legitimate star-caliber performance with a .312/.363/.462 slash, 11 homers, 22 steals, and solid defense at multiple positions. Slotting him in as the everyday third baseman makes perfect sense, though Chernoff has said the team could move him around the field again in 2017. (I doubt center field is under consideration, but if they feel Ramirez can handle it defensively, his bat would be an outstanding fit for the position.)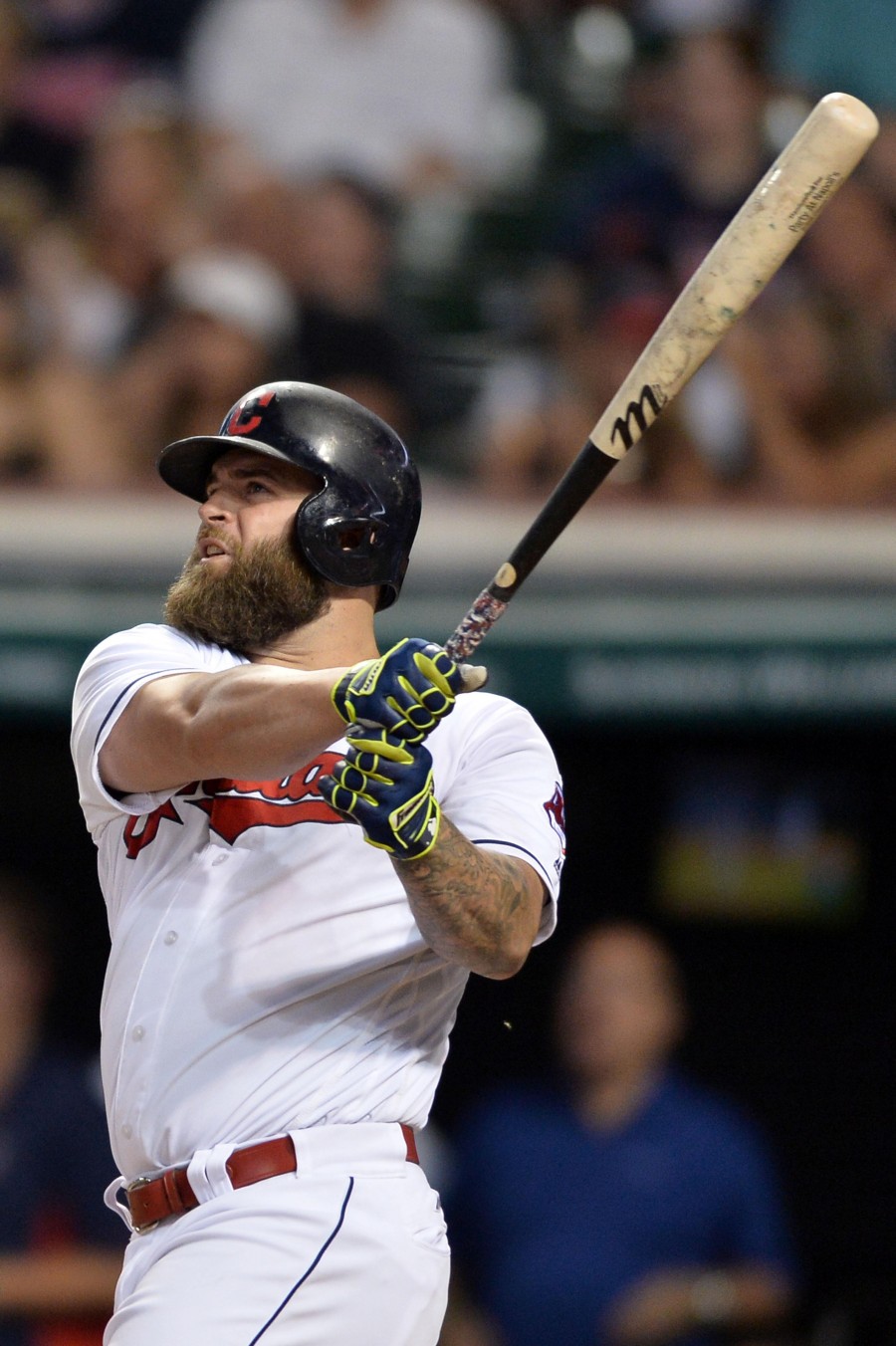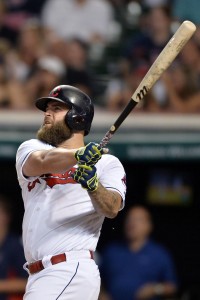 First base is the true question in the Cleveland infield. Indians fans were more than happy to "Party at Napoli's" all season long, and the resurgent slugger swatted 34 big flies on what turned out to be a bargain one-year commitment. Napoli's defense and baserunning drew negative reviews, though, and he could command a two-year deal at nearly double the annual rate at which he played in 2016. That could prove to be too rich for the Indians even on the heels of a World Series windfall. The free agent market sports alternatives, though very few that hit right-handed. Steve Pearce offers a potential 25+ homer righty bat at a cheaper rate, though he's coming off forearm surgery and has a recovery timeline that runs right up to Spring Training. Cheaper right-handed trade options that could be plugged in at first base include C.J. Cron and Chris Carter.
Looking behind the plate, Yan Gomes will be back and hope to bounce back from the pair of terrible seasons he's recorded in years two and three of his six-year contract extension. If he's not able to rebound, he can team with young Roberto Perez to at least form a premium defensive catching contingent. However, adding some catching help on a minor league deal might make sense for Cleveland.
With Perez, Guyer, and another outfielder on the bench, a utility infielder is the other potential addition for Antonetti and company. The team could simply stick with Michael Martinez for that role since he'll make scarcely more than the league minimum in arbitration, but Cleveland should add someone with more of a track record. Ramirez's ability to play shortstop means that the final bench piece needn't be shortstop-capable, though that would certainly be a plus. Veteran right-handed bats that could fit well include Aaron Hill, Andres Blanco, Adam Rosales and the switch-hitting Erick Aybar, in addition to potential trade candidates, of course.
With a relatively small amount of areas to augment the current roster, Cleveland could focus some of its offseason efforts on extensions for core players. Certainly, Lindor should top the team's wishlist, though his already impressive track record would make it a pricey proposition. Given the level of excellence he's already displayed, he has a case to top Andrelton Simmons' seven-year, $58MM contract, which currently stands as the largest contract extension ever signed by a player with between one and two years of Major League service time. Indeed, with over 10 WAR on his record through just 257 MLB games, Lindor could reasonably hold out for a deal that truly re-sets the bar. Beyond Lindor, Ramirez and Salazar also stand out as possible extension candidates, though Salazar is already going to earn a projected $3.8MM next season, so his level of urgency to sign a long-term deal isn't as great as it would've been a year ago.
The 2016 campaign brought both elation and anguish for Tribe fans, but with the bulk of the team set to return and a full season of Andrew Miller on the horizon, they should be firmly in contention again next year. The AL Central hardly looks like a powerhouse: the Tigers and Royals may shed payroll while the White Sox have hinted at shifting to a longer-term focus and the Twins are looking to find their footing under a new front office. A repeat division crown doesn't just seem plausible — it'll probably be the expectation heading into 2017.
Photo courtesy of USA Today Sports Images.